Mass hiring, while it can be a tough gig to coordinate, is usually a result of a company growing quickly (yay) or even more often, it takes place before the holiday season. For instance, retailers need to hire retail associates, shelf stockers and gift wrappers, whereas delivery service companies look for couriers.
Then there is the opening of new locations of chain businesses such as retail or hotel chains, which is also associated with mass hiring. In the US alone, more than 1,000 new hotels open every year. Take the Marriott hotel for example. In the next three years, Marriott is planning to open 1,700 new hotels worldwide; that is a lot of staff to find and hire, fast.
So if you are an expanding multi-location business, it is probable that you will have to tackle a mass hiring challenge sooner or later.
But, in general, all businesses will need to know how to scale up their workforce, if it hopes to grow. So even if you aren't in the market to mass hire now, you will hopefully be looking to take on a lot of extra staff in the coming years. And you need to be prepared for that.
There are, of course, potential downsides to mass hiring. One of them is that hiring lots of people at once can have a detrimental effect on the company culture. Because how do you realistically hire in hundreds, if not thousands of people in a short space of time, and not have it impact the culture or the quality of your workforce? You need to plan and execute your mass hiring strategy accordingly if you hope to mitigate against this.
To that end, we have put together 8 strategies to tackle mass hiring that you could incorporate into your recruitment strategy, and watch your team grow fast, successfully.
What's in?
Subscribe and stay up-to-date with everything recruitment related by receiving a weekly content digest and email updates on new resources!
1. Have a mass hiring plan in place
One of the first things you want to do is have a mass hiring plan in place for this eventuality. And you will want to have people help you execute your mass hiring plan accordingly.
You don't necessarily need lots of recruiters to help you, although a few who can source and screen candidates is always going to be beneficial. But you might just need data analysts, or people who know the company well, and understand what kind of people you are looking for.
To start with:
Analyze and understand what and how many jobs you need to fill. You want to have a goal that you can achieve.
Understand the local job market. You have to know what you're up against with regards the type of local people who could come and work for you. You won't be able to catch fish if there aren't any available to catch.
Make it abundantly clear what you're looking for. If you can, ask people who already excel in the role you're hiring for to help you conduct a job analysis. Have them define the essential skills that candidates have to have, in order to do a top-notch job. The selection process is then created with the job analysis as a guide.
Plan the timeline for your hiring. Set out an achievable timeline and break down each section of your mass hiring into stages.
The earlier you can start recruiting the better. If you're planning a mass hiring for the Christmas season, don't leave it until the beginning of December, for example. As a guide, for winter season hiring, start advertising around September, and for summer hiring, start advertising around April.
You might need to hire for some positions earlier than for others. You'll know this by pre-determining what and how many jobs you need to fill.
Don't underestimate the costs. Your average

cost per hire metric

might not work here. Mass hiring costs significantly more than your standard, standalone hire.
Mass hiring isn't as rare as you might think. Over a quarter of companies are planning to hire more than 100 people in the next 12 months.
2. Expand your candidate sourcing
Think about how you can reach your potential candidates and utilize multiple channels.
Use programmatic ads.

Leverage referrals from existing employees.

Tell your networks.

Be active on social media. Scour local groups in your region dedicated to job seekers and place your advertisement there. Set up specific pages on your social media accounts dedicated to your recruiting efforts and direct potential candidates to them. Make sure you keep all of your social media channels updated with your progress during your mass hiring. You could even use your social media channels answer questions that potential candidates might have.

Host hiring events. Omni Louisville Hotel, for example, hosted a luncheon and job fair, to attract potential candidates. They had over 1,000 applicants in three days, and out of those, 300 left with conditional job offers.

Accept walk-in applications. Encourage all potential walk-ins and be prepared to capture their details; don't allow anyone to walk away without chatting to a member of staff.

Consider partnering with local agencies such as local nonprofits, government agencies, veteran and job training programs. These places are a wealth of potential talent that might allow you to tap into and build a pipeline of trained candidates, well in advance of posting the positions.
3. Bring your candidates together
When using so many sourcing channels, you want to make sure that you don't lose any candidates in the process. This would be the right place to leverage technology.
If you can automate some parts of the hiring process, it will free you up to focus only on the best candidates from the mass hiring, while ensuring no candidate slips through the gaps.
Try creating a landing page accessible from all of your channels (via a link or a QR code) to consolidate your applicants in one place and enabling you to continue the process faster. Or gather their contact information and send them a link to an online application.
Integrate the online applications with your applicant tracking software to help you weed out any obviously unsuitable candidates early on.
University Hospital Leicester created a recruitment microsite to consolidate their candidates into one place.
4. Develop a fast screening process
Automate what you can. The easiest way to develop a fast screening process to handle mass hiring is by implementing technology to help. Because the chances are, if you start aggressively advertising openings, you are going to be inundated with an avalanche of applications, and not all of them will be suitable.
Gather basic data about all your candidates, including their availability, their experience, their skill sets, for example, and use AI to scan the results and rank candidates according to suitability.
If you have specific skill sets or experience in mind, you could even implement a short online assessment and use AI to spot qualified candidates quickly and screen out unsuitable applicants.
Stop guessing,
Start data-driven hiring.
Learn how you implement a modern candidate selection process, that is: streamlined, experience-driven and backed by data.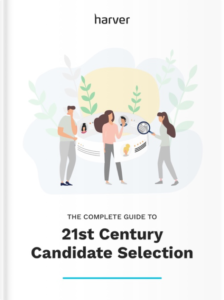 5. Avoid cattle call approach to interviewing
Not only will candidates be discouraged by your recruitment process if you make it a cattle call. But just because you're doing a mass hiring, doesn't mean you can't put the effort into making candidates feel like you're considering them as individuals.
If you have a cattle call approach to interviewing, you will waste time and energy on candidates who are not the right match. Instead, interview only those candidates who have already passed the initial assessment.
That way you show them you care about them, enhance their candidate experience and don't risk overlooking the best candidates in the crowd.
When it comes to interviewing applicants, make sure you structure your interviewing process so that everyone you interview is treated fairly, and are asked the same questions. This way you can look for the same or similar answers, which will help you whittle down candidates, particularly if you have lots of them, as a mass hiring event is wont to produce.
Plus, a structured interview process will allow you to conduct the interviews in an objective manner as possible, keeping common hiring biases to a minimum.
…and 83% are likely never to apply to that company again.
6. Don't forget to follow up
Candidates in each stage of the mass hiring recruitment process will be curious about how they're doing. So put a system in place whereby you can keep in touch and let them know how they're getting on, what the next stage of the selection process is, and what they can do to prepare for it.
Begin by telling them, at the end of their interview, when they can expect to hear from you about your decision.
Point people to your social media channels where you'll be updating your progress, or send out mass emails to update candidates.
You could let candidates know what your timeline looks like, and be open if there are any delays and be prepared to answer questions from candidates through various channels. This would be a good place to utilize AI in the form of a chatbot to respond to FAQs and provide responses immediately, at any time of the day or night.
Finally, don't forget to follow up with all the candidates you decide not to hire. If you have time give them a quick call, or else send a polite email informing them of your decision.
If you notice potential future candidates, tell them that you're going to keep their application on file. You never know, they might become an ideal candidate next year.
7. Plan the training and onboarding process
If you're mass hiring a lot of people to do the same job, it makes sense to do a mass onboarding. However, it is worth remembering that onboarding is a crucial part of the hiring process, so make sure you create a great candidate experience to enthuse your new hires to work for you.
If you do need to onboard a bunch of new hires from your mass hiring at the same time, you need to plan it ahead of time to ensure you have a structured and efficient process. Sort the new hires into groups so they can go through the onboarding together and meet their new colleagues. Don't forget to check in regularly to see how they're doing.
If you have asked people who already work in your company to help you during the mass hiring of the new recruits, consider asking them to stay on and help you mass onboard and train the new recruits too.
One of the top reasons for early employee turnover is the lack of effective onboarding. Ensuring that your new hires have a positive onboarding experience will not only prevent the unwanted turnover but also help them become productive faster.
8. Ask your new hires for referrals
If you're still looking for new hires, or if you want to get ahead for the next mass hiring event, ask your new hires for referrals as soon as you can. Keep your talent pool topped up, because you never know how many new hires quit, or if you need to hire more in the near future.
You could even make the referrals process part of the onboarding process. And because people are likely to only refer people they think are suitable (who would want to refer someone who would only embarrass them?) you could even make an exception to your recruitment process for referrals and fast track them through, because there is a wealth of data that suggests referrals are among the best ways to hire.
Conclusion
Mass hiring can be stressful for everyone involved. You're under pressure to fill in all the vacancies on time and candidates are anxious about the results of the hiring process…
You can manage this by having a well-prepared mass hiring plan that you execute carefully. Don't be afraid of utilizing technology but at the same time, don't neglect the human element in your recruiting.
Stop guessing,
Start data-driven hiring.
Learn how you implement a modern candidate selection process, that is: streamlined, experience-driven and backed by data.