High-volume recruiting campaigns can be riddled with inefficiencies without HR teams even realizing. This is usually because in-house recruitment processes gradually evolve. Consequently, a certain lack of efficiency is accepted as the norm.
Often, high-volume recruitment drives are just scaled-up versions of manual hiring processes initially intended for fewer roles and smaller businesses. As a result, lots of organizations are missing out on the many ways their recruitment operations could change for the better.
Then, Covid-19 came along. The pandemic forced many such organizations to convert to a digital hiring process. It was time to leave a century-old history of manual hiring practices behind, for which many weren't prepared for, and therefore, did so without a clear strategy.
The solution?
We need to go back to the drawing board to make the most out of volume hiring in the digital age. First, organizations need to understand what their hiring process requires and what it should look like. Then, with these foundations laid, they can start building a more efficient process.
Subscribe and stay up-to-date with everything recruitment related by receiving a weekly content digest and email updates on new resources!
What causes inefficiencies in the volume hiring process?
For years companies with volume hiring requirements have used digital tools. Often, each platform was added to the existing tech stack one by one to patch a new problem. Unfortunately, this typically leads to fragmentation and poor integration. As a result, some manual tasks are eliminated, while others are created.
These new and tedious tasks often center around navigating the multitude of tools.
For example:
Switching between systems
Maintaining multiple platforms
Having to interpret assessment results manually
Unstructured data collection and visualization
Compiling up-to-date information in one synchronized place
Another side-effect of this model is that recruiters are forced to work around the system. They don't work inside of it.
For instance, individual analytics tools are oftentimes in place to make up for the lack of visibility into the recruitment metrics. However, recruiters still have to pull in information from all their tools and analyze data in Excel spreadsheets. Or, there might be assessment tools, but recruiters have to interpret the results manually.
This doesn't just slow down the process. It also reintroduces unnecessary human bias.
Improving process efficiency in volume recruitment
Now that we've covered the problems let's turn our attention to how the volume hiring process can be improved.
Simplify your recruitment tech stack
The first step is to cut out as many unnecessary systems as possible. The goal isn't to lose functionality but instead to accomplish the same tasks with fewer tools. There are several software solutions on the market that can combine multiple processes into one.
Sourcing, for example, can be taken over by programmatic advertising. For the remainder of the recruitment process, you can use recruitment software that enables you to manage candidates from application to hire.
Harver, for example, is purpose-built for volume hiring. It's an end-to-end digital hiring platform that automates your full recruitment process while providing candidates with an engaging experience and ensuring streamlined data collection and processing.
In short, with an end-to-end hiring solution, your team can stop navigating from one tool to the next. Not only does this make day-to-day operations slicker, but it also cuts down on training time too. After all, recruitment staff only have to learn how to use one intuitive tool – and learn it well. They don't risk getting confused by different interfaces with different processes.
Automate tasks that don't require real-time human input
The most consistent way of making volume hiring more efficient is to identify tedious and repetitive tasks that can be automated using AI. This is especially true of jobs that don't require human judgment to run effectively, such as screening and assessing candidates.
While the ultimate hiring decision requires a human touch, early-stage pre-screening usually comes down to basic numeric requirements. In addition, technology can interpret most pre-employment assessments, making it easy to identify high-performing candidates. That same automation software can then push candidates through to the next phase of your recruitment funnel.
Other easily automated tasks include scheduling interviews, data collection, and reporting on recruitment KPIs.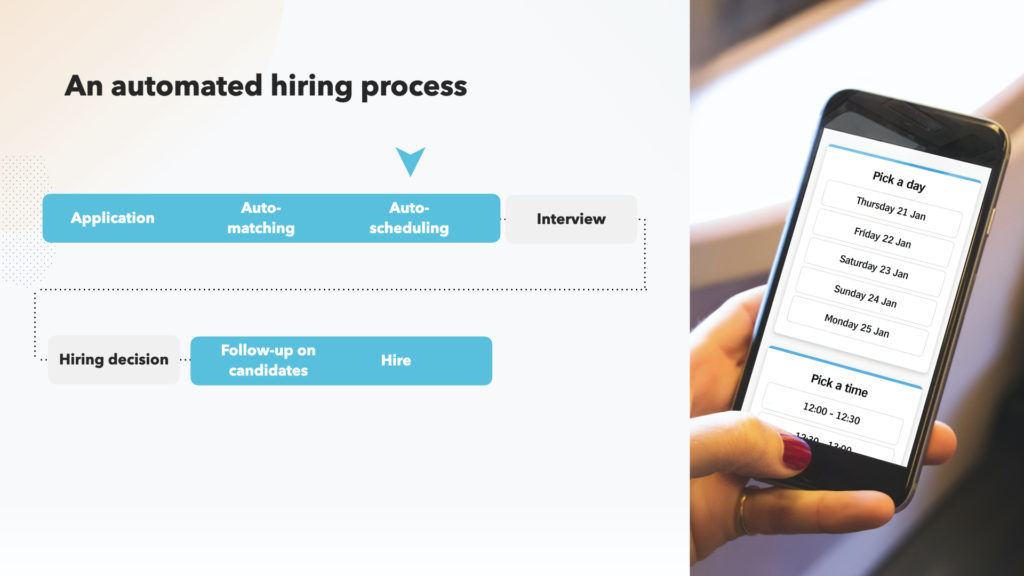 Platforms like Harver, built for volume hiring, automate all these tasks, creating a fast and enjoyable digital experience for candidates and recruiters alike.
What about the value of human interaction?
Many recruiters are afraid to embrace automation for fear of losing the human component.
However, automating 'behind-the-scenes' steps like moving candidates from one column to another bears no weight on the candidate experience. Nor does it matter whether a computer or a human assesses numeric results.
In fact, automating these kinds of steps can provide a smoother candidate experience as well. Namely, because it leaves recruiters with more time to focus their efforts on the human side of recruitment. I.e., providing valuable feedback, responding promptly to queries and questions, etc.
Even if you adopt a fully automated recruitment process, recruiters can still introduce a human component through recorded video interviews. These allow recruiters to see the candidates and vice-versa. In addition, organizations can further incorporate videos throughout that recruitment funnel that showcase their workplace culture and environment.
Here's an example of an applicant journey from Albert Heijn. As you can see, there are multiple options for interacting with candidates throughout the process, even if most of the steps are automated.
Ensure everyone has access to the same data
It's impossible to maintain an efficient high-volume recruitment process if you're unsure what actually works. That's why it's crucial to regularly check in with the data you're collecting and consolidate it.
The easiest way to achieve this is to collect all your recruitment data (including operational and candidate metrics) into one data warehouse. Then, make sure your entire recruitment team can access it. That way, everyone uses the same dashboards to interpret the data and extract insights.
For example, Harver provides a powerful BI suite called Harver Insights. This acts as a single source of truth for all recruitment data, making it much easier for your team to stay on the same page every step of the way.
If you'd like to see how Harver can help your team streamline data acquisition and visualization, and give you a clear picture of your recruitment process efficiency, you can book a demo below.
Ensure smooth integrations between tools in your tech stack
We've talked about reducing the number of tools in your tech stack. But, of course, it's not always possible to consolidate everything you need into just one tool.
Nonetheless, all integrations between all your different tools must work perfectly. You'll need to integrate hundreds of data points, synchronize dozens of calendars, clarify data definitions, and clean the data points collected.
To do this properly, you need to map out and define every stage of your company's hiring process. This involves listing all the touchpoints you have with candidates and the tools used to collect data at each step.
From there, you can start to identify the weak areas in your recruitment funnel and work to improve them. With this info to hand, you'll soon be able to design a solution that ensures a smooth process that's purpose-designed for volume hiring.
Next steps
In a sector that leans heavily on the collection and interpretation of data, digital tools are indispensable. But to create a more efficient volume recruitment process, it's essential to understand your current tech stack so that you can identify areas of improvement. 
End-to-end volume hiring solutions like Harver make it possible to manage the entire recruitment process from one centralized place. This goes a long way to freeing up your HR team's time to focus on candidate interactions, outreach, and interviews.
If you'd like to see how we can help transform your volume hiring process, you can book a demo below.
Ready to transform your hiring process?