The employee selection process is one of the most impactful parts of recruiting and retaining new talent. If you choose the wrong individual, you may find yourself interviewing for the position all over again in just a few months. Not only is this time-consuming, but it's costly as well.
When you only have one open position to fill, it's easier to narrow your candidates to just one future employee. But when you do this at scale, things become more complex.
So, how do you choose?
In order to ensure you select the right employee the first time around, you need to have a strong candidate assessment and selection process in place. With a clearly defined process, you can efficiently weed out the applicants who aren't right for the job – leaving you with the perfect individual to fill your open position.
Let's take a look at seven key tips for creating a selection process that fits your needs as well as your candidates'.
1. Create a selection process in the first place
This may seem like an obvious first step, and it is. But it's still worth pointing out because many HR departments and recruiters still try to work off a mental selection process they've created in their minds.
While you may have a basic understanding of what you want that process to look like, not having a clearly defined system makes you inefficient while hiring. You may forget some steps, miss important questions, or lose a candidate somewhere in the process.
Furthermore, when you're not following the same process for each candidate, it's difficult to compare their qualifications and fit for the job. After all, you want your process to be It also makes it difficult to work with other recruiters or share information across your HR department and get everybody on the same page.
So be sure to take the time to lay out exactly what your selection process looks like. Follow step-by-step exactly what screenings, interviews, or tests you'll conduct before making your final selection.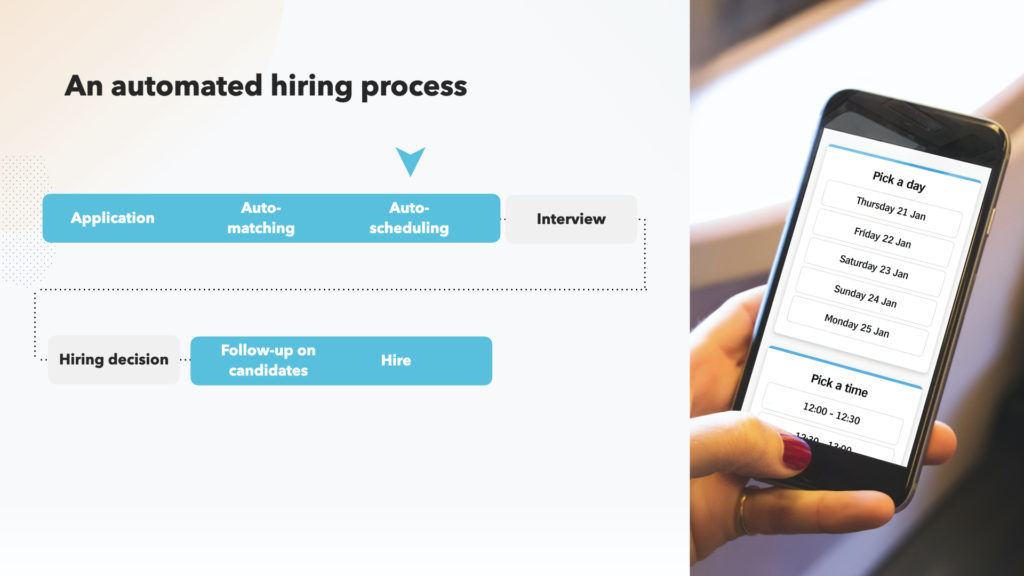 Don't be afraid to get detailed. The more in-depth you go with your process, the less likely you are to make careless mistakes or forget something important.
2. Visualize your candidate selection funnel
The employee selection process you've just created should be a big picture strategy of how you'll move applicants to potential employees.
However, this image is now still a bit out of focus.
While you may know what kind of screenings or tests you'd like applicants to do, you really need to narrow down the specifics to create a more efficient selection funnel. Take a minute to visualize what the entire funnel looks like. Consider specifics like how many candidates you'd like to have at each stage of the process, as well as how long each process will last. An easy free tool to use for this is Lucidchart. It lets you create a diagram, workflow or process visual within an easy to use and intuitive builder.
Think of the steps in the process, add drop-off and/or conversion numbers and/or the average time it takes for candidates to complete a segment of the process. You'll end up with something like this:
Get creative with a tool like Lucidchart to get your selection process visualized
With it, you can define where your process takes longer than it should, where there's an excessive drop-off percentage, or where the process requires too much manual labor in comparison to the effect on the outcome of the process.
Don't forget to think about the hurdles or risks you may run into at each stage of the selection process and what to do about them. Knowing what you're going to do in the event of an unexpected turn can help you stay on track to hire the best candidate.
Subscribe and stay up-to-date with everything recruitment related by receiving a weekly content digest and email updates on new resources!
3. Communicate – a lot
When it comes to hiring a new employee communication is key. In fact, many surveys indicate communication is one of the key elements of an employee selection process, candidates like to see improved:
There are so many different people involved in the hiring process and each individual needs to be on the same page. If just one person is unsure of where you are in the recruiting process, the entire wheel can stop turning.
That's why it's always important to have clear communication systems in place, both with hiring managers and with candidates and applicants. Let parties know when they can expect to hear from you again and be sure to follow through with those promises.
Keep them updated on what they can expect and what the next stages of the process will look like.
When you keep communication lines open, you'll seem more organized and welcoming – creating a great first impression with potential hires and improving candidate experience in general.
If you have trouble following up with every candidate throughout the process, see if technology can help you out. A pre-employment assessment platform or an ATS, for example, can help you build automated email sequences to follow up with candidates or keep them updated on their status.
When building your email sequences, remind yourself to not only send a 'thank-you-for-applying' email, but update candidates every step of the way.
Stop guessing,
Start data-driven hiring.
Learn how you implement a modern candidate selection process, that is: streamlined, experience-driven and backed by data.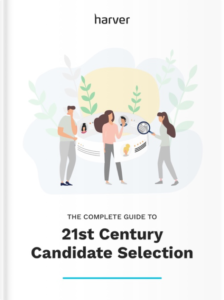 4. Take advantage of technology
Technology is quickly changing the way we do many things – including how we find, apply, and secure employment. As a recruiter and hiring manager, if you're not taking advantage of the tech available to you, you're missing out on some of the top talent out there.
Especially in recruiting, innovation is growing wild. From sourcing to onboarding, there's tech out there that can help you through every step of the recruiting funnel.
Basically, recruitment tech is helping recruiters to find better people faster, cheaper, and easier. Not diving into the world of technology is seriously disadvantageous. In short, tech can help you improve.
For example, when recruitment technology is helping you weed through applicants, schedule appointments, or even send communication to your candidates, your employee selection process runs more efficient in terms of time to hire, cost per hire and candidate satisfaction.
5. Be data-driven
Having a good feeling about a candidate isn't enough to know they'll perform well if they're hired.
While you may like a particular applicant, you want to have some support when making a decision on who to place in your open position. You can get this decision support with a data-driven approach to preselection. Use pre employment assessments to measure a candidate's fit to the job and your organization and use this data to make hiring decisions.
We wrote an extensive guide on pre-employment assessments some time ago. But in short, if you want to move to a data-driven preselection process, be sure to follow these steps:
Determine what to measure –

Define what success means at your organization and build an assessment framework around that. In the end, you're looking for traits that are predictive for success in your organization and ways to measure them in applicants.

Be flexible, especially when starting out with data –

After all, you have to test what works. It might turn out a personality test isn't predictive for success in your case, and you need a cognitive ability assessment instead. Be flexible and partner up with an organization that can provide you this flexibility.

Keep the end goal in mind –

Building a multi-assessment flow that takes 4 hours to complete and gives you all the data you could ever want from an applicant is one way to go, but ask yourself this: is it really necessary? You have to get the data you need to make better hiring decisions, but keep candidate experience in mind as well. Sometimes you don't need a typing test to determine whether or not someone fits the role. Keep the end goal in mind.

Adopt a mindset of continuous improvement –

Now that you have all this data, use it! Not just to make hiring decisions, but also to keep improving your process. Adopt a mindset of continuous improvement, keep track of your metrics and look for ways to improve them. All the time.
Implement a data driven pre employment assessment tool to help
you start with data driven recruiting.
Using data when making hiring decisions can help you be more strategic about who you welcome to your team. Comparing numbers and statistics instead of gut feeling and similarities can help you look beyond any biases to employ the right individual.
6. Create gamified assessments
Assessments have always been a part of the hiring process. And logically so, through having your candidates fill out different questionnaires, surveys, and tests, you can get a better understanding of how they think. This is great for getting to know each individual beyond just their resume and cover letter.
However, assessments can be a tad boring.
Instead of your standard grey click-through page or boring assessment forms. Switch things up a bit. If you're not creating an exciting and interesting environment for your candidate, they may just breeze through an assessment without engaging too much – meaning you're not going to get their best responses.
You can improve on this process by creating gamified online assessments using a tool like Harver. Putting a bit more effort into your assessments can create an entirely unique experience for your candidates.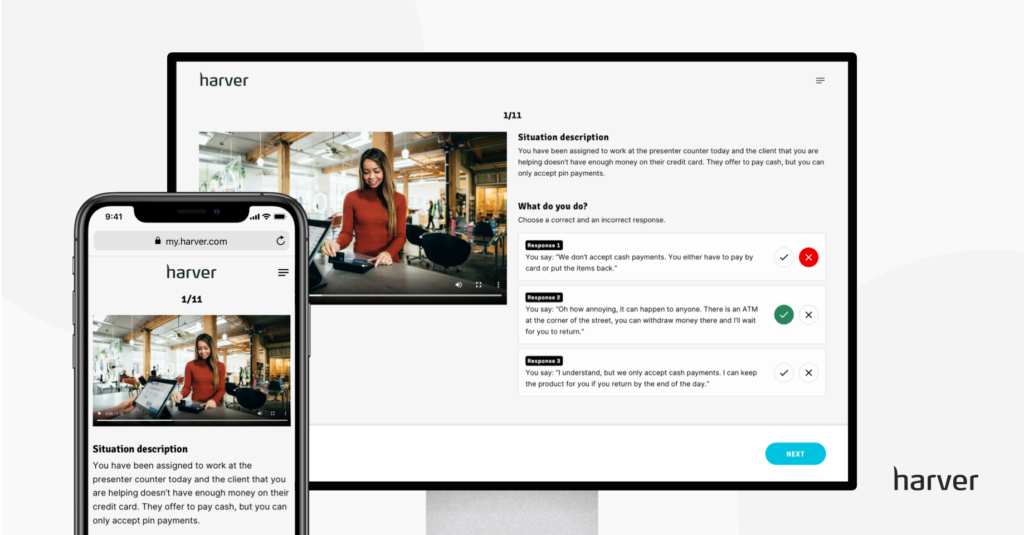 When they're met with something interesting and unexpected, they'll be more excited to fill out your surveys and quizzes, resulting in better answers, a lower drop-off rate and in the end, more, better and engaged candidates.
7. Make candidate experience a priority
Now more than ever, candidate experience should be top priority. After all, millennials want to feel emotionally invested in an organization. Given the fact that they are starting to make up larger and larger percentages of the average workforce must be incentive enough to review your CX.
If your process is unstructured, boring, too long or downright unfair, your top candidates are sure to become hesitant to accept an offer from your company. This is why it's so important to create a positive candidate experience.
To create a great experience for your candidates, think about what they might be looking for during the interview and selection process. Consider what questions, needs, or concerns they might have at each stage of hiring and put the right systems in place to have them answered before the candidate asks them.
Also look for ways to personalize the experience. Make sure each candidate is getting information, feedback, and resources that fit their unique needs.
Finally, ask your candidates for honest feedback, regardless of how far they make it through the interview process. You can use this information to continuously refine your hiring process. Also, letting candidates give their opinion about your process shows you value them.
Next steps
You never want to risk hiring the wrong individual for an open position. But without a solid employee selection process, mistakes can happen all the time.
To help save you time, resources, and cash, creating an employee selection process you can follow each and every time you hire an employee can help you put the right individuals on your team.
Use these seven tips to create your employee selection process. However, remember to create a system unique to you, your company, and your candidates.
Ready to transform your hiring process?