People are your most valuable assets—especially when your organization and the whole economy is going through a rough time.
The way to get through it is to focus on the talent you have, and the talent you can hire to make your business successful. A McKinsey survey found companies with structures in place to manage talent were more capable of attracting and retaining top talent as well as improving their overall success.
However, the unspoken advantage of talent planning is giving companies an edge to build a competitive workforce for their future. By planning for gaps in skillsets, companies can hire and retain the right employees ahead of time and keep them one step ahead of their competitors.
In this piece, we're going to look at what talent planning actually is, and 7 steps you can follow to implement it in your workplace.
Let's get planning!
What's in?
Subscribe and stay up-to-date with everything recruitment related by receiving a weekly content digest and email updates on new resources!
What is talent planning?
Talent planning is a comprehensive strategy that structures how a company plans for hiring, retaining, and developing their current and future employees.
With the fast-paced environment of today's workplaces, employers must have a firm grasp on not only the employees they need right now but what talent they'll need in the future to achieve their ultimate goal. That's where talent planning comes into play. Instead of only focusing on hiring the right people for current job openings, talent planning helps organizations predict what skills they'll need in the future to help their company keep momentum and outmanoeuver their competitors.
Talent planning focuses on four key areas:
💰 Cost: Companies want to optimize their spending on their workforce – meaning spending their money as effectively as possible. What's more, today's workforces are becoming increasingly remote, and a company's talent pool now stretches globally. Hiring talent from different countries with more competitive pay packets allows companies to stay competitive and control costs.
👵 Demographics: Aging and retiring employees and outdated skills can pose a problem for companies if they don't have a plan to deal with it. Talent planning can create a strategy to reskill and retrain loyal employees you already have in your company.
💼 Management: Keeping top talent in your company isn't easy. Talent planning focuses on keeping your best employees within your company by creating career succession paths to replace senior management and executives when they're ready to move on.
💻 Flexibility: The days of working 9-5 are slowly starting to fade. Now, employees are looking at a company's flexibility and innovation when choosing their career pathways. With talent planning, it's easier to plan for these changes and accommodate top talent within the company.
For businesses that are serious about not only keeping top employees at their company but outsmarting their competitors, talent planning has become a significant focal point. In fact, over 60% of middle-market executives now say talent planning is one of their main priorities—11% saying it's their top priority.

These executives know that creating a successful business and keeping employees happy means working hard on their talent. If they plan for their workforces to be the right size and shape, keep costs down and remain flexible, they've got a great shot at building a team that can be competitive today—and in the future.
Steps to effective talent planning
1. Align with your organization's business goals
The first step to effective talent planning is knowing exactly what your company's goals are.
It's crucial to get a realistic idea of your company's expansion plans and market opportunities so you can outline the organization's business goals for today and the future. Now, don't get this step confused with your annual budgeting process that looks at employee turnover and retention rates. This goes beyond that. You need to outline where you see your company in 5 years, what you want your product or service to look like, what talent and skills you'll need to make that happen.
Do you need to hire more software engineers? Do some of your senior executives need training on how to adapt to a more modern, flexible working environment?
Take a look at your in house talent as well as the talent you hope to attract from the outside. Only then can you get deeper insights into what your company needs to achieve its goals.
2. Implement and use talent analytics
Next, lean on your data to help you plan for your current and future talent needs.
Considering the importance of talent analytics, it's surprising how little they're used right now to track talent. A Deloitte report found that only 4% of companies have predictive talent analytics capabilities to help them manage talent, and just 14% of companies have a talent analytics program in place.
Implementing and using talent analytics can help you to analyze the talent and skills your company already has. However, it also allows you to conduct a thorough skills gap analysis and uncover shortages in your business. Skills that were in high demand in 2010s may not match what you'll need in five years.
For example, talent analytics can highlight which of your employees are more productive than others, which have more modern skillsets than others, and even which staff are more engaged in their roles. Such talent intelligence also helps you analyze expected salaries and benefits for current and future job openings in your company so you can create better offers and retain top-performing employees.
Pro-tip: If you want to learn more about how to use talent analytics, here's an article explaining its benefits and how to use it.
Talent analytics still isn't widely used in business. Before you implement it, look at what issues you're trying to address and start tracking relevant data.
3. Determine critical hiring needs and create a hiring plan
Understanding your business goals goes hand in hand with identifying your company's critical hiring needs.
Start by having conversations with hiring managers from different departments about their plans and strategies. Determine how many people in key positions like managers and executives they predict will be retiring or leaving their positions soon so you can prioritize. Then, look at what hires you'll need to make to ensure future goals become a reality.
Once this is done, you can create a hiring plan. Break down the numbers of new hires you'll need to make to fill current and future skills gaps, as well as a budget and recruiters you'll need to make it happen. Then, you can start analyzing these roles and requirements individually, and come up with a recruitment process to attract the right talent for each of them.
Stop guessing,
Start data-driven hiring.
Learn how you implement a modern candidate selection process, that is: streamlined, experience-driven and backed by data.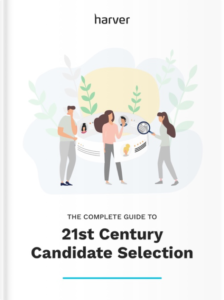 4. Identify high-potential employees 
Beside creating a hiring plan to fill skills gaps, take a look at the talent you already have in your company.
Analyze the top talent in the lower ranks of your organization and try and identify if any of them have leadership potential. Look at their skill sets, determination, and culture fit and then assess them to see if they have what it takes to be a future leader at your organization. Hiring and filling positions internally makes a lot of sense as employees with high potential are 91% more valuable to organizations than non-high potential workers.
A convenient way to assess whether or not an employee has leadership potential is to use an assessment, like Hogan's High Potential Model. The model uses personality assessments allowing companies to build high-potential programs. Hogan's managing partner, Ryan Ross, says measuring candidates objectively allows you to focus on their characteristics without having decisions impacted by "politics, relationships, or context."
The model measures leadership potential using three components:
Foundations:

How an employee manages their career, if they're rewarding to deal with, and are organized

Emergence:

How well an employee stands out from their peers, builds strategic business relationships, uses their influence, and is viewed as a leader

Effectiveness:

How well a person can build and maintain high-performing teams that drive organizational success
Measuring employees this way gives businesses a birds-eye view of their work habits, leadership potential, and ideal job aspirations. Once you have a firm handle on these aspects, it's easier to find internal employees to promote and fill leadership positions down the line.
Identifying, developing, and promoting your high potential employees will lead to better leadership at your organization.
5. Develop your employees
Although we've just highlighted the importance of finding employees with future leadership potential, you still need to focus on every employee.
Talent planning requires creating a strategy that looks after the development of every single staff member on your team. Your talent planning strategy should provide employees with learning opportunities, as well as internal mentoring from managers and senior leaders.
Why? Well, all members of your team should be able to envision a career pathway at your company.
Having an internal mobility program makes it easier for your company to reskill current employees and fill department gaps without having to look externally. Even better, an internal mobility program helps you to recognize cross-collaboration opportunities so employees can use different skill sets to get projects done quicker.
Finally, track your employees' upskilling or retraining efforts. If they're completing additional training, touch base with them when they're close to the finish line so you can talk to them about what comes next. The sooner you reach out to an employee who is working on keeping their skills sharp, the more chance you'll have of keeping them at your company instead of losing them to a competitor.
6. Establish retention strategies
It isn't enough to have a good recruitment strategy in place—you also need to look for ways to keep your employees on board.
Make sure you keep a close eye on what packages you're offering to current and future staff.
Are your benefits packages good enough? Are there any pay gaps? Do you offer your talent enough opportunities to develop new skills and move around to other departments?
Retaining staff can also come down to listening to what they want and showing them you care. Employee surveys are an easy and cost-effective way to see how satisfied your employees are and, more importantly, identify issues before they start affecting your retention numbers.
Another way of diagnosing potential problems with retention is conducting exit interviews and taking a close look at the results, so make it a fixed part of your offboarding process.
Employee wellness is much more than subsidizing yoga classes. Think about other health, environmental, and financial wellness initiatives you could implement that your employees would find beneficial.
7. Build a long-term employer branding strategy
Finally—be in it for the long haul.
Effective talent planning doesn't happen overnight. It requires long-term thinking about how you want your organization to be perceived in the future and what narrative you want to tell your staff.
A big part of this is creating an effective employer branding strategy. This strategy is critical in attracting, hiring, and retaining new employees. In fact, 94% of candidates will apply for an open job position if that company actively manages its employer brand, and more powerful branding leads to 50% more qualified applicants.
Parts of building a strong employer brand like clear company goals overlap with talent planning. However, other aspects like creating a stand-out career page and utilizing interactive online candidate assessments can make your branding pop. Such assessments allow potential candidates to get a taste of the culture and expectations at your company during the hiring process.
This helps talent decide whether or not your company is the company for them.
Employer brand and reputation will continue to be important in the post-COVID-19 world. Establishing a long-term employer branding strategy will help you become an employer of choice in time of economic prosperity but also recession.
Wrapping up
Talent planning is so much more than a budget or a recruitment process.
It's a way for your business to scale effectively and utilize the talent and skills that you have already to plan for a successful future. A talent plan tightly aligns your organizational goals with the need to focus on the development of your current and future employees.
It also gives businesses a way to use data and analytics to make smarter hiring choices not only now, but for the future. Through talent planning, companies can determine hiring needs, skill gaps, and internal leadership candidates while also recognizing the importance of their employee's happiness and career paths.
Retaining top talent is crucial to your company. Finding talent to reach future business goals is equally important. Focusing on talent planning ticks both boxes ✅
Stop guessing,
Start data-driven hiring.
Learn how you implement a modern candidate selection process, that is: streamlined, experience-driven and backed by data.