Membership to a recruitment community can be invaluable – not only do you get access to industry-leading resources, but you can also participate in webinars and conferences with HR, TA, and recruitment specialists, as well as engage in high-value community forums. 
While you can't possibly join every recruitment group out there, in this article we highlight 9 online recruitment communities you might think about joining as an HR professional. 
Some of these HR communities are professional accreditation organizations, others are social networks for HR professionals such as members-only groups on LinkedIn. Consider getting involved with at least one or two human resources groups and reap the rewards both personally and professionally.
Active HR and recruitment communities
The Society for Human Resources Management, or SHRM, should be your first stop as an HR professional – and if you're only going to join one group, this one should probably be it. The SHRM is the world's largest HR membership organization and is the voice for all things work-related. 
Their purpose is to elevate the HR profession.
Their mission is to empower people and their workplaces, by advancing HR practices.
They want to create better workplaces where employers and employees can thrive together.
The number of opportunities and content SHRM provides can at first glance appear overwhelming, but there is everything you could possibly ever need, and then some: 
Discover thousands of resources to help you positively shape your workplace and implement effective HR practices.
Take advantage of the networking opportunities – ask questions and receive answers from SHRM's online community which consists of over 300,000 HR professionals worldwide.
Be the first to learn about workplace news and trends, including emerging workplace issues.
To learn more about SHRM read their 2020 State of the Society address.
Where to join:
If you want to become a better recruiter, then consider joining the largest, most engaged community for In-House Recruiters, Internal Recruiters, Talent Acquisition & HR Manager professionals in the UK.
If you're looking to build and grow your business network, if you're keen to participate in industry discussions, and if you want to be the first to hear about live and virtual HR-focused events, then we recommend joining this growing HR community. 
With over 20,000+ members, you'll be joining a community of recruitment leaders who live for HR. Attend work class events each year, read industry-leading digital whitepapers, be inspired by award-winning HR speakers, and share knowledge with your peers in round table discussions. 
Where to join:
Subscribe and stay up-to-date with everything recruitment related by receiving a weekly content digest and email updates on new resources!
HR Open Source (#HROS) is a global community of HR practitioners who firmly believe that collaboration is the key to helping organizations prepare for the future of work.
"HROS is committed to showcasing detailed practitioner-contributed case studies and success stories dedicated to informing, educating, and inspiring the work of real HR and recruiting professionals." 
HROS is an initiative launched by Hootsuite's Ambrosia Vertesi and Amplify Talent's Lars Schmidt. It was created to enable an open-source approach to HR and recruiting. 
What does that mean?
It means that thanks to HROS, it's now easier than ever before to access your HR peers and HR related resources to help your business thrive – to learn proven HR practices, access incredible resources, share top tips, and utilize HR tools you need to succeed in today's world of work – and all at zero cost.
By democratizing HR resources and affording all HR practitioners the same access to learning, education, and HR inspiration, HROS aims to transform the world of work and the field of HR to the benefit of all. 
Where to join:
Join HROS (for free) and surround yourself with HR and Recruiting practitioners from all around the world as they share, collaborate, and inspire each other to make their businesses the best they can be. 
HCI is there to help HR leaders and professionals solve their most pressing challenges, excel in their careers, and accelerate business wins through forward-thinking HR practices. 
From research and resources to certification programs, to virtual conferences, HCI is a global association for strategic talent management.
Throughout the entirety of your HR career, HCI is there to help you build on and acquire HR skills, earn HR certifications, learn from your peers and attend virtual and in-person conferences and webcasts, as well as creating a host of helpful free resources for you and your entire HR team. 
Interact with HCI through one of their four integrated channels:
Online – via their website with a loaded archive of strategic talent management content, powered by the latest tools in web-based collaboration. 
Research – every year HCI carries out major studies into talent strategy, acquisition, development, and leadership. They share their findings with HCI's global community and HR practitioners around the world. 
Education – HCI offers the only certification programs in human capital strategy and workforce planning.
Events – these unique HCI events are designed specifically for senior personnel. They're executively strategic and education-based. Sign up for the 2021 VIRTUAL Conference: Redesign Your Employee Experience – July 21, 2021 here.
Where to join
This is another UK-based recruitment community that is for Talent, Staffing, and Recruitment professionals. The association encourages all those who work in the resourcing or recruitment arenas to come together through their HR work, whatever sector you're in. 
Established in 1979, The Recruitment Society has been bringing HR professionals together to share knowledge and best practice advice for the last 40 years. It's the only body that serves the entire recruitment industry in the UK.
Whether you are an agency, an in-house recruiter, online, or a consultant (among others), The Society seeks to provide a place of debate for all branches of recruitment to come together and share industry best practices and thought leadership. 
With over 7000+ members representing every sector and level of recruitment, if you're involved in recruitment in the UK, consider joining this unique community. The Recruitment Society has recently joined forces with The REC, a platform that is a voice for recruiters, providing legal, compliance, and business support for the recruitment industry, should it be required.
Where to join:
Stop guessing,
Start data-driven hiring.
Learn how you implement a modern candidate selection process, that is: streamlined, experience-driven and backed by data.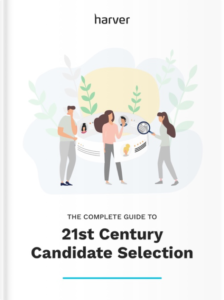 As a recruitment leader, if you want to significantly improve your performance and enhance profitability with a purpose, you might want to consider joining this HR group.
From peer-to-peer learning and support to accessing industry-leading recruitment technology, tools, ideas, guides, and content, their training and development programs are created to both inspire and educate recruitment professionals. 
The community is set up to help you stay ahead by providing best-in-class mentorship and advice. They encourage you to embrace the power of collaboration and take your business' working practices up a level. 
Choose from one of several membership tiers (starting at free), and join a knowledge-sharing network that is second to none. This network isn't just one or two individuals, it's over 7,000 recruitment professionals around the world, coming together to learn, grow, innovate and develop best HR practices together. 
Where to join:
Join them today and help grow your business, gain invaluable insights and take part in live events, mentoring, and training services. 
The ASA provides a platform and voice to all HR professionals in the staffing, recruiting, and workforce industry. Along with state affiliates, the ASA works to advance the interests of the industry through advocacy, research, and education. 
By joining the ASA you gain access to professional connections, first look at news, data, and research to help your staffing firm or recruitment team grow and develop. You'll connect with a community of HR peers and get access to a wealth of HR and staffing-specific resources. 
Where to join:
Founded in 2016, ATAP is on a mission to create a talent acquisition community that sparks innovation, engagement, and knowledge for everyone who works in HR and recruitment. 
In recent years, the TA community has lacked a unifying organization, a body to represent the interests of all those who work in the sector. Not any more. ATAP is bringing TA professionals together.
As the talent acquisition space continues to develop, its impact is felt across every organization, across the world. ATAP is the first inclusive association to meet and help advance the needs of talent acquisition professionals.
ATAP is a non-profit designed to build and curate a common body of knowledge for TA professionals. It hopes to establish a global standard of TA performance measurements. It creates networks at local, national, and international levels, as well as provides a platform for peer-reviewed resources and learning opportunities. 
ATAP is open to all TA professionals including corporate, agency, staffing, and leaders, as well as technology and partners who provide solutions and tools to support and enhance TA strategy and execution.
Where to join:
If you're a senior professional in HR (SPHR), consider joining the SPHR Network on LinkedIn. This group has almost 43,000 professionals discussing all things recruitment-related – from mentorship opportunities to increasing visibility of both you and your business in the industry, to training and development resources and tools. 
Join in the debate, participate in the discussion, help solve common challenges, understand new perspectives, get exposed to fresh ideas you wouldn't ordinarily be privy to. 
Where to join:
Next steps
If you're a professional in HR, recruitment, staffing, or talent acquisition, consider joining an online recruitment community. You don't just get access to recent industry insights, you are joining forces with a network of peers, all of whom are facing the same challenges and struggles as you are. Together, you are stronger. 
From global associations to grassroots groups on LinkedIn, it doesn't matter where you find your recruitment community, just make sure they are supportive, educational, and provide professional development opportunities. 
Subscribe and stay up-to-date with everything recruitment related by receiving a weekly content digest and email updates on new resources!