The impact of COVID-19 has hit businesses in multiple ways, and recruitment is no exception. Your plans to take on more staff may have gone out the window, or conversely, you might be having to hire more people than you've ever had to before!
Whatever situation you find yourself in, one thing's for sure. How your company responds to this unprecedented pandemic will define your relationship with your future hires, staff, and customers.
There are several situations you may be facing as a recruiter:
A hiring increase: Your business is still operating, and you need more staff. For example, if you're a supermarket, hospital, healthcare provider, online distribution chain, takeaway food business, or contact center, you may need more staff. If that sounds like you, you're most likely facing a COVID-19 recruitment drive. Your challenge will be to act quickly, effectively, and safely.
You're hiring as usual: Your recruitment is ticking along, but you can't meet candidates in person because your office is shut, and you're all working remotely. Consequently, you're tackling your recruiting remotely and having to adapt fast.
You're in a hiring freeze: You can't hire new employees or progress applications that are currently in your recruitment funnel because of COVID-19. It may be that your business is closed, or that you're working in a non-essential industry that no longer garners the same demand. If this is the situation you're facing, you'll potentially have to give candidates (or recent hires) lousy news at an already difficult time.
What do all these scenarios have in common?
The answer: They all require you to modify your recruitment funnel to fit with the rapidly changing environment brought about by COVID-19.
So, if you're wondering about the changes you'll need to make to adjust to our new reality, you're in the right place. Let's look at each stage of the recruitment funnel and how you need to adapt.
What's in?
Subscribe and stay up-to-date with everything recruitment related by receiving a weekly content digest and email updates on new resources!
Awareness & attraction: Advertising jobs
If you're suffering from a hiring freeze, and you have online job ads that are still live, you need to take them down. Or, at the very least, explain that you won't be hiring anyone in the immediate future due to the current crisis, and ask potential hires to be patient with your company. You could suggest that they keep an eye on your company's website and social media threads. That way, they can stay fully apprised of when your hiring doors are open again.
Conversely, if you're taking on more staff as a result of COVID-19, be clear about the roles you have open and the kind of terms you're offering. It may be that these roles are temporary with flexible hours – be transparent about these details to help manage your candidates' expectations.
After all, you may receive applications from people who are on temporary unpaid leave from their regular job and want to fill a gap. So, be respectful of that by making it clear for the get-go the working arrangement you're offering.
So, be clear about:
What the role is

How long it's for

The skills that are required

Where that role will take place

What your company's COVID-19 safety measures are
Think laterally. If you're a recruiter who urgently needs more contact center staff, look for people who already have experience in customer service, not just in contact centers. For example, workers in the retail and hospitality industry could be excellent candidates. Don't limit your talent pool!
You'll also want to ensure your website and social media profiles highlight that you're still hiring. Be sure to explain the recruitment process clearly and succinctly to attract as many candidates as possible. Only
13%
of companies have made no changes to their recruitment process during the COVID-19 pandemic.
Source: A Mercer Survey
According to an ongoing survey, a large majority of companies have had to change their recruitment practices in the midst of the COVID-19 outbreak.
Interest & applying: Information for candidates, hires, and existing colleagues
This is an uncertain time for everyone. So, your candidates and employees will be looking for certainty and reassurance from you, now more than ever.
In light of that, you'll want to make an extra effort to ensure you communicate clearly and effectively with candidates and hires. For example, you could update your website, chatbot, and social media with a COVID-19 recruitment FAQ. Ensure this resource is written in simple and clear language – avoid jargon at all costs; it only leads to confusion!
Candidates will want to know:
How they will be interviewed

When they will be interviewed

What they need to prepare for the interview

What they need to provide in terms of ID (if hired)

How and when they will hear from you if they're hired or not

What the onboarding process looks like

What their terms and conditions are for the job (daily hours, number of days employed, contract length, sick pay, hourly pay, annual leave, benefits, and so on).
If you're in a hiring freeze, you also need to be transparent with the candidates already in your recruitment funnel. At the very least, send them an email that you won't be moving forward with the recruitment process at the moment. You can go a bit further, for instance, you could upload a short video clip from your CEO onto your website explaining the situation.
Perhaps you could instruct candidates to keep an eye on your website to see if anything changes? You could also encourage them to contact you again once the pandemic subsides. And, if you're in a position to do so, tell candidates when you'll be hiring again, or when you hope to be hiring again.
The most important thing here's that you don't keep candidates in the dark. By not telling them you're in a hiring freeze. Or that you're tackling recruitment differently at the moment, you're conveying the message that your company doesn't care about its staff or potential hires.
Pro tip: Your ATS should be the first place to look when you start hiring again. Your already pre-screened talent pool will be a great source of talent and it will also keep your hiring process shorter.
If you're adding to your team, be clear about what your updated recruitment process i likes. For example, will you be telephone screening and interviewing via Zoom or Skype? Ensure the hiring page on your website, and social media profiles include this info. You'll also want to adapt your email signature and the automated responses you send candidates. Make sure your emails contain the most up to date information. Again, keeping candidates informed throughout the process is essential for ensuring good candidate experience and maintaining your employer brand.
Don't forget your existing colleagues. For example, if you are taking a new approach to recruitment. Tell internal stakeholders, so they're not caught out. This includes your press office, and your marketing and sales teams. Anything that you do that's external-facing needs to go through the marketing and press filter, so you're presenting a positive and united front concerning how your company's handling the COVID-19 pandemic.
On their careers site, Amazon is answering common questions related to COVID-19 to provide relevant, up-to-date information to their applicants.
Pre-selecting candidates
If you're hiring in response to the COVID-19 pandemic, (be it to deal with the increased demand or to cover sick workers), you'll have to find new hires quickly. However, there's no need to compromise on high-quality candidates if you take the right approach.
If the position requires specific skills or characteristics, use assessments that candidates can complete remotely ahead of their interview. Then you can filter out candidates who don't meet your requirements faster.
For example, if you need your new hires to work at specific times or days, ask for their availability in your candidate assessment. That way, you can automatically pre-select candidates who fit your scheduling needs.
If the entire role enables them to work from home, you're looking for staff with demonstrable self-motivation and integrity. They'll also need a decent laptop that's compatible with your software, especially if you can't provide one immediately, and also a great Wi-Fi connection. So, test your candidates' home set up, remotely. That way, both you and they aren't caught short further down the line.
In brief, if you haven't made extensive use of recruiting and HR technology until now, it's time to start.
"HR technology is playing a crucial part in facilitating the shift to remote working. Since people all over the world are quarantined, we all had to switch to remote work. Without technology, it would be impossible to keep hiring at times like this. Luckily, recruiters have a wide range of recruitment tools to support them. Smart recruiters will take this opportunity to completely digitize their hiring process and update it with some advanced modern recruitment practices. This may seem a bit overwhelming at the moment, but in the long run, it will make their life easier and even lower their recruiting costs!" – Anja Zojceska, Recruitment Marketing Specialist and Head of Marketing at TalentLyft
Stop guessing,
Start data-driven hiring.
Learn how you implement a modern candidate selection process, that is: streamlined, experience-driven and backed by data.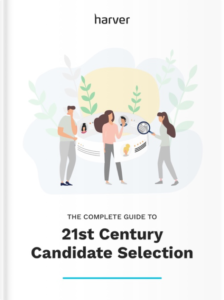 The interview
Whether you're hiring more staff or simply hiring differently, you don't want your recruitment costs to escalate through the roof. After all, no recruitment contingency budget could have foreseen COVID-19 and its demands.
Therefore, safety aside, holding live video-based instead of on-site interviews is a great and cost-effective way of recruiting people.
Ensure your candidates receive comprehensive instructions on how to set the interview up at their end and give them ample time to do that. It's a process they may be unfamiliar with. If you don't have it already, investing in video interviewing software is a good idea. It speeds up the process, avoids scheduling clashes, and allows you to connect with candidates within a matter of minutes.
If you're recruiting remote workers, ensure your interview questions reflect that. For example, asking questions about time management and communication skills is imperative. Be sure to ask candidates to give example-based responses to prove they have the necessary experience and abilities to do the job justice.
If your usual interview process typically includes a task-oriented test, find a way around this by assessing these same abilities remotely. For example, you could conduct a role-play, i.e., you're the demanding customer, and the candidate is the contact center agent dealing with you.
Above all, remember this is an anxious time for everyone. Your candidates may be feeling worried or nervous not only about the interview itself but about money, their livelihood, their family, and many other considerations. Be empathetic and thoughtful in your approach and make sure that your interview process reflects that. 58%
of job candidates want the opportunity to connect with peers and team members via video.
Source: Lighthouse Research & Advisory
Your candidates don't have an opportunity to meet their potential team members in person at the moment. Why not facilitate a team video interview to help them connect with their future colleagues?
Hiring
You've found suitable candidates, they've passed the interview and accepted the job offer. Hooray! Now you have to chase references. This may prove difficult if people aren't working or are feeling unwell. Try emailing if you can't reach someone by phone. Alternatively, you might be able to video-call a referee if they're willing.
Send work contracts and other company-related materials via email. Ask candidates to sign contracts and other necessary materials digitally. Remember, you're still applying social distancing measures. So, where possible, you want to avoid new hires coming into your office.
Onboarding and safety
Once your new hires are ready for work, you'll need to onboard them as soon as possible. If there's a gap between them accepting your offer and their actual start date, engage them via a pre-boarding process. In it, provide them with detailed information on what the onboarding is going to look like in these unusual conditions. Try incorporating video if you can, in particular, to highlight your company's health and safety measures.
Your onboarding materials should include any safety measures you have put in place to combat COVID-19. This particularly applies to candidates working on-site and potentially with customers, for example, in a supermarket or retail setting.
Safety precautions should include:
Instructions on hand-washing

Social distancing measures

Not shaking hands

What to do if you sneeze or cough

What to do if you develop symptoms
You should also give candidates and hires information about your company's approach to the sanitation of bathrooms and kitchen areas.
On the other hand, if you're onboarding employees remotely, make sure that they can access to all the necessary documents from home. Also, have remote training in place, allowing your new hires to start learning all they need to do the job straight away. And, of course, don't forget to introduce your new employees to the team!
You need to provide guidance to your candidates during the onboarding process, even more so when it's taking place remotely. This guide can serve as a basis when designing your remote onboarding process.
Ready to adapt your recruitment funnel to COVID-19?
It's highly unlikely that your recruitment strategy won't have been impacted by COVID-19. Businesses can be forgiven for not being prepared for this pandemic, as nobody could have expected its impact. But, hopefully, having read this article, you'll be able to better adapt your strategies to address this genuine difficulty.
One common thread throughout this article and each stage of your recruitment funnel is communication. If you communicate clearly and consistently with candidates, your employer brand should maintain what's hopefully already an excellent reputation.
If you're struggling to adapt, try putting yourself in your candidates' shoes. Taking an empathetic approach can only enhance and improve your strategy and reputation. Also, this approach may help you to refocus your COVID-19 recruitment energies in the right direction.
Above all, stay safe, well, and positive during this difficult period! Let us know how your company is adapting to new recruitment methods. Good luck!
Stop guessing,
Start data-driven hiring.
Learn how you implement a modern candidate selection process, that is: streamlined, experience-driven and backed by data.