There are some things we recruiters just can't have enough of. Like, candidates. Or LinkedIn connections. Or new ideas for innovative recruitment methods to fix the leaking recruitment funnel. Finding the best candidates has never been as tough as it is today.
Needless to say, it can be quite a challenge to figure out which recruitment methods fit your company's bill, let alone stay up to date on emerging ones.
Luckily, there are plenty of great examples out there to help you get inspired. We've selected 13 innovative recruitment methods. Some of them may be a tad more novel than others, but all of them give you an idea about what the possibilities are so you can use the inspiration for your own recruitment strategy.
1. Use data
Via what channel do your candidates come in? Which channel gets you the most successful hires? How long does it take from the moment you decide you need a new employee to the moment they actually start on the job?
A modern recruitment strategy needs to make use of data, so even if this is not a "method" of candidate selection, we believe it's the most important tactic you can use for taking your hiring efforts to the next level. You need to know what's happening in your recruitment funnel, so you should not only collect data but also analyze and visualize it in a manner that helps you TA team make quick, data-informed decisions.
For example, if your recruitment KPIs include D&I goals and metrics, how are you measuring those metrics? Do you have a dedicated strategy, do you visualize the numbers in a dedicated dashboard like the one below?
If you want to improve your hiring process efficiency, how do you calculate your time to hire, or your time to fill? Do you manually gather data in an excel file every month? Is this the best way to do it, or could you benefit from an Operations insights dashboard like the one below?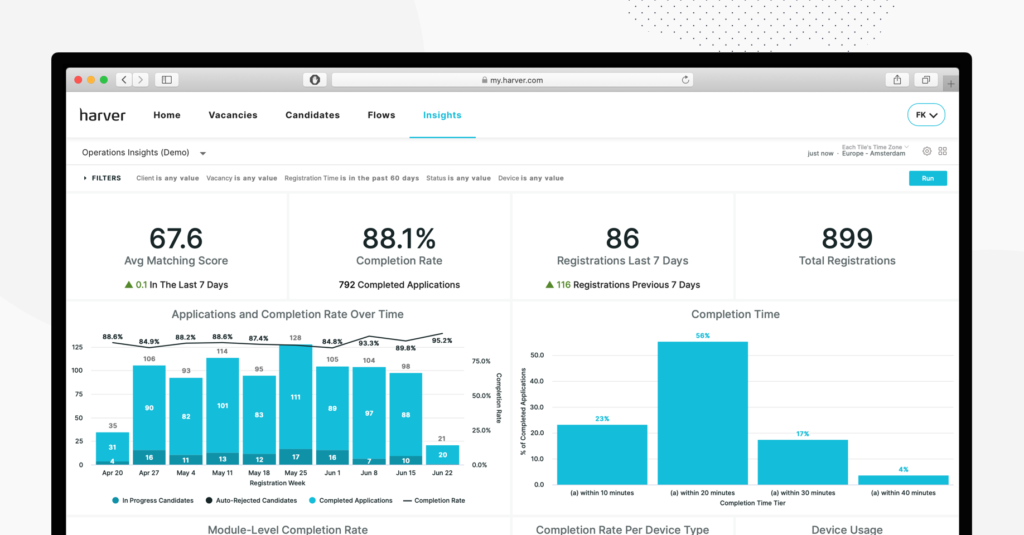 Knowing this – and plenty of other things – will help you to optimize your recruitment strategy. So start making your recruitment process data-driven. We've detailed the topic in the articles below.
2. Employer review sites
Sites like Glassdoor should be a part of every company's recruitment strategy. We live in an era where pretty much everything gets liked or disliked online; employers included.
Many 21st-century job seekers spend a lot of time researching the companies they might apply to online. So, as a recruiter, you might want to go onto these employer review sites and find out where your company's pain points lie. Of course, if you find a flaw here and there, now is the time to straighten things out.
3. Managing the aging workforce
This might not be the first thing that comes to mind when you think about innovative recruitment methods. But the global workforce is aging rapidly; in the US alone, 10 000 people turn 65 on a daily basis.
You see, the fact of the matter is that there are more skilled, experienced people leaving than there are young people to make up for these departures. So even if you've got the best recruitment strategy in the world, there physically aren't enough young candidates available.
So, include your experienced workers in your recruiting plans. Ask top performers to delay their retirement – possibly under slightly different terms – and, most importantly, create some kind of mentoring program.
Your older workers have a wealth of experience, they can transfer their knowledge to younger employees. In return, younger workers may have an innovative way of looking at certain processes that they can share with their more experienced peers. A two-way mentoring/teaching program is likely to boost engagement too; win-win.
4. Inclusive job adverts
The words you use and the way you phrase things can put off entire groups of the candidate population (women, ethnic minorities, older people). To avoid such a thing – and to keep your candidate pool as large as possible – you can use an AI-driven writing tool for instance.
This kind of tool scans heaps of documents and – based on this data – predicts exactly what job advert will succeed where others fail based on this data.

An AI-powered writing tool can significantly increase your
candidate pool.
5. Programmatic advertising
Can we still call programmatic advertising an innovative recruitment method? Probably not, but it definitely is something you should use for your online recruiting. Recruiting on niche sites where your target candidates hang out, however, can be pretty innovative. Like when Amazon posts job adverts on Tinder, or when Goldman Sachs uses Spotify.
The key takeaway here is: know your candidates. Because once you do, you can use programmatic advertising – or another recruitment method – to make sure they see your job advert.
6. Video interviewing
This one is pretty self-explanatory. That doesn't make it a less effective recruiting method though. On the contrary. Using video technology can be a great option when you've got candidates that live abroad; it saves both them and you heaps of time – and money – and you can still benefit from a much larger candidate pool.
But you can take things up a notch video-wise.
By using pre-employment assessments that incorporate video technology for instance. Put (very) simply: This kind of technology collects data on things like verbal response, eye movements and non-verbal communication and uses this information to predict a candidate's likelihood of success in their future job.
7. Benefit from the gig economy
This is a recruitment strategy that is quickly becoming more popular. Sometimes you need someone with specific skills – let's say a graphic designer – and you need them asap. But actually, you just need them for a couple of high-priority projects that need to be finished on short notice.
So why not hire a freelancer to do the job?
Just use one of the many freelance platforms out there and hire a motivated freelancer. It will save you a lot of time and money since you won't have to go through the usual recruitment process.
Besides, working with freelancers gives you the chance to see how good they are and how well they work with the rest of the team. If you like what you see, you know who to hire next time you're looking for a full-time employee!
8. Passive candidates
Passive candidates have long been a bit of a hidden treasure. In the pre-social media era, it was almost impossible to get in touch with these talented workers who aren't looking to change jobs. The arrival of social networks has been a real game-changer here.
Now, recruiters can reach out to anyone – passive candidates included. They can engage with these candidates and build a relationship. Even if the passive candidate isn't interested right now, a connection has been made via social media. As a result, your company will probably be the first one that comes to mind when he or she eventually does want a career change.
9. Employee referrals
When it comes to recruitment methods, employee referrals are among the most effective ones. Referred new hires are usually more engaged, more productive and less likely to leave.
To create your own killer employee referral program you need to make sure it contains the following elements:
Incentives. Of course, cash incentives are usually the most effective. But non-monetary rewards such as extra holidays or a personalized gift can also do the trick.

Ease of use. Keep your referral program as simple to use as possible. No extensive sign-up procedures or heaps of documents to fill in, keep it short and sweet.

Keep 'em posted. When one of your employees has referred someone, make sure you let them know how their referral is doing. Did he or she just make it to the next round of interviews? Drop the referrer a quick message.

Recognition. Who doesn't like a few words of praise every now and then? Especially when they've just found the company a brilliant new hire. Try to think of a nice way to give your employees the (company-wide) recognition they deserve when they've successfully referred someone.
Subscribe and stay up-to-date with everything recruitment related by receiving a weekly content digest and email updates on new resources!
10. Texting
Granted, texting in itself may not be very innovative. As a recruitment strategy, however, it can be super effective. No less than 98% of sent text messages are being read. On top of that, the response rate for texts is 45% – as opposed to only 6% for emails.
As such, texting is a great way to:
Check-in with candidates

Schedule (and confirm) assessments & interviews

Engage with applicants during the recruitment process
11. Social media
If you don't use social media yet as a part of your online recruiting efforts, it's time to get started. Particularly younger generations of job seekers use some kind of social channel when they're looking for a job – 86% to be exact.
The possibilities of social media are endless and now go far beyond the big four (Facebook, Twitter, Instagram, and LinkedIn). Recruiters are starting to think outside the social box and try places like Tinder, Snapchat, and Bumble to find new talent.
The key when it comes to recruiting online on social media once again is: know your target candidates (and where you can find them).
12. Virtual reality
Virtual reality (VR) definitely deserves a spot in an article about innovative recruitment methods. More and more companies are using various virtual reality experiences in their recruitment strategy to show candidates that they are an exciting and innovative place to work.
What does such an experience look like?
VR can give your (remote) candidates a realistic, virtual tour or the office for instance, or show applicants your company culture. Compared to a video, VR headsets provide a higher level of realism and detail. And it doesn't even have to be all that expensive either!
Not that long ago, ING for example released a 360 video showing their office. You can check their video out with a Cardboard VR viewer for a price between $7 – $15.
Virtual reality is one of the most innovative
recruitment methods out there.
13. Mobile recruitment
We've purposely put mobile on the bottom of this list because…. really? A mobile recruitment strategy isn't optional anymore. For one because it virtually is the only way to get in touch with an entire generation of candidates.
Secondly, because a mobile recruitment process is a big plus for your candidate experience. In an era where job seekers are used to doing everything on their smartphones, they expect no less from the company they're applying to.
Thirdly, following our paragraph about the importance of text messages, how are you going to make the most out of texting if you don't have a mobile recruitment strategy? We rest our mobile case.
In short
Recruiting has never been as challenging – and exciting! – as it is today. If you want to find the best candidates, you need to be creative and try some new, innovative recruitment methods every now and then.
Doing so shows potential applicants that you're an exciting company to work for, that you embrace technology and that you attach great value to the candidate experience.
Use these thirteen recruitment methods to get inspired. Try (some of) them out and see what works for you. Enjoy!
Stop guessing,
Start data-driven hiring.
Learn how you implement a modern candidate selection process, that is: streamlined, experience-driven and backed by data.