When customers make the effort to physically go into a store, they expect something extra. Because online, they already get a great product offer, a smooth customer experience and a quick checkout.
So, the key element that truly adds value to a high street retail business is its employees.
They're the ones that can make a real difference and the reason your customers prefer coming to your store rather than buying online. On the flip side, however, your employees are also the ones that can make your customers never want to come back to your store again.
Needless to say, selecting the right people to work in your stores has never been of more importance than now.
It's all about defining which personality traits are predictive for success in retail and finding a proper way to test whether or not an applicant has these traits.
And that brings us to today's topic: When it comes to recruiting great retail employees, the list of desired characteristics and skills is long. But we've defined 7 personality traits every great retail employee should possess.

1. Confidence
Great retail candidates are confident people. They need to be able to approach customers in a natural manner and without hesitation. But besides being confident about themselves, retail staff should also be confident about the product or service they're selling. After all, nobody wants to buy something from a salesperson that isn't convinced about his/her own product.
And it doesn't stop there. Retail employees need to be confident under any circumstances. When an unhappy customer returns to the store because he or she wants to return something without a receipt for example. Or after the free return period has expired.
2. Empathy
Empathy and great communication skills go hand in hand, right? They should do anyway. Ideal retail employees know how to put themselves in the shoes of their customers. They're excellent listeners, skilled communicators and they master the art of solution based thinking.
Let's stick with the above situation where a customer wants to return something after the free return period has expired. Not only does the employee dealing with this need to be confident enough to tell the customer what's what, but they also need to be empathic enough to do so in a manner that leaves the customer feeling understood, despite a possible unfavorable response.
Don't forget to grab your free copy of our new white paper on the digital transformation of retail volume hiring. Learn about:
The challenges currently shaping the retail volume hiring space
How to align your recruitment strategy with today's reality by adopting technology
The four building blocks of a fully digital recruitment process
3. The desire to make the customer's day
Working in retail is a demanding job, both physically and mentally. Retail employees stand on their feet for 8 consecutive hours and deal with a lot of different people every day. All of this of course, with a constant smile on their face.
This is why the perfect retail applicant needs to have an intrinsic desire to make people happy. Think of it as a calling, something that's either part of your personality or it isn't. Without this strong willingness to make someone's day, applicants will have a hard time to become outstanding retail employees.
This is a crucial personality trait for retail candidates because, unlike their online colleagues, they're under constant scrutiny from your customers. Are they scrolling through their phones looking bored? Your customers will spot it right away. Are they too busy chatting with each other while clearly there's a customer standing next to them too shy to interrupt? You'll probably never see that customer again.
For retail, in-store employees, anything other than an impeccable attitude and a one hundred percent dedication to the customer just won't cut it.

4. Friendly & positive
Both of these personality traits speak for themselves. I imagine every single sales handbook out there lists 'always be friendly and have a positive attitude towards your customer' as its number one rule. That doesn't make them less indispensable for a great retail candidate though.
Again, unlike customer service agents, retail staff can't hide behind a phone line or a computer screen. If they have a bad day and/or attitude your customers will notice it straight away. And it will probably turn them off just as quickly.
After all, why would they buy from a store with unfriendly staff when they can get whatever it is they want just as easily – and without the attitude to deal with – online?
So although being friendly and positive may seem like a 'nice to have' personality trait for retail candidates, they're much more than that. They're crucial elements for your customers' experience as well as the perception of your brand.
5. Honest & reliable
Not entirely the same, but these two components can still be put in the same boat. Honesty is important because retail staff often works with valuable products and money, so you want to make sure you've got honest people working for you.
The underlying thought behind the reliability factor is of a more practical nature. Staff not showing up or showing up late – especially on evenings and during weekends – is a common issue in the retail industry. And since finding last-minute replacements is a bit of a nightmare, it's crucial you hire reliable candidates, to begin with.
Honesty and reliability are also important traits in the interaction with customers. Retail employees have to be sincere – and tactful when needed – and make sure that people only leave the store with something that actually adds value to their lives.
As good salespeople should do, right?
Indeed. And again, an added benefit of honest retail staff with a good reputation is that it reflects positively on the image of your brand as well.
Stop guessing,
Start data-driven hiring.
Learn how you implement a modern candidate selection process, that is: streamlined, experience-driven and backed by data.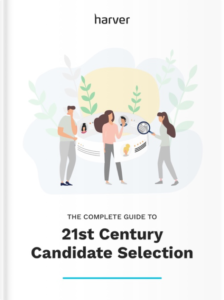 6. A creative problem solver
Awesome problem-solving skills inevitably require a considerable dose of creativity. Retail staff needs to improvise on a daily basis. They never know what question or issue a customer – or fellow colleague – will come up with; it may very well be something they haven't dealt with before.
The creativity part however goes well beyond finding great solutions for ad hoc problems. Top quality retail candidates also have the ability to come up with innovative ideas for your shop window and exciting ways to promote a new product range for example.
Creativity almost inevitably goes together with flexibility; retail staff needs to possess a great dose of flexibility. Not just when it comes to their working hours, but also when it comes to dealing with all sorts of customers and products.
And let's not forget about the different aspects of the job. Today, a retail employee may be checking out customers behind the cash register, while tomorrow, they may be assisting in the fitting rooms. The day after that, they could find themselves redesigning the shop window and rearranging the store. In other words: flexibility is a must.
7. Multitasking
Rather than a personality trait, it's a skill we're talking about here. And an important one, because retail employees must be able to do several things at the same time. Folding a pile of t-shirts while answering a customer's question for example. In other words: customers need to be looked after, but the usual store duties need to get done as well.
Subscribe and stay up-to-date with everything recruitment related by receiving a weekly content digest and email updates on new resources!
How to assess these retail-specific personality traits and skills
So, now that we've got a good selection of necessary qualities to look for in a retail candidate, it's time to actually find these qualities. There are many personality assessments out there, DISC, Big 5, MBTI, you name it.
But from what we've seen, the HEXACO personality inventory is the most elaborate out there at the moment.
Why?
Because the HEXACO focusses on 24 different personality traits. Think traits like Sincerity, Greed Avoidance, Gentleness and Flexibility for example.
Not coincidentally many of the traits we identified above can be measured with HEXACO. And many retailers already do, all within our recruitment platform Harver.
We'll give you a quick breakdown of how this works. A candidate visits the 'Careers' section of your website, clicks on the 'Apply' button at the bottom of a job description and gets rerouted to your online hiring experience. Like so:
While your applicants go through the experience, they get to know more about your company, their potential future colleagues, and the role they're applying for. They go through a series of assessments that offer them a realistic job preview, showing them what the role actually entails and what the day-to-day work looks like.
Also, they're exposed to critical incidents and challenging situations such as an unhappy client complaining about a product or service, and they have to choose the best way to react from a list of possible answers.
The experience is mobile-fist, engaging, fun and short enough to show the candidates what they need to see, without boring them.
At the same time, the system's algorithm collects data based on the candidates' actions and answers. The candidate receives a matching score, and the system is able to make reliable predictions about an applicant's likelihood to succeed in the role he or she is applying for.
Moreover, the Harver platform can also indicate whether or not a candidate will fit into your organization and its culture. Your recruiters have access to all this data, so they can easily compare candidate performance and decide which applicants should go to the next round.
Once they've completed the online assessment, applicants receive a feedback report that gives them an overview of how well (or not) they did on the various parts of the application process, and it also shows them the results of the personality test.
So on the one hand, there are your candidates. With this type of pre-employment assessments crafted specifically for retail roles, they get to decide whether working at your organization really is something for them or not. The use of (office) videos and real, on-the-job scenarios perfectly shows candidates what the role is like and thus manages expectations in a proper manner.
On the other side of the spectrum, there's your recruitment team. They get an elaborate data report showing them exactly how the various candidates performed in the experience. The report enables the team to make data-driven hiring decisions rather than decisions based purely on a resume.
Your store managers or recruitment team doesn't have to scan CVs or interpret assessment scores, as the platform automates all these steps, making the process more efficient, straightforward, and less biased.
If you'd like to see the Harver recruitment solution in practice, book a demo below.
Ready to transform your hiring process?