Following the pandemic, employee values and motivations in entry-level logistics jobs have changed. Recent research revealed 85% of workers in entry-level roles want to do work that has meaning. 81% of the warehouse, logistics, and delivery sector employees are actively searching for a new role, one that gives them a sense of purpose.
Of course, this isn't the only reason for high attrition rates in entry-level roles in the logistics industry, other factors include low pay, misaligned expectations, and a lack of understanding of the industry before entering it.
So what can your logistics business do to decrease employee attrition?
Let's take a closer look at the causes of attrition in logistics, before discussing 12 tactics you can employ to help prevent employees from leaving.
Causes of employee attrition in logistics
Job security
Even for entry-level positions, employees want job security. When employees don't feel secure in their job, they will seek employment elsewhere. The logistics market is growing, anticipated to reach $12,975 billion by 2027, that's a growth rate of 6.5% in 6 years, creating hundreds of thousands of new jobs. If employees don't feel secure with you, they've got plenty of options to choose from elsewhere.
Unclear understanding of the job
One of the biggest causes of attrition is misaligned expectations. These misaligned expectations are in part due to a lack of understanding around the logistic function in general. The majority of applicants for entry-level logistics jobs aren't aware of what working in a warehouse or on transport like ships, trains or trucks actually entails.
Training and learning new skills
When employees are under-trained they feel underappreciated, unhappy, and undervalued in their job, resulting in them leaving in search of better career progression, with better training and better opportunities to learn new skills. Yet, upskilling and reskilling the logistics workforce seems to be a tough challenge for leaders in operationally intensive sectors.
According to McKinsey & Company, only 7% of companies feel prepared to address the skill gaps expected over the next five years. The three main barriers to reskilling in logistics are the lack of understanding of the impact that automation and digitization would have on skill requirements (26%), the lack of tools or knowledge to quantify the business case for efforts to reskill the workforce (28%), and the HR infrastructure, which is not prepared for executing a new strategy designed to address skill gaps (30%). 7%
of companies in operationally intensive sectors feel prepared to address the skill gaps caused by automation and digitization.
Source: McKinsey & Company
Opportunities to advance
According to HBR, job seekers, from entry-level to C-Suite prioritize opportunities for their learning and development over any other aspect of the job.
A study by CareerBuilder measuring worker satisfaction in the logistics industry found that 45% of workers were more likely to quit their current role if they aren't happy with the advancement opportunities in the company. 39% said they'd leave if they felt underemployed. 36%
of workers in the logistics industry would leave if they were overlooked for a promotion.
Source: CareerBuilder
Company culture
Money isn't the only factor in employee retention, company culture also plays a large part. We spend 30% of our lives working, and no one wants to do that in a place that makes them unhappy. If you are hiring employees that don't fit with your culture, they'll quit, or if they stay, they'll be disengaged, negatively impact morale and reduce team productivity.
Schedule quality and flexibility
Over the last year, it's been repeatedly shown how important flexibility is when juggling home life with work life. And even as the pandemic wanes, a desire for flexibility at work, even in entry-level roles, remains. While there is no gold-plated solution for the perfect scheduling, having no flexibility in the schedule can be a driver for attrition.
Subscribe and stay up-to-date with everything recruitment related by receiving a weekly content digest and email updates on new resources!
How to tackle employee turnover in logistics
One of the first things we suggest to decrease employee attrition is make sure you hire the right people in the first place. And you do that by adjusting your recruitment process to ensure better quality of hires.
1. Provide job security fast
When you're hiring for entry-level roles, the type of applicants you'll routinely attract are people who aren't looking to enhance their career path, they're looking for a job, ASAP.
When the average time to hire, according to Workable, for warehouse, transport, and utilities roles is 25 days, with an average time to hire for manufacturing at 30 days, anything you can do to make your application process candidate friendly and appealing, is going to make you competitive.
Keep it short and relevant. Only assess candidates for the requisite skills and personality traits that correlate with high performance in the role, using pre-employment screening software.
2. Offer a preview of the job during the application process
One way to mitigate misaligned expectations is to provide all applicants with a clear understanding of the actual nature of the role through realistic job previews (RJPs), during the application process. This can be achieved by incorporating situational judgment tests (SJTs) in the application flow.
Below you can see an example of SJT developed by Harver for the logistics industry. The candidate is shown a series of realistic scenarios, including both routine tasks and critical incidents, that they'll likely encounter in their day-to-day role.
Behind the scenes, you're evaluating their fit for the role, assessing their skills and abilities to handle the situation. Each question provides three potential answers, which are rated from best to worst. Candidates' answers are rated and their aggregated scores are then centralized in the candidate profile pages, in the Harver platform.
For example, you might show applicants a video where they're stacking shelves in a warehouse and they see the contents for the shelves aren't right. The candidate is then prompted to select what they believe is the best way to handle the situation from a selection of answers.
In this RJP, candidates get a taste of what they might come up against in the role, and you can score them on their multi-tasking skills, communication skills, problem-solving skills, etc, comparing their answers against employer-specific benchmarks.
Candidates who don't like what they see in the RJP can self select out of your application process, so this type of pre-employment assessment helps you avoid hiring candidates who end up leaving due to misaligned expectations. This contributes to better quality hires and thus lower attrition rates.
3. Assess candidates for skills and attitude
Just because you're looking to fill entry-level logistics roles doesn't mean you should hire just anyone. You need to hire employees who have certain skills and attitudes to excel in the role.
Some essential skills to carry out the logistics entry level roles include:
Customer focused – even when working in a warehouse and the role isn't customer facing, employees need to keep the end customer in mind.
Organized – poor organization skills cost time and money and lead to dissatisfied customers.
Solution oriented – problems always arise in logistics. Employees need to be able to think on their feet to resolve situations quickly and efficiently.
Dispute resolution – people are at the heart of logistics and conflict always arises when working closely with others. Logistics employees need to be able to find a resolution.
Teamwork – logistics companies have a large, diverse workforce, so solid teamwork skills are essential.
Fast learner – competitive logistics companies are always looking for ways to take the edge, and technology is one way to do this. Employees need to be adaptable to learn new skills and embrace new technology to perform well.
However, the best way to assess candidates' skills is through pre-employment assessments developed with your company's needs in mind. And this is because the skills and attitude matter just as much as the culture fit, and standard or out-of-the-box assessments can't evaluate that.
Stop guessing,
Start data-driven hiring.
Learn how you implement a modern candidate selection process, that is: streamlined, experience-driven and backed by data.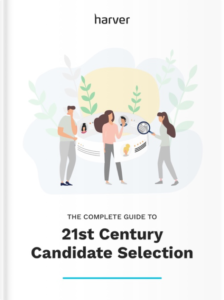 4. Manage expectations regarding opportunities for growth & training
There is a widely held view that logistics roles are dead-end jobs with low pay. But this couldn't be further from the truth.
Seek to reverse this misbelief and educate applicants throughout your application process about what an attractive industry logistics is, packed full of potential, exciting future career opportunities.
Get them excited about their future career prospects by sharing the growth and training opportunities your organization provides all employees. They may be applying for an entry level role now, but let them know they have a future at your company if they want it, a career path, with growth and training provided by you.
5. Showcase company culture during the application process
The type of people who are applying for your entry-level roles are likely to be submitting applications and resumes everywhere – they don't care who they apply to, they just want a job.
The odds are, therefore, they won't know much about your organization before they join. Educate them during the application process. Highlight your company culture, showcase the aspects you're most proud of such as your values. Applicants who don't feel comfortable with your culture will self-select out of the process.
You can learn more about the module developed by Harver for evaluating a candidate's culture fit below.
6. Provide enough information regarding work schedules
Most warehousing and logistics jobs are coordinated through a work schedule. Don't sugar coat your work schedule, it will only backfire further down the line, resulting in attrition.
Share information about how your scheduling works with all candidates. From how often you rewrite the schedule to what the average shift lengths look like. Be honest with applicants and tell the truth about what their work schedule could look like.
If you operate flexible scheduling, highlight this during the application process – let applicants know that even though they'll work to a schedule, there are options for occasional flex time, shift trades, half-day vacation increments, unpaid leave, etc.
7. Offer flexibility and control over scheduling
Employee retention isn't an outcome, it should be a strategy that you put in place and pay careful attention to, to cultivate a loyal and engaged workforce.
According to Shiftboard, 49% of shift workers are willing to take a pay cut if they get more control over their schedule. 55% said they'd leave their job if they had no control over scheduling.
Schedules don't have to be strict, even an iota of flexibility improves employee satisfaction and ultimately employee retention rates.
8. Provide a clear growth path where suitable
Make sure new employees know that you're invested in their development and career progression, even if they're doing entry-level jobs. Warehouse staff can't always see an obvious career path for themselves, viewing their job as a temporary one, rather than a career.
Provide a clear training and development path for employee growth. Highlight the different roles upwards from entry-level to manager, and the training and development steps employees need to take to walk the career path.
9. Onboarding and training
From the outset, train every new employee and set them up for success. If they're part time, or shift workers, adapt the training to fit in with their schedule. Don't cause undue stress early on by not being flexible with their training schedule.
And don't just onboard new employees and leave them to get on with it. Provide them opportunities to come back to you if they have any issues. Hold two onboarding interviews early on in their employment – after 2 weeks and then after 2 months. Doing this will allow you to nip potential issues in the bud before they escalate and cause attrition.
Ask new employees questions such as: 'are your expectations being met?'. Give them the chance to voice any disconnect between expectations and reality. Checkups may be time consuming, but if they uncover potential issues and prevent attrition, they'll be worth it. 90%
of employees will make the decision to stay with an organization or leave by the end of the first year.
Source: Cognology
10. Feedback loops
If you aren't measuring your recruitment efforts and tracking new employee data, how can you improve on what you're doing?
Feedback loops are simple: you hire employees, monitor their performance by tracking specific KPIs, and use that information to improve future hiring. It's a constant cycle of monitoring and improvement, always striving to improve your processes for higher quality future hires.
11. Bonus, rewards & recognition
Don't just reward your white collar workers. Reward the people in your warehouses too. Bonuses, rewards or recognition are highly sought after, wherever you work, whatever your level.
You don't need to go overboard thinking up bonuses and rewards. For example, logistics companies with the lowest employee turnover rates are those with the best management practices. They have managers who provide timely positive feedback to workers, offering suggestions for their improvement, while rewarding high team performance with a pizza party or high individual performance with time off.
12. Clean warehouse
If you want a high-performing, efficient warehouse, you need to consider the environment, not just the people who work in it.
A warehouse survey by DC Velocity and ARC Advisory Group revealed that the highest performing warehouses were well lit, clean, with modern technology, high-speed sorting and distribution equipment, and a monthly review of SOPs and best practices.
When employees aren't concerned about workplace hazards, when they know they work in a productive, healthy environment, they feel safer, increasing employee retention.
Next steps
To sum it up: the recommendations above refer to changes that you can do before hiring logistics employees, as well as after selecting candidates for your open roles. By taking the right steps during the application process and during the onboarding phase, you can decrease turnover while also significantly improving the candidate experience.
If you'd like to see how Harver's recruitment solution for the logistics industry can help you improve your candidate selection process to hire better and faster, you can book a demo below.
Ready to transform your hiring process?