Did you know the accommodation industry currently employs more than 2 million people in the US alone, not to mention more than 2.7 million jobs in Europe? Hotel jobs exist far and wide, with unlimited options for hotel staff to choose from when they're looking for a new job.
And with the unemployment rate below 4.5% in this sector, the competition for good hotel employees is fierce—which is especially difficult, seeing as hotel staff is such a critical part of making (or breaking) the guest experience.
Of course, it goes without saying that you want to provide a memorable experience to your guests—but how do you make sure you're finding and hiring the most exceptional hotel staff to run the show? With the right strategy, process, and tools, you can ensure you're only hiring the best of the best for your hotel.
"It takes years of slow work creating a team that are consistent in their values, believe in the philosophy and are prepared to do their work while following the ethical behavior the philosophy implies: Do the right thing, making sure that you don't compromise on the principle in how you treat everybody – your vendors, your customers, your partners, your tradespeople who work there." — Isadore Sharp, Founder, Four Seasons
Hiring hotel staff isn't necessarily easy—but it doesn't have to be impossible. Keep reading to learn about 9 different steps to hiring exceptional hotel staff!
What's included
Subscribe and stay up-to-date with everything recruitment related by receiving a weekly content digest and email updates on new resources!
How to hire exceptional hotel staff
Below are some of our key tips and tricks to help you hire the best possible staff for your hotel—and it all starts with the number of roles you're hiring for.
1. Define the roles and skills you're looking for
First, figure out how large your hotel staff needs to be to offer your guests a great experience. While a budget property can operate with as little as 0.25 employees per room, and a mid-range hotel requires 0.5 employees per room, large upscale chains often employ 1.5 to 2 people per room. To put that into perspective, you would need around 450-600 people to effectively manage a 300-room hotel—and figuring that out is just the first step.
Once you figured out the total hotel staff number, you need to figure out which specific roles to hire for, as well as how many employees per role. How many housekeepers and receptionists do you need? Do you need a bellboy or a concierge? Food and beverage assistants? Chefs? Create a detailed staffing plan that outlines each and every role you'll hire for to ensure you're covering all your bases and not leaving anything out.
Regarding the skill sets, you can start with the WETCO approach, which emphasizes the 5 critical soft skills to look for in hospitality employees: warmth, empathy, teamwork, conscientiousness, and optimism. Then you can move forward with determining the role-specific skills; however, in general, you should apply 'hire for attitude, train for skills' approach.
Compiling an ideal candidate profile will help you navigate and stay focused throughout the entire recruitment process.
"Some of my remarks may appear to be too detailed, but it's the little things that make the big things possible. The close attention to the fine details of any operation—restaurants, hotels or what-not—makes that operation first class." — J. Willard Marriott, Founder, Marriott Corporation
Hotels and restaurants face the biggest labor shortages in the UK and other countries with 4.1 advertised positions for every 100 people employed in the sector. Defining the roles and skills you need is the first step in successfully filling your vacancies.
2. Perfect your job descriptions
Next come the job descriptions—and trust us when we say that a one-size-fits-all description won't do the trick. Instead, try to be as detailed as possible, using inclusive language to make sure you're not unconsciously discourage anyone from applying. Make sure not to leave any important information out.
You also shouldn't be afraid to show personality—nobody wants to work for a boring hotel brand! Be relatable and remember that you have to sell the job as well. This will ultimately help attract higher-quality candidates to apply for your open positions.
3. Target your sourcing efforts
In addition to the regular job posting websites, such as Indeed and Monster, you should post open roles on hotel industry-specific job search platforms. Some of the best hospitality job boards are HCareers, HospitalityOnline, iHireHospitality, HARRI, Caterer, HOSCO, and HotelCareer. Posting on these, you will reach qualified candidates faster.
Another great way to source exceptional hotel job candidates is to connect with local hotel management schools. Students who are reaching graduation are often looking for jobs—and probably trying to sift through the options to find the best options. Reach them directly by building a relationship with the school and engaging with students. You can also consider working with the school to host a career day, which would allow you to meet potential candidates face-to-face.
…and they also attract highly qualified candidates. In combination with other sourcing channels, specialist job boards can be an effective source of candidates.
4. Make your application process easy
Job candidates today expect an easy, mobile-friendly application process when applying for new roles. Let's face it: nobody wants to fill out the same information manually, again and again. Don't force your candidates to do this.
Instead, make the process straightforward and user-friendly to encourage more job seekers to apply. This is especially important because you don't want to miss out on the ideal candidates due to a complicated application process. You can even allow candidates to apply on the spot via a short link or a QR code. You'll have plenty of time to assess and screen your candidates after the initial application process is complete.
Stop guessing,
Start data-driven hiring.
Learn how you implement a modern candidate selection process, that is: streamlined, experience-driven and backed by data.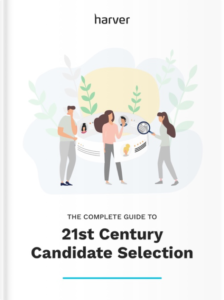 5. Assess the candidates
You can't rely on resumes to tell you everything you need to know about your candidates. That's why it's a good idea to use online pre-hire assessments with benchmarks modeled after your top performers. This will help you assess personality traits and characteristics that are predictive for success, such as strong communication or customer service skills.
Also, you should always notify job candidates who don't fit your requirements—not only is it the right thing to do but also keeps the door open for them to apply to other positions in the future. Encourage them to do so and keep their resume on file so you always have a candidate pool available. This is especially helpful during busier times of the year, such as over the summer or in the holiday period, depending on where your hotel is located.
Although it might not seem obvious at first, your hotel staff should have good digital skills to be able to work with various kinds of software and hardware that your workplace uses. Otherwise it can have a negative effect on your company.
6. Standardize your interview process

To speed up and improve your interview process, you should standardize it as much as possible. Interviews should be consistent to help better compare candidates to one another and choose the best fit for the role. Asking the same interview questions is a good way to be consistent—not to mention being consistent with the process itself.
Your first round can be a video interview integrated into your online assessment so you can get a feel for a candidate's personality. This is especially important for hotel staff roles, where personality traits like friendliness and empathy are critical for success. Ask open-ended questions focused on customer service orientation, teamwork and other relevant topics. Your questions can include:
What does excellent guest service mean to you?

Tell me about a time you disagreed with a coworker. What did you do to resolve the situation?
Learn more about how they would handle common hotel scenarios by asking experiential questions, such as:
A guest asks you for local restaurant and entertainment suggestions. Where would you recommend if they were a single business traveler, young couple or family with children?

Describe a time you had to disappoint a guest. What was the situation and how did you handle it?
This will help you get a better idea of whether or not the candidate will be a good match for the position you're interviewing for. By only bringing the top candidates in for an in-person interview, you can speed up the entire process and avoid wasting time meeting the wrong people for the role.
7. Conduct background and reference checks
Once you've narrowed it down to your ideal candidate(s), you will need to conduct background and reference checks. Verify your shortlisted applicants and ask their former employers to learn about how they performed in their previous roles. Ask if they would recommend the candidate for the position, and why (or why not) they would do so. This will help you assess both cultural and job fit before making an offer to the candidate.
8. Nail the onboarding and training processes
Hiring exceptional hotel staff doesn't stop with making the job offer. It's also critical that you nail the onboarding process to ensure you're providing new hires with the necessary training to do the job well. This gives new hires a chance to familiarize themselves with the company culture as well—which no doubt contributes to their overall happiness working there.
"Train people well enough so they can leave, treat them well enough so they don't want to." — Sir Richard Branson, Founder, Virgin Hotels
Once onboarding and training are over, make sure to keep the communication channels open and implement a continuous feedback loop. This will help ensure the candidate is engaged and satisfied with the position, and will also provide useful insights to help you improve your onboarding process.
Your hotel employees will need some reskilling as well. Onboarding and continuous training are, therefore, crucial in successfully hiring and retaining hotel staff.
9. Bonus tip: Become the employer of choice
As we mentioned earlier, it's important you sell the job and the company as a whole. You can do this by building your employer brand, essentially becoming an employer of choice and presenting it to the world. Stand out from the competition—it's a job seeker's market, and they have their pick when it comes to which hotel they choose to work at. There is no shortage of hotels, but there is a shortage of potential hotel staff at any given time.
Check out Marriott, Hilton, and other well-known hotel brands to see what some of the biggest and best in the business are doing to appeal to candidates. And as a general rule, you should aim to be the fair and responsible employer people want to stick with. This will help you avoid turnover and ensure you're fully staffed to offer hotel guests the memorable experience they want and deserve at your establishment.
Hilton shares their inclusive company culture on social media, strengthening its employer brand and showing potential candidates how it is to work at their hotels.
One last piece of advice
Great customer service in the hotel/accommodation industry begins and ends with great people. (After all, they call it the people business for a reason!) As long as you hire those and tailor your recruitment strategy to the industry you're in, you'll be well positioned to hire top-notch hotel staff to run the show. Look at what your competitors are doing, and then do it better.

Also, remember that hard skills—such as proficiency in reservation software or concierge training—can be learned, but WETCO (warmth-empathy-teamwork-conscientiousness-optimism) is the base your hotel staff members need to have to truly be exceptional, so make sure to assess your candidates properly and pick the ones who are the best people for the people business.
Stop guessing,
Start data-driven hiring.
Learn how you implement a modern candidate selection process, that is: streamlined, experience-driven and backed by data.