We all know the staffing industry is competitive.
What's becoming more apparent many organizations are now facing hiring budget cuts and cost consolidation and it's increasingly difficult to win more business as a staffing agency.
Not only do you need to find a distinct competitive advantage to remain relevant in the tough market, but you must implement an effective candidate selection process, nurture relationships and boost your referrals for your agency to remain viable.
So, how to get clients for your staffing agency?
Here are our top 7 tips.
What's in?
Subscribe and stay up-to-date with everything recruitment related by receiving a weekly content digest and email updates on new resources!
1. Be an expert in your niche
One of the best investments your staffing agency can make with its time is becoming an expert in your chosen industry niche.
If you are knowledgeable about your niche and the challenges your potential clients have to deal with, it's easier to solve their hiring problems. Try to understand what exactly they're looking for and how you can help them.
You can do this by focusing on what your ideal client looks like:
What industry are they in?
How big is their company?
How much revenue do they bring in?
Where are they located?
If you can focus on a specific industry and become an expert in that niche, it can also make your hiring efforts easier. You'll know what companies are looking for in their candidates, you'll know the best places to find them and how to effectively assess them.
2. Have a thorough candidate selection process
If you are knowledgeable about your niche, you can design an effective sourcing and candidate selection process that helps you find the right employees for your clients.
Making the right hiring decisions comes down to finding candidates that match an employer's job and culture fit, which boils down to having the skills and competencies needed to succeed in the job and the organization.
Your selection process has to be top notch to get new clients for your staffing agency, as it can be a key differentiator for your business.
The Buntin Group's Matt Lowney says: "I will absolutely select a staffing vendor based on the depth of their recruiting process."
For that, you also need the right toolkit. For example, matching technology uses assessments to evaluate candidates based on their competencies and skills relevant to the job you're trying to fill.
The candidate's score is then calculated into a percentage you can use to measure how well they would fit the role.
The result? You can have confidence that you're hiring the best person for each job role, every time.
Stop guessing,
Start data-driven hiring.
Learn how you implement a modern candidate selection process, that is: streamlined, experience-driven and backed by data.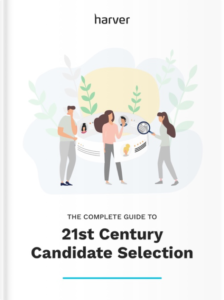 3. Digitally transform your operations
Finding the right candidates for your clients has come a long way from advertising in newspaper classifieds.
In today's high-tech, online world, it's essential that you focus on remaining competitive. To do that, you need to digitally transform your operations—something that 86% of staffing business leaders believe is necessary to remain competitive.
Now, digitally transforming your operations means that every aspect of your hiring funnel and client journey needs to be looked at. You need to go further than just investing in new staffing agency software. To be successful, every part of your operations needs to adapt processes to embrace innovative technology.
From pre-employment testing to video interviews to automated candidate nurturing and client engagement, digitally transforming your operations has never been more important than right now in the COVID-19 pandemic.
Josh Bersin says digital HR tools like online video interviewing, digital assessment, and digital candidate experience strategies have now become critical for businesses.
"We can't bring people into the office to interview any more, so we need to interview and assess them well online," he says.
"A big message from the crisis is that companies who invested in sound digital HR strategies suddenly see them as business-critical tools and have gained significant benefits."
Staffing agencies increasingly recognize the importance of digital transformation in running their business and getting and retaining clients.
4. Ensure transparent communication
Your clients want to know what they're paying for.
Communicating with them transparently not only helps build trust with your clients but ensures that you can build a lasting relationship with them. Yet there are other benefits to transparent communication, like fully understanding your client's needs and problems, that make this step critical.
The more you know about the client and the job vacancy, the easier it will be for you to hire the right person for the role.
Bringing a strong communication game can also help you explain your processes to your client. It's important to clearly outline what your strategy is for finding candidates, how long you expect it to take, and what your fee will be. It's also during these early communications with a client where you can make sure their expectations of new hires match reality. Explain to them what is possible on their budget and what kind of candidates are out there for the role they're looking to fill.
Communicating transparently also gives you a chance to outline to a client what makes your staffing agency stand out from your competitors.
If you're an expert in a niche, and you've invested in a digital transformation that will benefit the quality of candidates you find for the client, this is the time to highlight it.
5. Build your online presence
Be strategic with your marketing efforts.
Ask yourself, where are your clients? Are they on LinkedIn? Searching for a staffing agency on Google? Scrolling on Facebook?

It's important to be where your clients are.
For example, if there's a popular industry magazine in the niche you're targeting, approach them and get them to publish a guest post from you. If your clients live on LinkedIn, you can create targeted ads to get them to notice your agency there.
Now, you need to go further than just getting noticed. It's important that any online content and advertising you put out shows potential clients why they should work with you you instead of a competitor.
Make sure you highlight the exact reasons your agency is different from other staffing agencies.
Robert Half, a global staffing firm, provides their (potential) clients and candidates with relevant market information such as salary data, based on their own researched. Featuring this on their website makes for a powerful online tool for attracting visitors.
6. Research your competitors
To outsmart and outmarket your competitors, you need to know how they are positioning themselves and what their message is.
Take a deep dive into their operations and advertising to see what their sourcing process is, where they post for job openings and how they select candidates. Once you have a basic understanding of their ground game, then you can take a look at what clients they have (on the client section of their website) and start to build a game plan on how your agency can approach similar clients.
This is what we call competitor research.
Not only will it give you a good understanding of what your agency is up against, but it allows you to gather best practices from top competitors and implement winning strategies within your own hiring processes.
The good news is that if you do your research, you then have the ammunition to approach some of your competitor's companies. You see, the good thing about staffing agencies is that it's rare for clients to sign exclusive contracts with a single agency. In fact, it's common for companies to have contracts with multiple agencies as it widens their talent pool and ultimately gives them a better shot at filling job vacancies.
Don't be afraid to approach clients that are already on your competitor's books. Chances are, they're looking for another staffing agency to help broaden their candidate outreach.
7. Nurture client relationships
You don't only want to win new business—you also want to retain your existing clients.
The bread and butter of any staffing agency should be to nurture relationships with your clients through regular communication and work on positioning yourself as a partner rather than as a vendor.
Nurturing these relationships should begin as soon as a new client lands in your funnel. First, you need to set expectations for the client, especially if they've never worked with a staffing agency before. Make them feel comfortable, give them as much information as possible, and be transparent and open about any questions they have.
The early days of a client relationship are crucial as it can set the tone for the months and years ahead if the client decides to stick around.
Good As Gold Training and HR Search president Barbara Bruno says if your agency can get this step right, it can elevate your client relationship from vendor to trusted advisor and effectively separate yourself from your competition.
"Your goal is to form lifelong friendships and relationships where you become their sounding board," she says.
"Do your best to always provide them with the top candidate available, vs. the best person in your database. Provide your clients with valuable information and insights, when you are not making money from them. When they realize you care about them, they can trust you and that you will deliver what you promise. Then, they will value you as a trusted advisor."
Building these relationships also has another big perk—it opens the door for these clients to refer you to others in their industry.
Research what the weaker points in your client relationship management are and come up with strategies on how to improve on them.
8. Get referrals
As just outlined, nurturing your client relationships can make it easier to get new clients through referrals.
Becoming a trusted advisor, not just a vendor, can boost your standing with a client and make them more likely to recommend you to their peers and businesses in their industry. These word of mouth recommendations are worth their weight in gold, as they are an effective way for your agency to gain traction and bring qualified candidates into your client base.
The bottom line is that if your clients are happy, it's easier to ask them to make an introduction.
Rolf Kramer runs Denver-based IT staffing firm Kranect. He says staffing agencies can live or die by your willingness to ask for referrals from previous clients.
"For us, referrals are everything," he says.
"We're easy to work with, reasonable, honest, and tell the truth. It isn't because I say, hey, do you know anyone else I could talk to? I don't even ask. It's just how we treat people.
"Work in a way that would make people want to refer their colleagues and peers to you," he advises.
Kramer's advice is simple. Be reliable, be honest, and be truthful to clients and the referrals become automatic. It's a big reason why referrals make up 78% of Kranect's client database.
Wrapping up
Getting new clients for your staffing agency won't happen overnight.
It takes planning, investing in your client relationship, and building better digital processes so you can deal with 21st-century hiring needs. On top of that, if your agency is willing to put in the time to brand itself as an expert in a niche, create a culture of transparency and cultivate word of mouth referrals, you can stand out from the crowd and get more clients on your books.
Don't forget that for your staffing agency to be successful, you always have to be proactive in your effort to win more business.
Now, it's your turn. Are you ready to go out and get your agency some more clients?