As a staffing agency, you need to have a strong recruitment process in place to differentiate yourself in the competitive staffing market and win contracts.
So, how can you make sure that your process is effective and efficient, especially as recruiting continues to be more remote-based?
According to a survey, 51% of recruiters have recently interviewed candidates remotely, with 42% making a job offer remotely. And even though there are now more candidates available on the job market, companies still have problems finding people with the right skills. With hiring moving remotely and skills shortages approaching, staffing agencies need to rethink the way they hire.
The good news for staffing agencies is, incorporating digital tools like video interviews, pre-employment assessment, and using automation, changes can be made to meet the ever-evolving environment.
We're sharing 9 best practices staging agencies can use for recruitment—let's get hiring!
What's in?
Subscribe and stay up-to-date with everything recruitment related by receiving a weekly content digest and email updates on new resources!
1. Focus on clients' specific needs
The first step to recruiting the right people is knowing exactly the type of employee your client needs.
Ask your client:
What is the role about?

What are your requirements?

What is your budget?
Asking some simple questions at the start of the recruitment process can shine a light on what your client is looking for. You can then use this information to determine the best recruitment strategy for each role.
It's important to remember that some clients will have different needs for different roles, which you can help them understand. For example, some roles will require recruiting candidates that have a certain level of specific skills and experience, while others will focus on broad abilities like conversational skills.
To prepare your staffing agency for this, you should create a flexible recruiting process that lets you build in specific client needs, like skill tests, and add in extras like background checks if you need to.
Focusing on what your clients need and finding a tailored solution for them helps you improve your client experience.
2. Set a clear timeline
You don't have to have a day-to-day plan for each stage of the hiring process.
But what you do need to do is be realistic and set a clear timeline and deadline. This is important not only to keep your staffing agency operations organized but also for your clients. Adding a timeline into your process means your client will have a date in mind for when you'll have a candidate in place, which will give them confidence in your process.
And if there are any delays in that process, make sure to communicate them to your client immediately.
The easiest way to establish a timeline with your client is to figure out when they need the job's start date to be. Once you have a start date, you can build a recruitment process backward from that day. For example, if a client needs a role filled in 8 weeks, you can use that date to map out a timeline like:
Sourcing and pre-employment tests to happen in 3 weeks

First round of interviews in 4 weeks

Second round of interviews in 5 weeks

Onboarding and training in 6 weeks
Mapping a timeline out will make it easier for your agency to manage your workload and your client's expectations.
3. Design a virtual recruitment process
As we've already highlighted, you won't always be able to meet the candidates in person.
So, you also need to make sure your recruitment process works in a remote setting. Even if you haven't used the technology before, now is the time to start exploring remote recruitment tools like video interviewing and digital skills tests to streamline hiring over the internet.
For example, with one-way video interviews, candidates can use the tech to record answers to written or video-based questions in the initial application process, which reduced the need of time-consuming phone screens.
In short, digitizing your recruitment process will help you learn a lot about what a candidate is like before you ever invite them to interview. What virtual interviews also do is broaden your talent pool. As you can attract and interview candidates virtually, you will open up your hiring options to candidates that live abroad.
This same tech can also be used for a bunch of different recruitment techniques, like hosting a virtual job fair to attract even more talent to fill open positions.
Don't forget that the best part about adding new tech into your recruitment process is the flexibility it gives you. Depending on your client's needs, you can mix and match tools like virtual interviews and job fairs to attract their ideal candidates.
A virtual recruitment process also allows you to collaborate on finding the best candidates for your clients.
Stop guessing,
Start data-driven hiring.
Learn how you implement a modern candidate selection process, that is: streamlined, experience-driven and backed by data.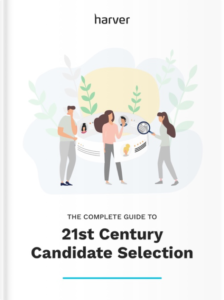 4. Employ online assessments
71% of companies featured in the Candidate Experience Research Report said they use pre-employment assessments. There's a reason for that—they work.
Online assessments are a secret weapon for staffing agencies to find the right talent for a job role. Using assessments that are specific for certain job roles, you can see if candidates can do what a job requires and react to situations that will make them a good hire.
For example, suppose you're hiring customer service employees. In that case, you can test them for spoken language, multitasking, and situational judgement to verify if they have what it takes to work in the industry.
However, online assessments aren't just helping you to get the best hires for your clients. They're for the candidates, too.
Online assessments give candidates a taste of what a job role will require of them. A situational judgement or skills test will prepare them for situations they will be expected to encounter in a job role, and they can decide whether or not they're suited for the role.
And finally, these assessments will also help you uncover the transferable skills of your candidates. If a candidate has applied for a specific role, but they ace a test that shows they might be a perfect fit for another opening, you can use that assessment to recommend them for the other job role. Not only does this make sure you're not letting talent slip through your fingertips, but it also means you can speed up the hiring process.
5. Match candidates to the right roles
This best practice is all about uncovering which role a candidate is a good job fit for.
Matching technology in recruitment can help you automatically assess a candidate's skills and match them to a job role that suits them best. In your assessment process, you can add in specific assessment tests based on the role you're hiring for, and once a candidate has filled them in, the tool will automatically rank them based on their results and show you which position they fit best.
This not only saves staffing agencies a ton of time, but it also makes sure you're hiring the person that's the best fit for the job role.
Implementing matching technology in recruitment can be part of your agency's digital transformation.
6. Use automation
There's no denying it—automation allows us to work more efficiently. It helps take care of the more mundane parts of the hiring process, like data entry, screening candidates, follow-up emails, interview appointments, and onboarding.
Founder of the StaffingTec Conference, Maurice Fuller, says until now, using automation hasn't been a priority for the staffing industry.
"Now, even small staffing firms can automate and eliminate repetitive, low-value and time-consuming administrative tasks across the staffing continuum — including sales and marketing — that currently take staff members away from interacting with candidates and clients," he says.
"The real value of robotic process automation is that it takes "the robot out of the human."
What Fuller says about taking the robot out of the human shines a light on solving a problem in the recruiting process—bias. Humans, whether they try to or not, can have bias when recruiting candidates. Robots don't, meaning candidates will be automatically screened and ranked based on their skills and assessment results before you ever see them for a 1-on-1 interview.
Because all of this can now be done automatically, you can hire faster, smarter, and also fairer.
7. Keep your candidates engaged
It's important to remember that the hiring process isn't just about you, but it's also about your candidates.
While you're eager to fill empty job roles for your clients, candidates are also vying for job roles and waiting to hear back from you about the progress of their application. With that in mind, you must keep your candidates engaged, are flexible in your communication, and provide answers to their questions as fast as you can.
Remember, it's likely candidates are working with multiple agencies, so you need to keep them interested in your roles to attract top talent. Even if a candidate's application isn't going to progress any further, it's important to keep them in the loop. Consistent communication can leave a candidate with a positive impression of your company in case they apply for another position in the future.
The good news is that with recruiting automation, you can easily engage even larger volumes of candidates, for example, by sending them automated updates based on their status in your ATS or CRM.
Texting is becoming increasingly popular in recruitment, allowing for fast communication.
8. Maintain your talent pool
Remember how we just said that it's important to leave a candidate with a good impression of your company?
That strategy is all about maintaining a talent pool for you to use for future job openings. Even when a candidate isn't successful for a particular job opening, you should keep them on file in case one arises. That way, you can reach out to them at the start of the recruitment process to see if they're interested.
Now, maintaining your talent pool takes work. You need to engage with your talent pool occasionally, whether it's checking in with an automated email or sending them relevant content. But that effort will pay off if a job opening comes up and it turns out a candidate in your talent pool is a perfect match for it.
9. Use data to optimize your process
Finally, use your data to measure how satisfied your clients are.
As hiring the best people is the ultimate goal for staffing agencies, it's important to check in with your clients to see if you have been successful. Ask your clients directly if they're happy with the employees you're providing them with, if their skills have measured up and if they're proven to be a good job fit.
However, it's not just client satisfaction you should be measuring. You should track your own recruitment process, too.
Setting up internal recruitment KPIs can help your staffing agency to track and measure where your best candidates are coming from, what methods are bringing in the best results, and how you can make your hiring process more productive. Look at your data to see:
What recruitment channel is bringing in the most candidates

What recruitment channel is bringing in the best candidates

How long a typical hire is taking your agency

How satisfied the candidates are in their hiring experience
The last measurement—candidate satisfaction—links directly back to maintaining a talent pool. The happier your candidates are (whether you hire them or not), the more likely they are to interview for a possible role in the future.
If you keep on top of your data and make sure your candidates, clients, and also your internal processes are doing well, your staffing agency will ultimately be more successful.
Other popular KPIs include fill rate, submittal-to-hire ratio, and interview-to-hire ratio.
It's time for staffing agencies to embrace tech
Using technology in your staffing agency recruitment process is inevitable to ensure efficiency and effectiveness.
While some parts of the recruitment process still rely on manual work, like interviews, other aspects such as data entry, follow-ups, and virtual interviews can now be automated. Not only does this give your recruiters more time to focus on communicating with clients and hiring the best candidates, but it can also take bias out of the process.
The time for staffing agencies to embrace tech is here. With remote work on the rise, more interviews being done online, and top talent sitting in every corner of the globe, making your process digital and flexible is the smart thing for your clients—and your business.
Stop guessing,
Start data-driven hiring.
Learn how you implement a modern candidate selection process, that is: streamlined, experience-driven and backed by data.