Every year, the Human Resources world introduces new ideas, technologies, and best practices. In order to stay at the top of the game, HR professionals need to keep up with all the developments.
While there are many different ways for those in HR to stay educated, nothing beats a classic book. Whether you choose to store a hardcover on your library shelf, read a digital version on your e-reader, or listen to an audiobook, some of the best information you'll find is between the covers of a book.
We've rounded up our favorite books HR professionals should read in 2020.
Let's take a look!
What's in?
Subscribe and stay up-to-date with everything recruitment related by receiving a weekly content digest and email updates on new resources!
By: Corey Seemiller and Meghan Grace
With Generation Z entering the workforce, HR professionals need to focus on how our youngest generation interacts with the world as consumers, students, colleagues, voters, and neighbors. Through understanding how they see the world, HR teams can create work environments that encourage them to thrive and effectively manage generational diversity in the workforce.
Generation Z: A Century in the Making takes a look at the lives of individuals within this demographic, including their career aspirations, money management, relationship values, educational preferences, and more.
By: Rita Trehan
HR professionals are always looking for ways to develop their own skills and careers. When they're able to take on new leadership positions, they can improve the skills, roles, and processes within their organizations.
In Unleashing Capacity: The Hidden Human Resources, Trehan shares first-hand knowledge in easy-to-read chapters that help HR professionals at all levels move up the corporate ladder. Readers can apply Unleashing Capacity's lessons to their unique, individual task to get a personalized take from the content.
By: Fermin Diez, Mark Bussin, and Venessa Lee
Analytics and data are becoming more and more crucial for developing HR processes and strategies. By understanding data analytics, HR can implement practices and policies that improve a business's overall performance.
Fundamentals of HR Analytics: A Manual on Becoming HR Analytical sets the building blocks for any HR professional to grow their knowledge of analytics and data. The book covers practices such as data-analytic thinking, data management, data collection, clean-up and warehousing, building descriptive and predictive models, applying HR analytics and tools to the workforce, and planning, recruiting, training, and turnover analysis.
By: Glenn G. Jones
Very few individuals transition from HR to CEO. But why is that? With HR being the core of any business, it would seem like more HR professionals would reach their full potential to lead companies to success. This is the question that Human Resources Changes the World sets out to answer.
Jones explores research in hopes of explaining why HR professionals often fail to reach their full potential –– and what they can do to harness everything they're capable of. This sets a roadmap for HR professionals and directors to truly change the world in the 21st century.
By: Rhodes Perry, MPA
In order for someone to succeed in their job, they need to feel like they belong in the organization. If they're experiencing a disconnect between who they are and the company they work for, it can make it difficult for them to get comfortable –– ultimately preventing them from reaching their full ability. As HR professionals and directors, it's your job to ensure each employee fits within the company culture.
In Belonging at Work: Everyday Actions You Can Take to Cultivate an Inclusive Organization, you'll learn the skills to empower business leaders, change agents, and visionaries to do more in the positions they hold. Readers will understand what it means to belong, why belonging matters to the future of work, and how leaders can positively impact workplace culture. You'll also learn where to find concrete strategies to connect with culture change thought leaders and how to hold yourself accountable for influencing change in the workplace.
Stop guessing,
Start data-driven hiring.
Learn how you implement a modern candidate selection process, that is: streamlined, experience-driven and backed by data.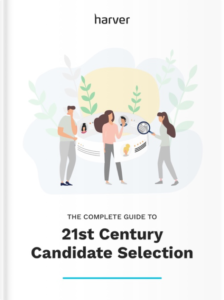 By: Ram Charan, Dominic Barton, and Dennis Carey
Many organizations say they value human capital, but when it comes to talent-planning, HR processes are stuck in traditional frameworks of doing things. Unfortunately, this mindset no longer fits the fluid business structure many organizations have adopted.
Talent Wins: The New Playbook for Putting People First encourages HR professionals to break outside those molds to turn conventional views on their heads. This book excludes examples from top organizations and Silicon Valley startups to show the various ways leaders can apply financial capital best practices to their human capital.
By: Ian MacRae, Adrian Furnham, and Martin Reed
Developing a high-quality team of talented individuals doesn't end when a great person is hired. In fact, just spending money to recruit top talent is a waste of time and money if you're not then turning around and investing in keeping those same talented individuals at your company. High Potential: How to Spot, Manage, and Develop Talented People at Work helps you solve that problem.
This book helps readers understand and define potential, as well as how to manage high-potential employees to ensure they're happy in their positions. Through helping them develop their careers, you can encourage top-talent individuals to stick around with your company. Within the book, readers will learn from case studies and real-life examples that they can then apply to their organizations and work.
By: Armin Trost
We've been seeing digitization of business in just about every area. This means leadership and collaboration also need to become digitized as well. For the HR world, that means professionals need to start thinking about how digital transformation might change their current business practices and processes.
Human Resources Strategies takes a look at what those digital changes might look like. It illustrates the difference between stability and agility within leadership and an organization and guides the reader through a broad range of relevant changing HR dynamics. It covers all major HR management aspects, including recruitment, learning, talent management, remuneration, performance management, corporate training, executive development, and change management.
By: Dee Ann Turner
Dee Ann Turner has been in the recruitment, training, and retraining business for over 33 years. In that time, she's recognized the key factor in running a business –– people are the most important. While things like products and locations are, of course, important, Turner points out that people-based decisions can have the most positive impact on your brand.
In Bet on Talent: How to Create a Remarkable Culture That Wins the Hearts of Customers, Turner is sharing her tips. Within this book, readers will learn how to create a remarkable company culture, how to select, sustain, and stewart talent, how to nurture internal relationships, and how to create company loyalty that leads to customer loyalty.
By: Cara Silletto and Leah Brown (contributor)
High employee turnover holds your organization back from excelling to your full capacity. If you have a revolving door of employee turnover, customer service, productivity, and profitability can all drop significantly. To boost them back up and keep high levels of each sustainable, you need to find ways to keep your employees around longer.
Cara Silletto explores these challenges in her book Staying Power: Why Your Employees Leave and How to Keep Them Longer. Not only does this book share tips and practical advice, but it can also help individual organizations discover exactly how their workforce changes over time and why their companies are struggling to keep top talent. With a better understanding of where their challenges lie, readers can apply the tips and advice given to improve connections with employees to keep them around longer.
By: M. Tamra Chandler and Laura Dowling Grealish
Feedback can be intimidating, no matter the position you're in. For HR directors, however, it's your job to take and facilitate feedback across the organization to help employees and teams improve. Understanding how to make feedback productive and empowering – rather than intimidating – is crucial.
In Feedback (and Other Dirty Words), M. Tamra Chandler and Laura Grealish break down feedback's bad rap and teach readers how to minimize the negative physical and emotional response that can make communication difficult. By providing tips for how to productively explore and encourage feedback, the book introduces the three F's: focused, fair, and frequent.
Building your HR library 
There are dozens of lessons for HR professionals to learn in 2020. These eleven books are just the place to get started. Consider the unique challenges your organization may be experiencing or the individual skill sets you'd like to learn to boost your own career.
Looking for more HR reads? Check out our list of favorite HR books from 2019. And if you're looking for even more reading material about talent in the workforce, take a look at the best recruitment books to read in 2020!
Stop guessing,
Start data-driven hiring.
Learn how you implement a modern candidate selection process, that is: streamlined, experience-driven and backed by data.