The US manufacturing industry is forecast to grow 7% in 2021, yet with this anticipated growth, the industry is struggling to hire enough workers to meet demand. Before COVID, the situation was bad, but post-pandemic it has become even worse. Despite lockdown lifting, the industry is reporting over 515,000 jobs need filling, just to meet demand. 
One way to help resolve the crisis and make it easier for companies to find suitable employees for entry level roles might be to assess candidates for transferable skills and learning agility potential, and to train them on role specific skills later.
Before we delve into what pre-employment assessments employers might use before they hire manufacturing workers, let's first take a look at the skills you should look for in manufacturing employees.
What skills should you look for in manufacturing employees?
If you ask the average person on the street what springs to mind when they think of the manufacturing industry, they might assume that it's all manual labor, with long hours in dirty work conditions. But they couldn't be further from the truth.
The manufacturing industry has moved on significantly since the 1800s and today, the industry doesn't need brute power, it needs people with the requisite technical and skill know-how to take manufacturing into industry 4.0. For example:
Critical thinking, logic, problem solving. Manufacturing isn't a case of standing on a factory line and making the same thing over and over. Today's manufacturing employee has to be able to think on their feet; to possess the ability to think for themselves, to be able to problem solve small issues before they become big issues. 
Multitasking, ability to work under pressure. Manufacturers need employees with the ability to work outside of their lane occasionally and remain calm when under pressure. 
Personal flexibility, communication, cooperation. Manufacturers want employees who can communicate easily, who are team players, who can work together to achieve company goals. 
Initiative, pro-activity, reliability. Manufacturing businesses are often big with a large workforce, line managers don't have time or capacity to deal with trivial minutiae. Employees need to be able to take the initiative and be reliable and dependable, not requiring constant oversight. 
Attention to detail, accurate, organized work. This is vital in manufacturing. Speed and precision is the order of the day. To ensure everything remains accurate, manufacturing employees have to be devoted to detail. A lack of attention around manufacturing machinery could spell disaster for you or your co-workers. 
Disciplined, structured, precise. Manufacturing is a precise industry, you can't have lazy or ill-disciplined employees. It negatively impacts morale, damages your culture, and really affects team output and productivity. 
Operating computers and machinery. Manufacturing is constantly evolving and employees have to be able to operate computers, adapt to new technology and learn to work the latest machinery. 
To assess these skills in volume recruitment, you should use pre-employment tests that are specifically designed for low-complexity, entry-level roles. Let's explore your options in the next section.
Stop guessing,
Start data-driven hiring.
Learn how you implement a modern candidate selection process, that is: streamlined, experience-driven and backed by data.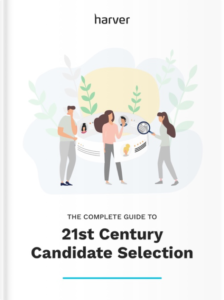 Which pre-employment assessments work best for manufacturing roles? 
When you need to improve your recruitment process efficiency, improve your quality of hire, provide outstanding candidate experience and collect data for analysis, we recommend assessing applicants with pre-employment assessments.
There are many types of pre-employment assessments you could choose from, ranging from personality assessments to culture fit tests, or cognitive ability assessments. With so many to choose from, you might get overwhelmed. Do you really need to assess entry-level manufacturing applicants for an aptitude test? Or a language test? 
When deciding which pre-employment assessments to use, always ask yourself – is this really necessary?
We've found time and again, the longer your application process is, the higher the applicant drop-out rate is. In some cases – for example, when the supply is higher than the demand, and you want to filter out some candidates – you might want to design a longer and more complex application.
But usually, in a tight labor market, you should build a candidate selection sequence that enables you to hire as many candidates as you need, from those who fit your requirements.
To help decide which pre-employment assessments are right for your organization, define what it is you need to assess applicants for and how you can measure it, all the while keeping candidate experience front and center of your mind. 
For manufacturing, our top two pre-employment assessment recommendations would be:
And here's why.
Situational judgement tests (SJTs)
Past experience is no guarantee of future success. And with the high influx of applicants to manufacturing from outside the industry, assessing applicants who have limited industry experience isn't going to help you make unbiased hiring decisions.
Just because someone doesn't have experience in manufacturing, doesn't mean you should write them off. You need to assess all applicants to see if they have the necessary transferable skills to succeed in your organization.
Situational judgment tests are the perfect medium for doing just this. SJTs not only allow you to assess a candidate's suitability for the role, they also provide candidates with a realistic job preview, giving them an inside look at what the job entails before they start.
Here's how this might look like for roles in logistics, manufacturing or warehousing.
When you're hiring high volumes of entry level employees, SJTs quickly and efficiently assess applicants based on a series of situation based questions, tailored specifically for your manufacturing role.
For example, you might show applicants a video of a typical critical incident. After watching this video, applicants are given a series of answers and asked to choose which is the most suitable response to the situation or to rank the answers from least to most effective.
You've ranked the responses from best to worse beforehand. How applicants respond allows you to assess their attention to detail, for example. On the Harver platform, your predetermined answers to this realistic job situation provide the employer-specific benchmark against which applicants are compared and scored.
These scores are then fed into your recruitment dashboard, providing your TA team an unbiased means of assessing a candidate's competency, helping them decide who are the top-performing candidates and therefore who they want to bring forward for interview. 
As we mentioned before, with so many open positions in the manufacturing industry needing filled and a higher than normal applicant volume rate, recruitment for manufacturing is incredibly competitive.
Anything you can do to make your organization stand out from the competition is going to give you the edge and hopefully yield you the top talent. Engaging SJTs is one way to set yourself apart from the other manufacturers. 
SJTs are essentially a great way to assess a range of skills, not just attention to detail: multitasking, handling stress, ability to think critically, communication, and so many more. With a custom SJT solution, you can tailor-make your SJTs for your specific hiring needs. But more on that later.
Subscribe and stay up-to-date with everything recruitment related by receiving a weekly content digest and email updates on new resources!
Personality questionnaire
You don't just want to hire people with the requisite or transferable skills, you also want people who will be a good fit with your existing team and workplace culture. A personality questionnaire allows you to get to know candidates far more deeply than reading their resume ever will. Not to mention, they provide a great foundation for interviews. 
A personality questionnaire measures specific behavior indicators, giving you a scientifically approved glimpse into someone's values, character and dominant personality traits, providing you a feel for whether they'll fit in with your organization. So rather than base your hiring decision on a gut feeling or bias, by assessing an applicant's personality with scientifically validated tests allows you to make a bias free, fair hiring decision.
How does this work? Like SJTs, Harver can tailor build custom personality questionnaires. Our adaptable personality questionnaires are based on the HEXACO personality inventory.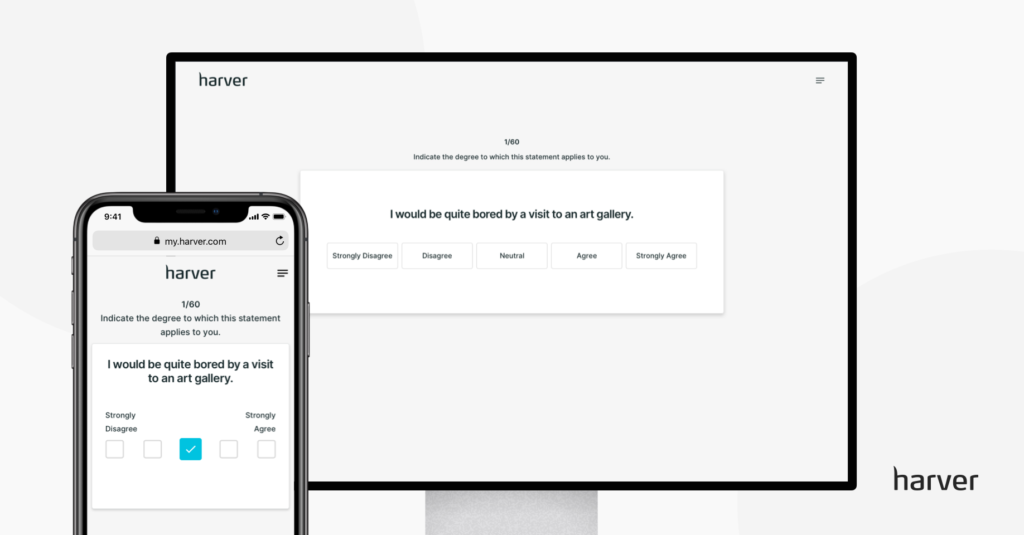 You tell us what a gold-plated personality for an excellent cultural fit at your company looks like – what characteristics and traits your top-performing employees possess, and our People Science team will tailor your personality questionnaire around these attributes, so you can determine if applicants have them or not. 
Questions for manufacturing personality questionnaires might include assessing teamwork by asking how much the applicant enjoys working with others, or how easy they find it to fit in with new people. You can do the same for other core personality traits too, such as sociability, motivation, self-discipline etc, all of which are likely to be core values for your organization.
The best thing about our tests is that they're great for both you and the candidates. They provide you with insightful data to make fact-driven hiring decisions, and they're fun for candidates to do.
Standard assessments vs custom pre-employment tests
Many manufacturers use standard assessments when evaluating applicants, and while they're OK to use, the main disadvantage of them is they're generic. 
This means that while out-of-the-box SJTs are useful in assessing specific skills, they can't evaluate whether a candidate will be a good fit for your company culture, because you aren't assessing them against what makes your company unique.
Why does this matter? Because if you hire someone who doesn't quite fit, you risk damaging your culture. This is why we recommend clients opt for custom pre-employment tests, designed to ensure their specific company needs are met.
With custom SJTs, you get to accurately assess applicants and score them against your company benchmarks, taking into account the precise nature of the manufacturing role and your company culture. But that's not all:
You get a much more in depth understanding of each applicant, even at scale. 
You can embed videos showcasing your company culture. 
You can brand them.
You can offer realistic job previews for all applicants.
You can learn more about the SJTs, personality questionnaires and cultural-fit assessments offered by Harver below.
Evaluating the effectiveness of assessments 
Finally, don't forget to evaluate the effectiveness of your chosen assessments. Here's how we recommend our clients do just that:
Implement your chosen assessment
Once live, review the insights on your dashboard. Harver carries out all analysis and presents the results in easy to understand and read formats. We have insights dashboards for everything from sourcing to bias to time to hire to candidate satisfaction, and more.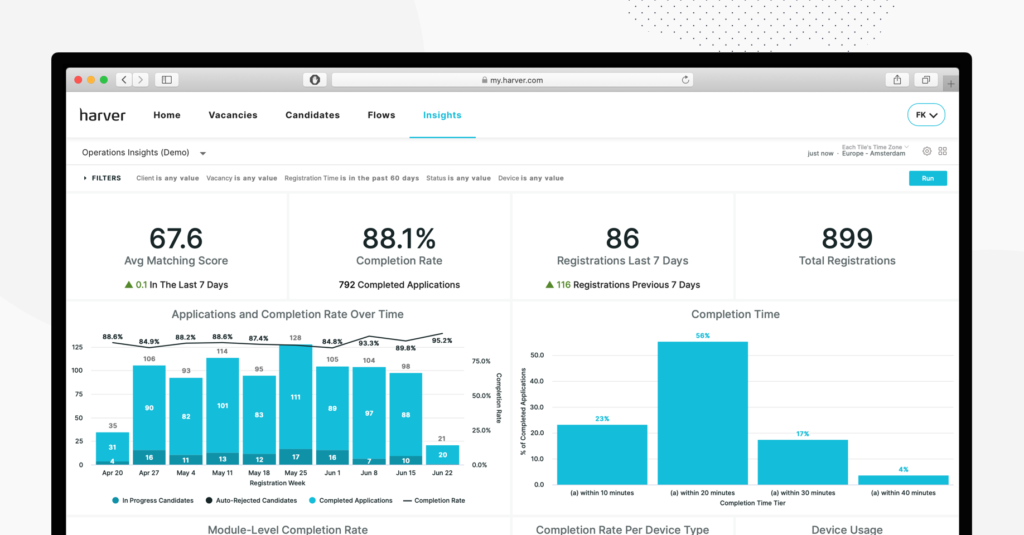 Harver offers both custom and out-of-the-box dashboards, the data collection and analysis plan depending on your company's specific needs. In the end, you don't want your recruiters to be overwhelmed by too much data, and you need numbers that are easy to interpret and immediately actionable.
Test and adjust
Once you've given the assessments time to bed in, you can assess how they're doing. If you need to, you can add in further assessments, or more likely, you'll need to shorten the assessment process to reduce the dropout rate.
In the current climate, with such high demand for entry-level employees and with a wealth of employers to choose from, if your application process and your assessments are too lengthy, you'll lose a lot of applicants. So the best approach is to test and adjust.
At Harver, we run impact analyses for our clients to determine not only if the assessment sequence needs adjustments, but also which of the implemented pre-hire tests benefit our clients the most from a business KPI point of view.
If you'd like to see our BI suite in action, or learn more about our impact analysis process, you can book a demo below.
Next steps
The most effective way to carry out volume hiring for manufacturing roles is to utilize pre-employment assessments.
These are incredibly beneficial both for you and the candidates, helping you identify the top talent, quickly and efficiently, decreasing attrition rates, decreasing time to hire, while improving the candidate experience, and improving candidate satisfaction overall. 
Ready to transform your hiring process?