Pre-pandemic, the quick-service restaurant (QSR) industry was struggling with high employee turnover. But when the pandemic hit, many had to let valuable staff go. Yet, as the world rushes to eat out again, recruiting new crew members to provide food service is proving tricky. There simply aren't enough job seekers looking for work.
Restaurant recruiters are having to re-evaluate their recruitment process to tackle the staffing crisis. In this tight labor market, and in the run-up to the holiday season, they're getting creative in order to navigate the labor shortage.
In this article, we'll explore the different ways the top restaurant and QSR players are tackling the hiring crisis and preparing for the future of volume hiring.
Subscribe and stay up-to-date with everything recruitment related by receiving a weekly content digest and email updates on new resources!
Current state of the restaurant labor market
75% of restaurateurs say their number one business challenge is recruiting and retaining workers – the highest it's been in 20 years. But we can't blame the Coronavirus entirely for the current labor situation.
The pandemic merely amplified underlying employment issues in the fast-food industry: low wages, unsociable hours, stressful work environment, unclear career prospects, and feeling undervalued, all of which were causing the high restaurant staff turnover rate of 150%. To put that into perspective, turnover was costing restaurants $150,000 every year.
In May 2020, Federal data revealed the pandemic had cost restaurants roughly 5.9 million jobs. Sending restaurant employment levels plummeting to depths not seen since the 1980s.
Everyone from local diners to nationwide chains was hit. Restaurants had to temporarily close their doors and furlough workers or let them go in a bid to keep their head above water. Unemployed workers had no choice but to seek employment elsewhere or sign on for unemployment benefits.
At present, there are approximately 1 million job openings that need filling. In comparison to pre-pandemic levels, food and beverage preparation roles, alongside service roles, are up 40% in the US. Yet the QSR talent pool is smaller than ever before.
To improve retention, restaurant owners are raising wages and offering better benefits to existing and new staff. In fact, the Bureau of Labor Statistics reported wages for restaurant workers surpassed $15 per hour for the first time this summer.
Don't forget to grab your free copy of our white paper on the digital transformation of restaurant volume hiring. Learn about:
Main challenges for recruiters in the restaurant industry
Finding enough talent
Finding enough talent to meet seasonal hiring demands is something that existed pre-pandemic. Many restaurants use the same tired strategy year in and year out. Throwing money at recruiting sources that don't yield the top talent or any talent at all. If the QSR doesn't operate a data-driven recruitment process, they're wasting both time and money.
The QSR industry has the highest percentage of teenagers working in it out of any other industry. As older generations retire, hiring has to focus on skills rather than experience.
High employee turnover rates
The barrier to entry for restaurant jobs is so low, employees jump from one lucrative opportunity to another, without a backward glance.
Hired candidates are churning quickly mainly due to misaligned expectations about what the role entails. Employees are expected to hit the ground running, and be able to multitask from the off while providing outstanding customer service.
To break the cycle, restaurants can improve employee retention and improve their onboarding process, by ensuring all new employees receive adequate training.
Non-digital recruiting process
In today's world, recruiting is done primarily online, but many restaurants are still using outdated processes that rely on manually screening candidates and scheduling interviews. Restaurants that haven't streamlined their recruitment processes aren't attracting the top talent, or they're missing out due to inefficient, outdated recruitment practices.
Mass migration
In the wake of the pandemic, many QSR workers quit the restaurant industry to seek alternative employment elsewhere. Many found similar or better-paying roles in other industries that allowed them to WFH. And now they're being asked to go back to a physically demanding job? That's a big ask.
During the pandemic, many people left big cities such as New York City for the relative safety of the suburbs. Empty cities and the prevalence of remote work are exacerbating the already severe shortage of candidates.
Safety concerns
The continuing recurrence of COVID-19 cases means many job seekers are reluctant to work in a customer-facing role. Especially where they have to physically come into contact with the general public.
Unemployment benefits
While unemployment benefits won't be an issue next year, right now they're a real problem for recruiting. They're incentivizing job seekers not to return to work.
How top restaurant chains are tackling these challenges
Trying out new recruitment channels
In the middle of a labor shortage, you need to think outside the hiring box. Take restaurant chain Denny's, for example, which recently took its 53-foot kitchen truck on a nationwide hiring mission.
Chipotle Mexican Grill hosted a virtual career fair on the social platform Discord. Holding sessions with current employees, where they extol the virtues of working for the restaurant chain.
Taco Bell is had its 4th annual Hiring Party with the aim of hiring at least 5000 new employees. They've converted over 2,000 parking lots of participating company and franchise-run locations into job fairs. They're also offering on-the-spot interview opportunities and drive-up interviews where they'll interview people in their cars.
Informing candidates during the application process
To avoid early attrition and make sure they're hiring employees who understand what they're signing up for, restaurants are replacing traditional assessments with realistic job previews that show candidates the realities of the day-to-day work.
This strategy helps employers manage candidate expectations throughout the application process, by providing situational judgment tests that inform candidates about the role while assessing their skills and suitability. Below you can see an example of an SJT that gives candidates an overview of what the role entails while assessing their job and culture fit.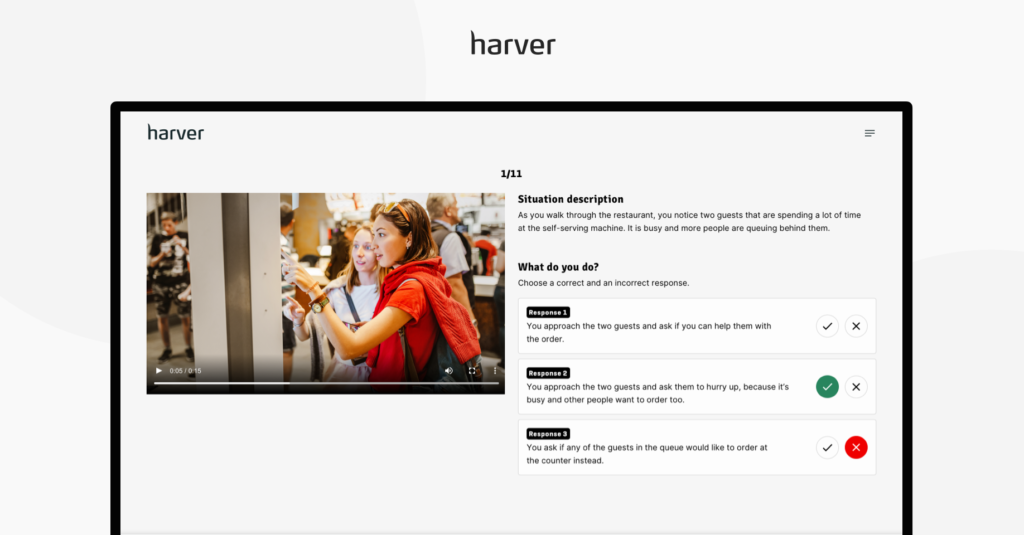 Offering employees flexibility and development opportunities
In a bid to combat attractive WFH opportunities, Sonic Drive-in, Firehouse Subs, and Taco Bell have all announced new flexible job roles. QSRs that provide shift flexibility will be more attractive to hourly workers who value autonomy and want to choose when and how much they work.
Whataburger is promoting existing employees from general managers to 'operating partners'. To encourage them to take the leap up the ladder, Whataburger is providing a substantial bonus of up to 150% of their target incentive. Not only that, employees will get an additional sweetener of a salary increase of $100,000+. Whataburger has also set aside $90 million in 'thank you' bonuses for staff.
Chipotle offers transparent career paths including certified training at all levels. In 2020, the company promoted 13,000 employees with 70% of its general managers being former hourly workers.
Adjusting benefits
Chipotle Mexican Grill introduced an employee referral bonus of $200 per crew member,. And one of $750 for apprentices and general managers. They also offer extra benefits such as mental health care, 401(k) packages and debt-free degrees for workers.
Taco Bell recently announced they're expanding leadership benefits for general managers. They're offering 4 weeks of accrued vacation per year and up to 12 weeks of paid leave for new parents and guardians of new children. This includes 4 weeks of 'baby bonding' time and 8 weeks of fully paid leave following the birth of a child. They're also offering educational scholarships for team members too.
Miami-based SuViche are hoping to attract Millennials and Gen Z hourly workers by offering profit sharing, if they meet targets.
Chick-fil-A have invested $19 million in continuing education for existing restaurant employees. They've already awarded 7,492 employees college scholarships in 44 states.
Earned wage access
Over 56% of Americans live paycheck to paycheck with limited or no emergency savings. Providing employees access to their earned wages before payday can be lifesaving for the employee. For the company, it helps improve employee experience and ultimately improves retention.
McDonald's, Burger King, and Dunkin' allow employees access to their earned pay through an on-demand pay mobile app. The app simply integrates with the company's existing payroll system.
Raising wages
For the first time this past summer, Chipotle wages for hourly staff went above $15 per hour. Starting pay for their hourly crew members now ranges from $11-18 per hour.
UK-based Costa Coffee is giving staff a 5% pay rise in a bid to recruit 2,000 new employees ahead of the holiday season.
Prioritizing staff safety
Full-service restaurants that implement safety protocols in both their dining room and kitchen are attractive service industry employers. Brands such as KFC, Pizza Hut, and Taco Bell changed the customer experience and trained staff members on what the best safety protocols are. They've also appointed a "cleaning captain' and have trained staff to ensure social distancing guidelines are met. They also pivoted to curbside delivery rather than in-store.
Using job security as a selling point
With 7.7 million hourly restaurant workers suddenly unemployed last year, job security has never been a more pressing concern for job seekers.
Savvy hiring managers can turn this concern into a selling point as a part of their employer value proposition. Write in job security language to your job adverts, and include job security as part of your sales pitch during the application process. Highlight the essential nature of the job, sweeten the deal with paid sick leave, even offer pandemic insurance.
Next steps
The future of volume hiring in the restaurant industry is looking like an increasingly different space from what it was a few months ago. In light of the pandemic, the hiring tables have turned and in the current tight labor market, job seekers call the shots.
Anything you can do to attract candidates to apply to your QSR will help you stand out from the competition. QSR employees are interested in flexible opportunities offering both part-time and full-time work. They're also after a competitive salary, meaningful employee benefits, and a safe operating space.
But it's not just your job postings you want to optimize. You're competing with hundreds, if not thousands, of other restaurants, so to make sure you attract the best talent, you need a quick and efficient recruitment process.
Don't forget to grab your free copy of our white paper on the digital transformation of restaurant volume hiring. Learn about: