The hospitality industry is notorious for high employee turnover. And the recent pandemic has not helped the situation – 75% of restaurateurs cite their number one business challenge as staffing. 
Not only are restaurants having to navigate a new way of serving customers that protects both staff and diners, they're also recruiting staff members in a tight labor market, and in the run up to the holiday season.
Hiring top restaurant employees has never been so tough. While the pandemic has only served to amplify existing issues in the restaurant industry, it has forced restaurant owners to think creatively when it comes to staffing their establishment.
They're trying out new recruitment channels, moving away from traditional job boards, creating a candidate-centric application process, being creative with retention strategies, adjusting benefits, offering flexibility and development opportunities, raising wages, and undergoing a digital transformation of their recruitment process.
In this article, we'll take a look at the challenges of recruiting restaurant employees before exploring 9 different ways you can improve your hiring efforts to recruit good employees.
Subscribe and stay up-to-date with everything recruitment related by receiving a weekly content digest and email updates on new resources!
Challenges of hiring restaurant workers
High turnover
Hospitality faces some of the highest turnover rates of any industry, and recent years show those numbers are on the rise. Pre-pandemic, the restaurant industry had an estimated 73% turnover rate – significantly higher than the 10-15% annual average in other industries. 
Why do so many employees jump ship? Low wages, minimal growth opportunities, unclear job expectations, lack of flexibility, unsociable hours, feeling undervalued, and a poor work environment are all causes of employee turnover in hospitality.
Misaligned candidate expectations
Candidate expectations of what they think the new job is going to be like can be wildly different to what the role actually entails. Misaligned candidate expectations is one of the highest drivers of early employee attrition in the restaurant industry. 
Candidates who don't understand what they're signing up for either before they put in their application or during the process tend to be bitterly disappointed on day one, if they even show up at all.
Declining young workforce
Restaurant work is traditionally a common entry point to employment for many young people, but with the number of awarded Bachelor's degrees for Gen Z rising, the number of people seeking entry level work in the restaurant industry is decreasing.
And with the number of Gen Z entry level job seekers declining, it's contributing to the growing number of open restaurant positions – currently more than there are job seekers. 
Local hiring competition
Local hiring for restaurants is absolutely crucial because you want an employee who lives near your restaurant. But one of the biggest issues for staffing restaurants in a tight labor market is competing with other local businesses for the same available talent.
With so many entry level roles having few qualification or skill requirements, you might find yourself competing with other employers in the area for the same job candidates.
Hiring and training costs
First-class restaurant staff don't come for free, and when you factor in constantly replacing employees, hiring isn't cheap. The cost involved with high turnover might surprise you. Recent research shows turnover costs restaurants on average $150,000 every year. How?
It costs money to advertise the role, then recruiters have to screen, assess, interview and onboard and train each new restaurant employee. And when you're doing it multiple times, it soon adds up.
Plus, you've got to factor in the cost of lost productivity. When you're understaffed, the restaurant simply can't operate at full capacity. And even when you hire new employees and you train them to hit the ground running, they still have to find their feet.
Seasonal hiring needs
Restaurants often have varying staffing needs that change from season to season. For example, those located in popular tourist areas might need extra staff during peak periods of the year.
To put the challenge into perspective – during the summer months, rough estimates say more than 500,000 extra restaurant jobs are added in the US to meet demand.
And when you're operating in a tight labor market and you can't meet off-peak demand, fulfilling seasonal hiring needs become very challenging indeed.
Lack of recruiting experience
A final challenge to hire first class restaurant employees is that restaurant managers are not recruiters by trade, and yet they're often tasked with hiring employees for their restaurant.
Not only does a lack of recruiting experience lead to inconsistencies in quality of hire, but when managers are recruiting manually, using outdated, laborious processes, it makes volume hiring even tougher. 
Not only are they expected to run their restaurant, but they're manually screening candidates and scheduling interviews in what little spare time they have. And as a result, they're not making data-driven fair hiring decisions.
Don't forget to grab your free copy of our white paper on the digital transformation of restaurant volume hiring. Learn about:
How to succeed in hiring restaurant employees
With so many challenges against you, you're probably wondering how you can possibly succeed in hiring restaurant employees. Here are 9 ways to improve your hiring efforts and employ rock star staff at your restaurant.
1. Find support for restaurant recruiting
Managers are often in charge of recruitment for their establishment/branch. However, they are not professional recruiters and they have a ton of other tasks to manage at any given time, from making weekly schedules to dealing with frustrated customers and everything in between.
Restaurant managers should seek recruiting support, whether from the corporate headquarters, other employees or resources online. By learning the best practices for screening, interviewing, writing job descriptions, managing expectations, candidate selection, and other areas of recruiting, restaurant managers can improve the hiring process overall. A little know-how goes a long way when it comes to effective hiring.
2. Determine which roles you need to fill
Before you can build a well-performing restaurant team, you'll have to determine which roles need to be filled.
Your establishment will most likely need a manager, shift managers, back of house staff including line cooks, servers, kitchen staff, and dishwashers. However, depending on the type and size of your restaurant, you might also need to look for bartenders, hosts and bus persons. 
These are the typical roles in the restaurant industry which you might need in your establishment, depending on the type and size of the restaurant. 
In addition to which roles you need to fill, you'll also want to determine how many of each you need. For example, you'll probably need more servers than you will shift managers or dishwashers.
3. Carry out job tasks analysis
Rather than simply copy and repeat the job spec from the last X times you recruited for the role, take time to actually determine what skill gaps you have. Then write more accurate job descriptions so you can manage candidate expectations from the outset, and maintain fair hiring practices. The easiest way to do this is by carrying out a job tasks analysis. 
By doing a job tasks analysis you're not just complying with professional legal guidelines, you're also getting a much better understanding of your hiring needs, so that you can be smarter with your recruitment efforts. A job tasks analysis determines the overall responsibilities of the role before digging down into each one to a much more granular level.
Doing this will improve your hiring progress by accurately reflecting the exact nature of the role and therefore attract qualified candidates who are a good job fit. It will also help to reduce employee turnover by hiring candidates who know what is expected of them, right down to the smallest task. 
4. Determine the skill set shared by your best employees
Hospitality is all about delivering the ultimate experience to customers, so it's important that your employees are naturally in tune to customer needs and inclined to ensure they're met.
But one of the biggest hiring challenges many QSRs face is quality of hire. In the restaurant industry, low quality hires contribute to the sky high attrition rates with almost every QSR losing 100% of their staff annually. 
To help reduce employee attrition and improve the quality of your hires, implement candidate selection methods that predict on-the-job performance.
Stop guessing,
Start data-driven hiring.
Learn how you implement a modern candidate selection process, that is: streamlined, experience-driven and backed by data.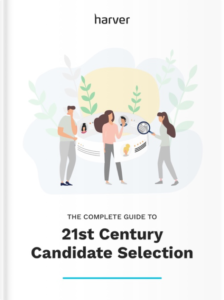 5. Try new recruitment channels
Before we get ahead of ourselves, let's not forget that the hiring process starts with sourcing quality candidates. And that can be a lot easier said than done, especially when you're competing with other local establishments for the same limited talent.
While some candidates may walk in on their own, you can't rely only on putting a job posting on your door to find the right job seekers.
In today's current market, you need to think outside of the box in order to cast your net as wide as possible. Think beyond the same tired strategy you use year in and year out. Throwing money at recruiting sources that failed to yield you first class restaurant employees pre-pandemic is definitely not going to work now.
In the midst of a labor shortage, take your lead from restaurant chain Denny's who took its 53-foot kitchen truck on a nationwide hiring mission. Or Chipotle Mexican Grill who hosted a virtual career fair on the social platform Discord. Or Taco Bell who recently held its 4th annual Hiring Party while adhering to social distancing measures by converting 2,000 parking lots of participating company and franchise-run locations into job fairs.
If you prefer to keep your search online, check out:
Poached – dedicated to food and drink-related jobs. They will promote your listings to their own audience as well as through their partners including Indeed, Glassdoor and ZipRecuiters.
Culinary Agents – a networking site catering to current and aspiring professionals in the food, beverage, and hospitality industry.
Industry – an online community bringing together hospitality and retail professionals.
Are you looking for a shift manager? Why not promote from within and consider your most experienced server for the role? Enabling internal mobility and promoting employees from within your organization is a great way to fill open roles and motivate your staff in the process. 
If they understand you provide growth opportunities and long term career prospects, employees are more likely to continue working for your restaurant for longer.
6. Speed up the candidate selection process
In any market, making candidates wade through a lengthy application process and then have them hanging around waiting for an answer is never a good look. In a tight labor market with this approach, you aren't even in the race. Speeding up the candidate selection process can literally be the difference between hiring first class restaurant employees, and hiring whoever's left, if there's anyone at all.
Understand that most QSR employees work in entry level roles, and candidates who are looking for an entry level role typically only want two things: job security and a quick application process.
Ensuring you deliver on both of these things works to everyone's advantage. When you reduce time to hire you not only snare the limited talent before any other hospitality establishment snaps them up, but you also reduce the time to commitment.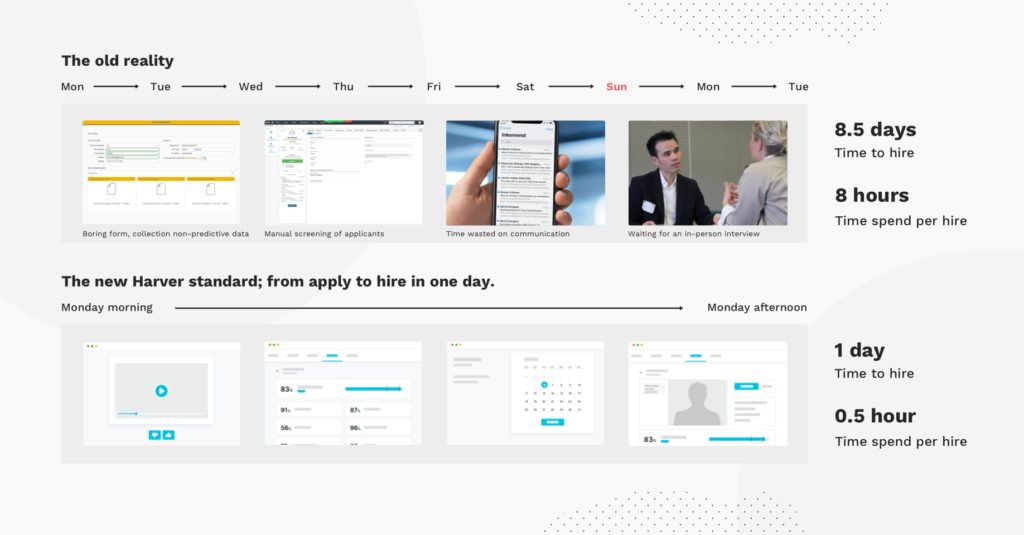 And because entry level candidates primarily want job security and a paycheck, now, delivering this quickly increases the chance they'll be loyal and stick around.
For managers struggling with candidate selection, pre-employment assessments are a great way to help identify top tier candidates quickly. These tests and tools are used to assess the core competencies of your candidates giving them a matching score against the roles you're hiring for. 
Just don't forget that the managers need appropriate training to use such candidate selection solutions, in order to realize maximum benefit from them.
7. Provide a realistic job preview
Your candidates might think they understand all of your expectations for the role, but in many cases, there's a misalignment of expectations that can lead to your new hires jumping ship, sometimes before they even begin.
By offering candidates a realistic job preview , you can make sure every applicant is fully aware of what the job entails before they even begin, hopefully avoiding early attrition and employee turnover.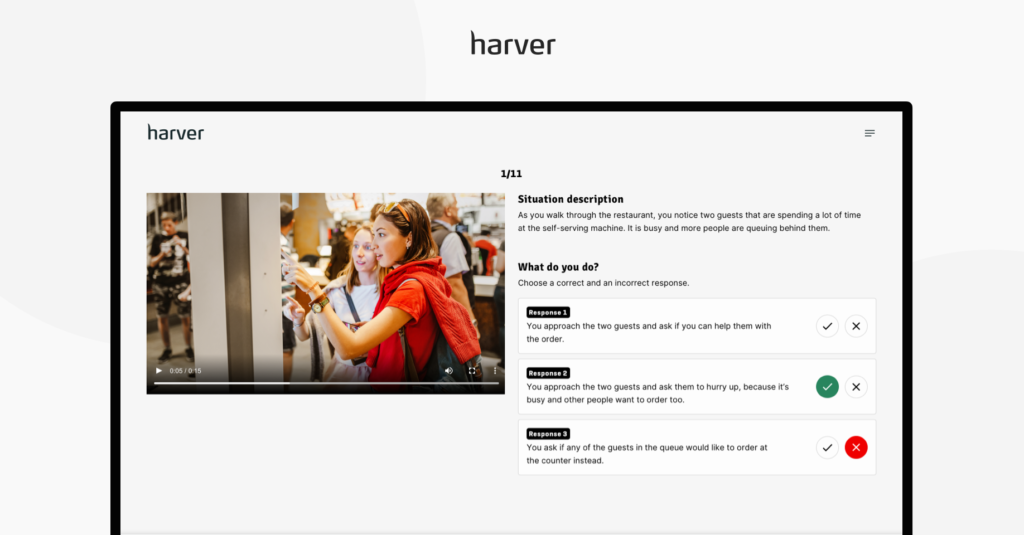 A realistic job preview offers applications a look at what the job is actually like, showing the positives and the negatives, so they can get a feel for what skills and qualifications the job requires, as well as see what a typical day looks like, before they commit.
You're letting candidates know what your expectations are, while they determine if what you're offering fits what they're looking for. For example, Harver's realistic job previews come in the form of situational judgement tests (SJTs) which are incorporated seamlessly into the candidate selection flow. However they aren't the only way to do it. 
You could simply provide a video preview of a day in the life of a server. Or a quiz on your online application. You could invite candidates in for a trial day at your restaurant, giving them a taster of what the role is like while testing them to see if they're a fit or not. If you go this route, don't treat candidates as free labor. Establish clear conditions beforehand to avoid miscommunication.
8. Provide training
If you want your restaurant employees to invest in you, you need to show them that you're willing to invest in them first—and a big part of that is dedicating time and resources to adequately training and onboarding new hires. Well-trained employees are more likely to meet your expectations, so it's a real win-win, yet many restaurants fail to provide thorough training, and then wonder why their early attrition rate is so high.
If you don't train fresh hires and show them how to do the job well and set them up for success, don't be surprised when they leave prematurely and go to a competitor who is willing to dedicate time and resources to train them.
If a new hire doesn't feel that they can do the job well, they'll quickly get frustrated and demoralized. Part of the training should also include socialization so that the new employee begins to identify with your organization and feel like they belong.
9. Start seasonal hiring early
When looking to hire, where possible, start the process well in advance and allow yourself time to find the right candidates to fill open roles. This is especially important when you need to hire for the holidays. With restaurant recruitment down to start with, to attract enough top quality applicants to your seasonal roles might require you to try different incentives:
Put an employee retention plan in place to keep existing employees
Announce the seasonal job openings long before you need to hire
Raise wages for both existing employees and new hires
Offer attractive bonuses for short term hires – monetary, career development, education, even health benefits
Undergo a a digital transformation of your restaurant recruitment process to ensure high volume hiring is fast and efficient
Next steps
While efficiency is key to being able to hire the best employees for your restaurant business, just don't let quality of hire suffer in your bid to snap up candidates quickly. Less haste will result in more speed.
Determine what it is you're looking for in top team members through job tasks analysis, identify key skills to assess candidates for, try new recruitment channels and source candidates creatively. Speed up your application process, provide realistic job previews, onboard quickly and deliver good training. When you lay good foundations, you'll succeed in hiring first-class employees for your restaurant.
To find out more about Harver's restaurant recruitment solution and how we can help improve your recruitment process, you can book a demo below. 
Ready to transform your hiring process?