Running a restaurant is tough. There's so much more to it than cooking and serving a tasty menu. Not only is it about providing great food, but also offering exceptional service to your customers—and for that, you need a first-class hospitality staff to help you run the show.
However, hospitality, in general, is infamous for high employee turnover and other staffing challenges. Anyone who's worked in the industry knows that it can be like a revolving door, with staff turning over all the time. With these challenges in mind, you're probably wondering how exactly you should go about finding, hiring, and keeping great restaurant employees.
In this article, we'll take a look at the challenges of recruiting restaurant employees and 9 different ways you can succeed in your hiring efforts.
What's in?
Subscribe and stay up-to-date with everything recruitment related by receiving a weekly content digest and email updates on new resources!
Challenges of hiring restaurant employees
Folks in the restaurant business face a number of challenges when it comes to staffing. Let's look at a few of them.
High employee turnover
Hospitality faces some of the highest turnover rates of any industry, and recent years show those numbers are on the rise. The restaurant industry has an estimated 73% turnover rate—significantly higher than the 10-15% annual average. With such high turnover rates, it's no wonder that restaurant staffing is such a challenge—but why do so many employees jump ship? Minimal growth opportunities, unclear job expectations, lack of flexibility, and a poor work environment are all causes of employee turnover in hospitality.
Declining young workforce
Restaurants are a common first job for young employees. A survey found out that 82% of Generation Z workers said restaurants provided their first job. That said, the problem lies in the number of Gen Z job seekers—the younger workforce is declining, with more restaurant jobs available than there are job seekers. (You can learn more about hiring Gen Z in this article!) The number of awarded Bachelor's degrees is rising, so the amount of people working in restaurant job is limited.
"In the next 10 years, we're going to create 1.6 million additional restaurant jobs in this industry. And yet, the population we are dependent upon to fill those jobs historically will decline by 1.3 million. So if you think it's bad now – if you think the fight to talent is difficult now – it is going to get a lot worse," explained Rob Gifford, who serves as Executive Vice President of The National Restaurant Association Education Foundation.
Food services are one of the top employers of young people and restaurants have been relying on them. However, the increasing share of people with college degrees poses a serious challenge to restaurant workforce.
Local hiring competition
If you're a restaurant manager who's hiring locally, you're probably struggling to compete with other employers in the area for the same job candidates. And yet, local hiring for restaurants is absolutely crucial—you want an employee who lives near your restaurant, right?
Carol Wood, People Operations Director for Homebase, explained: "One of our Homebase merchants noticed that 100% of employees more than 10 miles away left the job within 6 months. When this merchant looked at his longest-tenured employees, all of them lived within 3 miles of his restaurant."
Hiring and training costs
First-class restaurant staff isn't going to come for free—there are significant costs associated with hiring, training, and especially replacing employees. This not only includes money spent on job advertisements, but also accounts for the time spent finding, interviewing, and onboarding a new restaurant employee.
Seasonal hiring needs
Restaurants often have varying staffing needs that change from season to season. For example, those located in popular tourist areas might need extra staff during certain periods of the year. Estimates say that there are more than 500,000 restaurant jobs added during the summer months so you can imagine why it's challenging to staff appropriately throughout the year.
Lack of recruiting experience
Restaurant managers are not recruiters by trade—and yet they're often tasked with hiring employees for the business. Because there are so many challenges in hiring restaurant employees, a lack of recruiting experience might lead to inconsistencies in quality of hire. And with unclear job expectations and a mismatch between employer and employee­ being some of the leading causes of high turnover in the restaurant industry, it's clear why this might be an issue.
Finding the right staff for your restaurant business is not easy. However, you can still find and hire good employees if you're smart with planning, attracting, selecting and training them.
How to succeed in hiring restaurant employees
With so many challenges up against you, you're probably wondering how you can possibly succeed in hiring restaurant employees. Here are 9 ways to improve your hiring efforts and employ rock star staff at your restaurant.
1. Find support for restaurant recruiting
Managers often need to take care of recruitment for their establishment/branch. However, they are not professional recruiters and they have a ton of other tasks to manage at any given time, from making weekly schedules to dealing with frustrated customers and everything in between.
Restaurant managers should seek recruiting support, whether from the corporate headquarters, other employees or resources online. By learning the best practices for screening, interviewing, writing job descriptions, managing expectations, candidate selection, and other areas of recruiting, restaurant managers can improve the hiring process overall. A little know-how goes a long way when it comes to effective hiring!
2. Determine which roles you need to fill
Before you can build a well-performing restaurant team, you'll have to determine which roles need to be filled. Your establishment will most likely need a manager, shift managers, cooks, servers, kitchen staff, and dishwashers. However, depending on the type and size of your restaurant, you might also need to look for bartenders, hosts and bus persons. For example, when staffing a quick service restaurant, you could look for a floor manager or simply crew members.
In addition to which roles you need to fill, you'll also want to determine how many of each—for example, you'll probably need more servers than you will shift managers or dishwashers.
These are the typical roles in the restaurant industry which you might need in your establishment, depending on the type and size of the restaurant.
3. Identify responsibilities and requirements
Just deciding on which roles to fill isn't enough—you'll also need to outline the responsibilities and requirements for each job that you're hiring for. Of course, these will be different for every role. While managers should already have some managerial experience and should demonstrate strong leadership skills, you might be open to hiring entry-level employees for some of the non-managerial roles.
As a general rule, you should look for people with customer service orientation. Because hospitality is all about delivering the ultimate experience, it's important that your employees are naturally in tune to customer needs and inclined to ensure they're met. Then, you can look for more role-specific characteristics and define benchmarks on what you're looking for in candidates.
Stop guessing,
Start data-driven hiring.
Learn how you implement a modern candidate selection process, that is: streamlined, experience-driven and backed by data.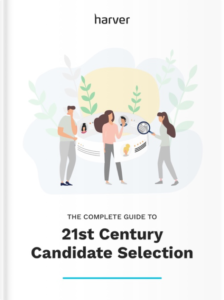 4. Define the best places to find candidates
Of course, the hiring process starts with finding candidates—which is a lot easier said than done, especially when you're competing with other establishments in your area. While some candidates may walk in on their own, you can't rely only on putting a job posting on your door to find the right job seekers. Local social media groups, culinary schools, vocational schools, student career fairs, employee referrals, and restaurant-specific hiring sites are all great places to find candidates for your restaurant.
Regarding restaurant-specific job-posting sites, you can check out:
Poached – dedicated to food and drink-related jobs. They will promote your listings to their own audience as well as through their partners including Indeed, Glassdoor and ZipRecuiters.
Culinary Agents – a networking site catering to current and aspiring professionals in the food, beverage, and hospitality industry.
Industry – an online community bringing together hospitality and retail professionals.
You can also explore other options, such as internal recruitment for higher positions. Are you looking for a shift manager? If so, why not consider your most experienced server for the role? Enabling internal mobility and promoting employees from within is a great way to fill open roles and motivate your staff in the process. If they recognize growth opportunities, they're more likely to continue working for the restaurant long-term, as a lack of growth is a top reason for high turnover in the industry.
The number of employees in the restaurant industry in the US has been shrinking. Restaurants have to be smart with sourcing their employees and look for them in the right places.
5. Speed up the candidate selection process
Hospitality is a dynamic industry, and there's a good chance your candidates don't want to sit around and wait for your answer, especially if you're a quick service restaurant competing with other brands in your area. By speeding up the selection process, you can improve the likelihood that candidates will accept the roles you're hiring for. In general, aim to be quick with your selection before your candidates move on to other opportunities!
For managers struggling with candidate selection, pre-employment assessments are a great way to help them spot qualified candidates quickly. These tests and tools are used to compare the core competencies of your candidates in order to find the ideal match for both the role and the restaurant. Don't forget that the managers need appropriate training to use such candidate selection solutions.
6. Provide a realistic job preview
Your candidates might think they understand all of your expectations for the role—but in many cases, there's a misalignment of expectations that can lead to your new hires jumping ship. By offering a realistic job preview, you can make sure your applicants are fully aware of what the job entails straight away and hopefully avoid turnover.
For example, you can provide a video preview or a quiz on your online application. You can also invite candidates for a trial day at your restaurant, which is a fool-proof way to test whether or not they're a fit. However, if you go this route, don't treat candidates as free labor. Instead, establish clear conditions beforehand to avoid miscommunication.
7. Ask relevant interview questions
This may seem like a no-brainer, but it's really important that you ask relevant questions when screening and interviewing candidates—especially if you're hiring entry-level employees that might not have enough relevant experience. Ask questions that focus on customer orientation, transferable skills, and organizational fit—other skills can be learned. For example, you might want to present candidates with customer service scenarios to learn more about how they would respond in different situations.
Examples of questions to ask your restaurant candidates:
What is your experience with customer service and how does that relate to this position?
How do you make sure to keep up in a fast-paced work environment?
Recall a time you handled a customer complaint. How did you handle the situation and what was the outcome?
8. Be ready to provide training
It goes without saying that entry-level employees need proper training to be successful in their roles, but many restaurants still fail to provide thorough training. If you don't provide this, your fresh hires might leave prematurely and go to a competitor who is willing to dedicate time and resources to train them.
If you want your restaurant employees to invest in you, you need to show them that you're willing to invest in them first—and a big part of that is dedicating time and resources to adequately training new hires. Well-trained employees are more likely to meet your expectations, so it's a real win-win!
This number goes up to 5 in 10 for limited-service restaurant job openings. Training and internal mobility are essential in achieving balance restaurant workforce.
9. Bonus tip: Start seasonal hiring early
This applies to all hiring efforts—when possible, you should always start the process well in advance and allow yourself time to find the right candidates to fill open roles. However, this is especially important when it comes to seasonal hiring. When you're hiring for busier times, like the summer months, you should start early to get ahead of your competitors.
Wrapping it up
Efficiency is key to being able to hire the best restaurant employees. That doesn't mean that the quality has to suffer. By carefully determining what you're looking for, sourcing from the right places, quick assessment and good training, you will be sure to succeed in hiring first-class employees for your restaurant.
Stop guessing,
Start data-driven hiring.
Learn how you implement a modern candidate selection process, that is: streamlined, experience-driven and backed by data.