The stats are in. Poor productivity costs American companies as much as $550 billion every year! With that in mind, it's hardly surprising that the majority of businesses are continually looking for ways to get the most out of their workforce.
This means gaining significant insights into their employees and addressing areas in need of improvements such as employee engagement and productivity. That's why more and more managers are turning to talent analytics.
So, let's explore this in a little more detail!
What is talent analytics?
Put simply, talent analytics is the analysis of employee data, facilitated by the use of statistics and tech, with the purpose of making better business decisions.
It typically involves the use of software that gathers insights into a company's current workforce and potential employees, allowing talent acquisition teams to understand what motivates their workers and potential hires. That's in addition to getting a better understanding of their strengths and weaknesses. All of this info is essential for adopting strategies that improve performance and productivity.
Sometimes people refer to talent analytics as workforce analytics, human capital analytics, or human resource analytics. All these phrases mean the same thing, so don't let the terminology confuse you! 4 in 5
HR leaders agree that HR can provide value through analytics.
Source: KPMG
Talent analytics brings value to the HR operations within organizations by providing relevant insights into the workforce.
Benefits of talent analytics
Human analytics isn't a fad. Here's why:
As we've already said, talent analytics help companies to understand their workforce better.
For example, this kind of software has an algorithm which can identify your higher-performing employees as well as your less productive ones.
Talent analytics also point to which workers are more engaged with their roles and the business. This software can analyze salaries in different positions AND provide details about employee retention. This is especially important if a manager has noticed they're hiring more staff but not seeing the expected boost to their bottom line.
But, talent analytics has more than one benefit.
Subscribe and stay up-to-date with everything recruitment related by receiving a weekly content digest and email updates on new resources!
1. Providing better hiring insights
Talent analytics programs look at all the information and skills your candidates provide in their application and elsewhere throughout the hiring process.
When a company lists vital skills and requirements for a role, the software will hone in on this and draw up an unbiased shortlist of suitable candidates.
Once a candidate submits their job application, it uses algorithms to "read" the CV and screen for answers to any questions the company's already asked. These are then analyzed and scored, giving hiring managers a list of the most suitable potential employees for an interview. HR organizations using predictive analytics are
2x
more likely to improve their recruiting efforts.
Source: Bersin by Deloitte
Recruiters are able to make better decisions when using analytics with predictive capabilities and improve the recruitment process overall.
2. Tracking hiring metrics
Talent analytics can be used to help HR managers track and analyze their hiring metrics. Such data can provide a better idea of the recruitment costs per hire, the average time to hire, source of hire, just to name a few.
Keeping track of these metrics within your talent analytics platform helps you optimize your recruitment process and focus your resources where they are most needed. This, in turn, provides you with more time to focus on your broader business objectives rather than wasting time on ineffective hiring process.
We've detailed the topic of collecting, visualising, and analyzing hiring data in the article below.
3. Gathering continuous feedback
By 'continuous feedback,' we mean that talent analytics allows you to look at your existing employees and analyze whether the company has the skills base it needs. From there, you can then identify any skills gaps, and assess the success of your team's performance.
You can amp things up a notch by using the analytics to distinguish which employees:
Have the potential to learn new specific skills

Would be better employed in a different role

Have the potential to take on a leadership role (or the opposite)

Don't have the requisite skills to do the job justice, and are therefore negatively affecting productivity.
Getting continuous feedback about your workforce enables you to work on strategic workforce planning and align with the long-term goals of your organization. 68%
of organizations believe that talent analytics has at least a moderate influence on driving positive change.
Source: PeopleFluent
The lack of knowledge on using talent analytics is the biggest obstacle in making the most of talent analytics within organizations.
4. Applying predictive analytics
Sometimes predictive analytics is also referred to as optimization analytics. These allow a company to combine its insights so that a company can:
See where it is now

Identify what it needs to change

Determine how it could grow

Find out what it could improve upon

Pinpoint where to take action
It provides access to impartial information on which employees have the best talent as well as how to garner that talent.
Companies who want to expand will have to look at their existing expertise and assess whether they have the requisite skills base they need to grow. It may be that by using predictive analytics, hiring managers can make forecasts for the future and predict what skills they look for in new candidates.
Predictive analytics empowers companies to make better decisions in a variety of areas, including productivity, future hiring needs, and employee retention.
For example, talent analytics can look at low-performance sales teams so that companies can address why their figures are low and subsequently, how to improve them.
Stop guessing,
Start data-driven hiring.
Learn how you implement a modern candidate selection process, that is: streamlined, experience-driven and backed by data.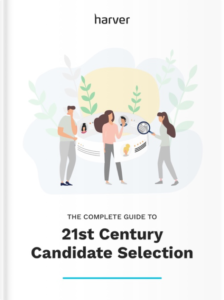 5. Improving employee retention rates
It goes without saying, you want employees to be heavily invested in your company, as this affects their performance, loyalty, and commitment to staying.
As we've already alluded to, analytics help HR staff and managers look at which aspects of the company culture employees enjoy and which they find more troublesome. Most companies understand that to achieve their targets, they need a happy and motivated workforce.
However, a company must empower its managers to achieve that. Well-designed employee surveys can identify potential problems before it's too late. Just be sure to take action on the feedback you receive.
Regular and well-thought-out employee engagement should always be part of a company's strategic vision, and talent analytics can help achieve this. Why? Well, mainly because there's data to present reluctant managers with. After all, the figures don't lie! 60%
of HR executives are planning investments in predictive analytics in the near future.
Source: KPMG
HR leaders are seeing the benefits talent analytics can bring to their organizations and that's why they are willing to allocate more budget to make it work.
6. Increasing profit
All companies love profit, and talent analytics help achieve this by integrating across all sectors – financial systems, online training, development programs, time management tools, etc. You name it, you should be able to pair it alongside your talent analytics software.
Useful talent analytics tools will analyze whether a company is managing its employee productivity to generate a profit. It can look at how many hours it's paid a workforce and compare it to production and/or output levels.
This is a simple way of helping companies see patterns in overtime as well as other payroll irregularities. Talent analytics can also reveal fraud scares and stock anomalies, and hence help companies to stop any potential issues in their tracks.
7. Time-saving
By using talent analytics, you no longer have to guess where the problems lie and how to fix them, as you will have access to data-driven insights about your workforce.
Using these will allow you to concentrate straight away on what really matters and what is most beneficial for your company. You won't lose time putting your effort and money into initiatives that wouldn't help improve employee productivity.
8. Promoting transparency
Any employee whose performance is being measured needs to understand why that is and how it benefits them and the company. Managers who present teams with results that are easy to interpret are more invested in increasing both their own and the companies overall performance.
Giving employees incomprehensible spreadsheets and lengthy Powerpoint slideshows don't engage them in the same way as contextual and straightforward data.
Talent analytics can provide reports that align with their role and individual/team targets. It's a great way of giving employees the information they need to adjust their own performance and increase their investment in the company. 90%
of job seekers says it is important to work for a company that embraces transparency.
Source: Glassdoor
Transparency is a key element of a workplace. That's why sharing results of your analyses as well as encouraging discussions about these results is crucial to make your employees feel that they matter and that you're honest with them.
9. Raising brand awareness
Strong branding is key to business success. It's what makes it stand out from its competitors and shows employees and potential hires they're a force to be reckoned with.
A company that's clear about who they are, what it stands for, and how it expects employees to perform, is in a stronger position to attract talent than a company who doesn't.
In short, a company's brand is its public face. It's what attracts professional, talented hires, and analytics can track employer brand awareness. For example, it can generate data on the number of people researching the company, how many applicants there are, whether they're dipping or increasing in popularity, and who is engaging with the company on social media platforms like Instagram, Facebook, and Twitter.
With this data to hand, a company can carefully tailor its messaging, external perception, and visibility to attract the best possible talent. For example, if a company undergoes a significant change to its management process, it'll need extra data.
For instance, from internal staff surveys, candidate interviews, exit interviews, and social media interaction. This info is essential for assessing how people perceive the brand. Such reviews are best conducted before, during, and after each change to your management process.
Not only that, but a Risesmart survey found that 84% of employees would think about leaving their current job to move to an enterprise with a stronger and more positive brand. The same is true even if they won't be earning much more money!
The key takeaway: A company that uses its analytics to determine how it can make itself stand out from other companies will grab and retain better hires. Simple, right?
Who uses talent analytics?
A report by Deloitte shows that although almost 80% of large companies rate talent analytics and HR as "important" or "urgent," only 4% of companies have predictive talent analytics, and just 14% of companies have a program in place.
Why?
Well, one reason they suggest, is that while many companies have grown, their HR systems haven't evolved with them and are unwieldy and old-fashioned.
Yet many of those same companies have financial, sales, marketing, and operations analytics already in place. However, there are companies out there ahead of the curve and openly using data to improve their employee's morale and performance.
Here are a few examples:
IBM changed its appraisal system and wanted to know how its employees felt about it. It looked at data from its internal social networking platform to ask its employees for ideas and feedback.
It used analytics software to determine what employees didn't like about the proposed performance review system. Consequently, they found out employees didn't want to be graded on a curve, and so IBM didn't use this idea.
Elsewhere, Twitter has always surveyed its employees twice a year, with multiple-choice options and little in the way of open-ended questions. However, they wanted to understand better how their employees were feeling. So, they began sending out monthly surveys to a smaller sample of staff with more room for open-ended replies. Analysis tools were used to extract info and employee patterns to improve company morale and productivity.
Credit Suisse Bank wanted to predict which employees might leave them and why. They surveyed staff anonymously, and as a result, they were able to retain more staff and reduce turnover risk factors. Teams who felt they weren't being developed or who were high performing and at risk of leaving were offered training. Such analytics saved the company a reported $70,000,000 a year! Companies using talent analytics are
3x
more like to realize cost savings and efficiency gains.
Source: Bersin by Deloitte
Focusing your efforts where they are needed based on talent analytics findings will lead to significant cost savings and efficiency improvements.
Ready to start using talent analytics?
Talent analytics can be beneficial for optimizing the performance of employees. Not only does it empower hiring managers to choose better qualified and more committed staff, but it also provides data to back up their decision-making processes.
However, any company using analytics will enjoy more success if they're transparent in their approach. Deloitte predicts that companies who use this kind of analytics data will outperform their competitors when it comes to hiring and retaining the best talent.
Ultimately, a company relies on much more than just data alone. It needs its people to stay, be motivated, and happy and by using data insights the right way, it can achieve just that.
Ready to transform your hiring process?