In the volume hiring space, it's common practice for hiring managers to moonlight on their day-to-day tasks and be required to act as recruiters. The problem is, there's only so much time and energy they can realistically channel into recruiting while juggling multiple responsibilities, which means the candidate experience often gets little to no attention.
Even when there is a dedicated talent team, the candidate journey or talent acquisition campaign is often regarded as a separate initiative rather than an integral part of the employer branding strategy.
In addition, many talent teams are making do with standard recruitment tools. They have to justify the need for purpose-built volume hiring tools, which hinders them from creating strong, candidate-centric recruitment processes and campaigns.
The result? A disjointed pipeline full of inefficient hiring processes.
Candidates have to switch between platforms to apply for a role or spend much longer than necessary on a snail-paced mobile portal. They receive little to no communication about the status of their application, or the hiring process takes too long, and they find a job elsewhere.
Plus, there's no focus on company culture which means job seekers are left in the dark about the relevant details of the job they're applying for. In short, their expectations aren't met.
The solution? Taking a holistic approach to the entire recruitment experience. That means considering both your goals and your candidate's goals and designing candidate-centric campaigns that align with these.
Subscribe and stay up-to-date with everything recruitment related by receiving a weekly content digest and email updates on new resources!
What does your hiring experience look like for candidates?
The first step to creating a candidate-centric recruitment campaign is to get clear on what your current hiring experience looks like from your candidate's perspective.
When it comes to volume hiring, the scale of operations is much larger, and you might be dealing with multiple tools and platforms that don't seamlessly integrate. This can quickly result in an inefficient, clunky recruitment process for hiring managers and candidates.
For example, do you have any bottlenecks in your pipeline where candidates are left waiting around in limbo? Which part of your recruitment funnel is leaking the most talent? Are there steps that can either be removed or digitized to speed up the overall process? Are your candidates getting a clear picture of what it would be like to work within your company from the application process?
At Harver, we help our clients look at the bigger picture by mapping out all the steps of their hiring process. During our journey mapping workshops, we review the current recruitment workflow, tech stack and integration options, and candidate data collection and integration options.
In doing so, we uncover any inefficiencies, challenges, or gaps within your current hiring process and propose a tailored solution that will solve your current recruitment challenges and minimize future ones. This enables us to create highly customized application experiences, such as the one you can see below.
The process is fun, engaging, informative, and manages candidates' expectations, so it helps to not only filter out the applicants who don't like what they see, but also give them a realistic preview of what it's like to work for you. If you'd like to learn more about our approach to designing the candidate experience from scratch, you can book a demo below.
What do candidates expect from recruiters?
A short, mobile-first application process
An increasing number of people use their smartphones for all internet-related tasks rather than desktops, including searching for a job. Not only do they expect to be able to find a job on their mobile, but they expect to be able to apply for it too.
But what happens if your mobile application process takes too long? A Glassdoor survey found that only 22% of applications are completed on mobile compared to 47% on desktop due to mobile applications taking almost double the time to complete.
Speed through digitalization
Our world is rapidly becoming digitized, and much of the current workforce grew up with technology playing a large role in their lives. This means that candidates expect innovative recruitment processes that effectively utilize available technology to create a smoother and faster candidate experience. In addition, candidates expect quick communication from employers.
Automating the recruitment process and giving candidates the possibility to self-schedule interviews at the end of a short and engaging experience can significantly improve the speed of the hiring process, while keeping candidates interested.
Especially in entry-level, low-complexity roles, the time to commitment matters more than the time to hire, and you can significantly shorten it through automation.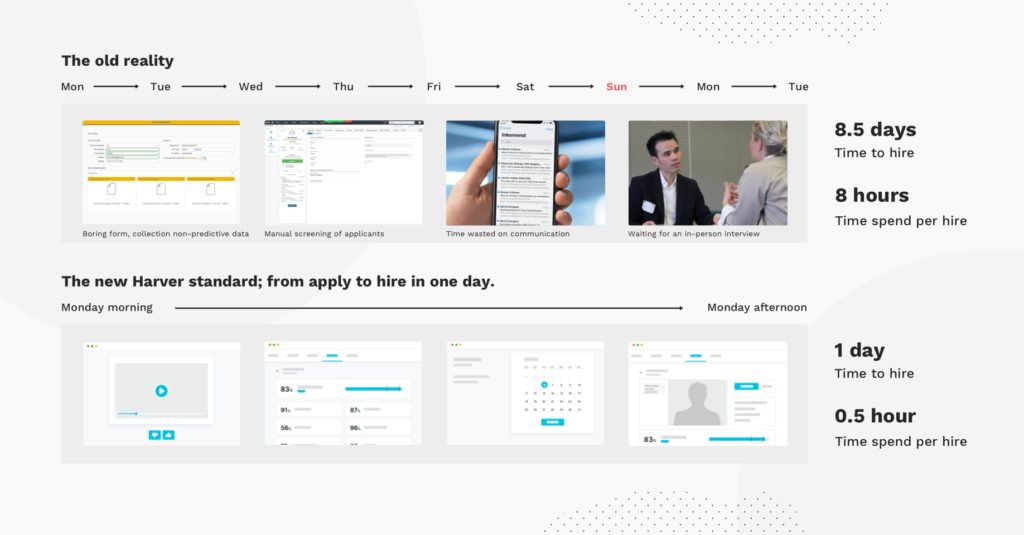 A realistic job preview
When it comes to entry-level jobs, one of the main causes of employee attrition is candidates not knowing the key responsibilities of the role in practice at work. This leads to them accepting jobs that they're not well suited to or don't match their expectations.
A realistic job preview helps candidates virtually try a job out and see if it's a good fit. By the time they start their first day, they'll feel far more prepared and ready to meet expectations.
At Harver, we create custom SJTs (situational judgment tests) for our clients, enabling candidates to experience the role while assessing their skills and job fit. This type of pre-employment assessment is extremely effective in predicting job performance for both hourly and professional roles.
You can learn more about our approach below.
Fast hiring decision
The number of entry-level jobs outweighs the number of suitable candidates available for those roles. Therefore, if you want to attract the best talent to your organization, it's imperative that you snap these candidates up before your competition does. Did you know that the best candidates are only on the market for ten days? In contrast, the average time to hire can often be 20 to 30 days long, by which point you're too late.
A fast hiring decision will give your candidates the immediate job security they're searching for and help you secure the most skilled people for your business.
How to design a candidate-centric recruitment process
So, now that you understand why a candidate-centric recruitment experience is important, how do you go about designing one?
Make it accessible on all devices
Did you know that 77% of Americans regularly use their smartphone to hunt and apply for jobs? Focus on creating an application process that is both mobile and desktop-friendly to reduce drop-off rates. The faster you can make the initial application process, the more positive the experience will be for your candidates.
Automate where possible
Suppose your hiring managers are taking on the additional role of recruiters. In that case, it's essential that you minimize the friction in the hiring process and make it as seamless as possible. This is why automation is key and will also help you significantly improve your candidate experience.
Empower your candidates by allowing them to self-schedule live interviews with your hiring team at a time that suits them. Go a step further and offer virtual interviews (if appropriate) and enable candidates to interview immediately after their application has been approved.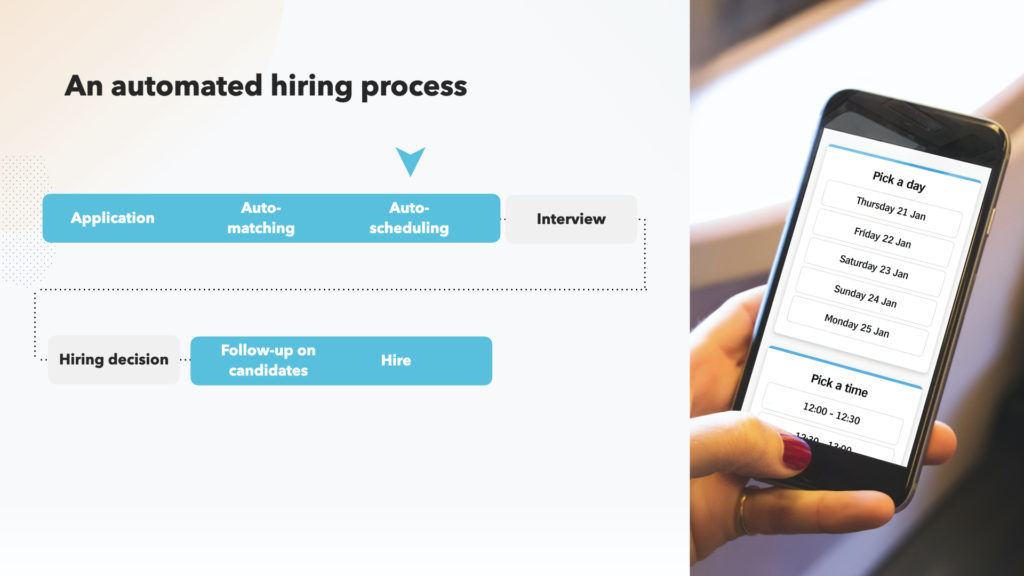 Make it engaging
If you want to create a positive candidate experience, then aim to make it unique and memorable—for all the right reasons. From the first moment your candidate interacts with your organization through to their first day on the job—every step should be meticulously crafted to hold their attention and sell them the role.
Skip the resume and cover letter
Entry-level roles generally have little to no skill or experience requirements and are likely to attract a large volume of candidates who don't have a resume or are unsure how to craft a strong cover letter. Ask yourself, do you need to see a resume? Is their previous experience likely to predict how successful they will be in this role?
Swap out standard resumes and cover letters for up-to-date pre-employment tests that actually help you assess the skills and qualities associated with the top performers in the roles you're hiring for. These assessments engage candidates, help them gain a better sense of the role requirements, and simplify your task as a recruiter when sifting through large volumes of applicants.
We've covered the topic extensively in the article below.
Next steps
Designing a stellar candidate-focused hiring experience is vital if you want to attract and retain the best candidates, particularly in the volume hiring space. It begins with understanding your candidate's expectations and the journey they go on through your recruitment process and delivering a fun and informative experience that meets their goals as well as your own.
If you'd like to see how Harver can help you build a winning, candidate-centric recruitment funnel, you can book a demo below.
Ready to transform your hiring process?