Company culture is an integral part of every organization's functioning.
However, sometimes this culture needs a change to help improve your employee satisfaction and boost productivity. So, you must understand how to facilitate a cultural transformation at your company to make sure your employees are happy and working to the best of their ability.
Cultural transformation is more than just a phrase. It's a commitment to shifting a company's culture so that employees feel like they belong, and they can invest in the long-term success of an organization. And when an employee feels this way, your company wins; workers who feel valued in their positions are 50% more productive than those who don't.
The only way to transform your company culture is to make structural changes yourself. So what steps do you need to take to succeed?
Let's get started.
What's in?
Subscribe and stay up-to-date with everything recruitment related by receiving a weekly content digest and email updates on new resources!
What is cultural transformation?
Cultural transformation is an evolving and developing process of shifting a company culture that takes place based on the values and organization of your company.
The reward? A thriving, values-driven company culture that drives sustainable success.
A cultural transformation requires taking an introspective look at your company and making changes to you shape your policies, commitments, processes, and behaviors, so they reflect the values and beliefs of your employees. The result of a successful cultural transformation process will be your employees knowing what your company stands for, what defines it, and what distinguishes you from other organizations, and thriving in such working environment.
A well-rounded cultural transformation will change the way your employees think, act and deliver your services and products to your customers. Every interaction should reflect your cultural values, from the first time that a customer makes contact with your company to the very end of the transaction.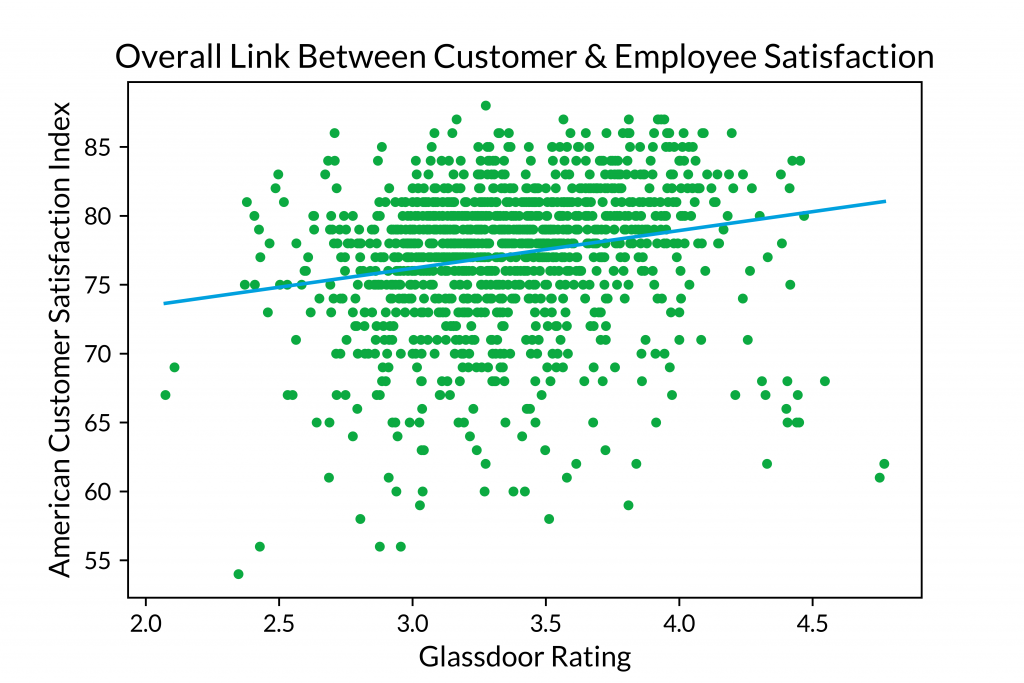 Glassdoor's research shows a link between customer and employee satisfaction. This link is even stronger in industries where front-line employees have direct and frequent contact with customers. Therefore, transforming your culture to improve employee satisfaction can have significant impact on your customer happiness.
The importance of cultural transformation and its benefits
To understand the benefits of a cultural transformation of a company, it's essential to look at the importance of it first.
Knowing how people and the organization will benefit from a successful cultural transformation will inspire them to put effort into the process. If every employee can identify the benefits a cultural transformation will bring, it's easier to get them to make the changes necessary for it to succeed. Speaking of benefits a cultural transformation will bring a company, the main ones include:
Building a better work culture:

Creating a better work culture is at the core of a culture transformation, which can help with every aspect of your company from employee retention to productivity.

Increasing employee satisfaction:

Transforming a company's culture ultimately creates a more inclusive environment for every employee. In turn, this increases employee satisfaction and happiness, and when your employees feel like they are essential to the company's success, it allows them to see themselves as an asset rather than a liability.

Boosting productivity:

It's no secret that happy employees are productive employees. A true cultural transformation will instill confidence in your staff and encourage them to work hard.
To understand what these benefits look like in a real-life cultural transformation, let's look at how Unilever Brazil did it.
In 2005, after years of continuous growth, the company's revenues started to slow. To keep momentum, the company knew they had to make some changes. Instead of just making strategic changes, the company decided to transform their culture, too. The transformation, which was done through personal sharing, listening, and open dialogue, relied on five changes:
Accelerating growth

Creating sustainable transformation

Increasing revenue

Identifying capabilities required to boost business

Managing key performance indicators
The changes were underpinned by conducting cultural values assessments every six months, ensuring leaders created a positive culture, and that every employee was taken on a journey of personal reflection about values and the culture they desired to create.
The result?
Revenue grew

by 3% in 2008 to 14% by 2010

The company's

cultural entropy score

fell from 37% to 10%

The culture that was driven by internal competition, short-term focus and caution transformed into a business environment with long-term goals, teamwork, shared vision, an orientation towards customer satisfaction, and employee happiness.
The lesson from Unilever Brazil is that no matter how big a company is and how hard change seems, no culture is static. Transformation is possible, and you can move your culture in the right direction through planning, organization, and determination.
Creating a culture of engagement helps you reduce the costs of employee turnover.
How to ensure a successful cultural transformation in your company
1. Understand your current culture and its challenges
Before starting a transformation, it's essential to understand what challenges you face from a cultural point of view and how your employees perceive the company's cultural problems.
All too often, cultural transformations are organized and implemented from the top of a company, without input from employees. The views held by CEOs and executives on what cultural challenges the company is up against could vary extensively compared to the viewpoints of the employees lower down the chain. Some of the ways to get a sense of your current culture (and challenges) are:
Surveying employees

Conducting focus groups

Holding meetings with top players/team leaders in the company

Meetings with the executives who impact the organization's culture
Ask yourself, why do we feel the need for a cultural transformation, and how will it help us achieve our long term goals?
2. Involve the leadership
That being said, company leaders' dedication and support are essential to undertaking a cultural transformation.
As a company's leadership team will be at the very center of the transformation, they must be invested in the process and have faith that it will be done successfully. If your leadership team doubts the changes needed can be implemented, they're not alone; research suggests that only 12% of companies that undertake a culture transformation achieve what they were hoping for.
One reason for a number being so low is because, while cultural transformation must be led from the top, the entire organization must be committed to making the change. Hence the need to understand the company's culture and its challenges from the onset.
Where do you start?
Well, the first step is for your leadership team to take a look at your company's behavior and imagine how people would work if your company were at the top of its game. Gather your leadership team around the table and ask them:
What behaviors would our company have to embody to pursue the cultural transformation we're hoping to achieve?

What kinds of new behaviors would be common?

What behaviors would we have to work to eliminate?
Identifying current behaviors and comparing them to desired behaviors is essential to envisioning the kind of culture you want your company—and employees—to work towards.
Positive leadership has a direct influence on how people perceive the company they work at and their own role within it.
3. Create a strategy and a plan that match your business goals
Now that you know what kind of culture you want to have, it's time to create a strategy that translates into an actionable plan.
To do this, you need to focus on the strengths of your existing culture and on a few major points that you want to change. Then, you must map out the desired goals you want to achieve without going overboard. Start with a limited, achievable number of goals that are each clear, actionable and can be measured. As strategic management consultant Harold Schroeder explains, a cultural strategy relies on promoting seven positive changes:
Leadership:

Your organization must be able to select, recruit or develop leaders who consistently model the desired new norms and behaviors and are effective in managing the people-related aspects of change.

Structure:

To promote effective cultural change, authorities and accountabilities must be consistent and aligned with each other, and with the desired behaviors and norms.

Staffing and Deployment:

There is a need to ensure those job roles are occupied by individuals with the right skill sets and behaviors to bring about the required changes.

Competency:

Since employees and managers will often need to learn new skills when an organization is transformed, a new competency development strategy will often be needed.

Management:

This provides the framework within which employees can be guided towards the "right" behaviors through a system involving performance planning and goal setting, regular appraisal, and coaching.

Compensation:

This system ensures the rewarding the desired new behaviors or alternatively penalizing individuals who do not demonstrate this by withholding associated rewards and benefits.

Communication:

A systematic communications system tailored to employees in different functional or other areas of the organization will help promote and sustain group-level changes towards the new norms and behaviors.
The pillar of these changes is extensive engagement with your employees, which leads us to our next point.
Cultural transformation framework
4. Engage your employees
Your team must have the space to provide feedback on your company's cultural transformation process.
To make this happen, you need to engage and recognize your employees and teams that are making a lot of progress. And as we've already highlighted, engaged employees also happen to be more productive; 21% more productive, in fact. This productivity has a major impact on your company's bottom line, as investing in engagement can increase your profits by $2,400 per employee every single year.
The key to engaging with employees is making them feel involved and connected in the cultural transformation of your company. Make sure each employee feels like they are contributing to the structural changes you're undertaking, and that you're making an effort to understand their culture and what you expect of them.
5. Pay extra attention to organizational fit in your recruitment efforts
If you are undergoing a cultural transformation, it might be hard to see organizational fit in your candidates.
Take your time to explain to candidates where you're planning to get to and check how it resonates with them. Going forward, making sure you hire people who can fit the future reality of your cultural transformation is key to retention.
Ensuring candidates are a cultural fit during your recruitment process can be tricky, so companies are turning to tech to ensure every new hire ticks the right boxes. For example, using a cultural fit assessment, organizations provide candidates with a concise, validated questionnaire that assesses a candidate's culture preference across key dimensions of company culture. It tests the core values, behaviors and goals match between your company culture and that of a potential candidate to give you the best possible chance of picking the perfect new hire for your business.
Combine a standardized assessment with asking the right questions, informal meetups, inviting candidates to your office and other ways of assessing organizational fit.
Then, you can be sure you are making the best hiring decisions possible with every candidate.
A culture mismatch can cause employees to quit early. Make sure that your new hires are organizational fit but also pay attention to the potential toxic traits of your company culture that need to be changed.
6. Track your progress
Finally, you need to track your progress to assess if the cultural transformation is succeeding.
Just as you would with any new strategy of campaign you implement, you need to rigorously measure each part of the transformation to see where it's succeeding, and where it needs improvement. Your company's leadership team should measure four areas of the transformation process:
Overall behaviors:

Are team members embracing the transformation and exhibit cultural behavioral changes? For example, if the aim is to improve customer service standards and align them to the company's tone of voice, are managers making it a priority to engage with team members involved in the transformation?

Business performance:

What Key Performance Indicators did you set to track performance and how are the results measuring up after the first quarter? Are growth targets being reached more frequently? And if indicators aren't being met, is there a reason why?

Key milestones:

The milestones will relate back to the realistic expectations you set during the strategy phase. For example, if you set a new policy regarding improvements in diversity hiring, has the milestone been met? Are the team members involved living up to their commitments to achieve the desired results?

Underlying team feelings:

Are key cultural attitudes changing for the better? For example, are employee surveys suggesting a cultural transformation is taking place?
Without measuring your efforts, it's impossible to know whether your cultural transformation has been successful.
7. Be patient—change takes time
Unlike other changes company's can make to change the trajectory of their business, cultural transformation is a long-term change.
It takes time.
Don't expect your company to transform its culture overnight. Instead, build a strategy that will see that change achieved in a realistic timeframe. Involving every team member, from your CEO to your newest hire, in the cultural shift of your company is key to ensuring its success. And tracking progress is the only way to know if your efforts are successful, or if you need to rethink the way you've decided to tackle cultural change in your company.
An inclusive and engaging company culture also positively impacts the business success of your organization. Time invested in cultural transformation will definitely be worth it!
A final word
Cultural transformation in any company is a complex process. However, it can have a tremendous impact on your organization and its future. The effort is worth it—and it will be reflected in your employee satisfaction and productivity numbers for many years to come.