For 87% of organizations around the globe, diversity has become either a stated value or priority area for their companies.
But apart from being just a percentage, it's essential to dig a little deeper to see what benefits having a diverse customer service team brings to the table. A study found that inclusive companies are 1.7 times more likely to be innovation leaders in their field. Furthermore, diverse companies are as much as 35% more likely to outperform their competitors.
Why should you care about diversity in your customer service department and what can you do to make the most of it?
Let's look at 7 key ways having a diverse customer service department can benefit the overall health of your company.
What benefits are in?
Subscribe and stay up-to-date with everything recruitment related by receiving a weekly content digest and email updates on new resources!
1. Best serving a diverse customer base
No matter what industry or space your company is in, it's likely that your customers are a diverse bunch of people with a mix of race, religion, social status, and a number of other characteristics.
The more diverse your customer service team is, the more likely they will be able to show empathy towards a diverse customer base, and take customer requests seriously. Simply put, a diverse customer service team is better equipped to connect your customers to your brand.
In a survey by Forbes Insights, 65% of senior executives said recruitment of diverse employees was their top priority.
But what does diverse recruitment mean for a company in terms of customer service and ultimately, revenue numbers?
Take this example from Angela Stringfellow. She says that annually, disabled Americans have an estimated $544 billion in disposable income, and organizations that employ disabled workers will, in theory, have greater insight into the services and products that fit the needs of that customer base.
"A diverse workforce also gives you better insight into your customers. They're diverse too, after all," Stringfellow says.
To win in a diverse market, your customer service team needs to have enough insight to be able to empathize with the customers they're trying to help. The more they're able to get on the same level as your customers in terms of values and culture, the easier they'll be able to connect with them on a human level.
And we all know that the key to successful customer service relies on team members being able to connect with your customers.
Marginalized customers face various barriers when interacting with brands. Having a diverse customer service team can help overcome these and serve all customers on the same level.
2. Diverse perspectives lead to innovation and creativity 
Diverse teams are breeding grounds for innovation and creativity.
More than ever, fostering a culturally diverse environment is the best way to unearth innovation and creativity within your teams. A Boston Consulting Group study discovered that companies with more diverse management teams had 19 percentage points higher innovation revenues than companies with below-average diversity scores.
Furthermore, studies have shown that inclusive companies are 1.8 times more likely to be change-ready than their less inclusive competitors.
But how do these numbers help your customer service teams?
An innovative and diverse workforce can expose your customer service team to various perspectives, experiences, and opinions. On the back of this, they'll be able to share ideas and come up with original solutions in a more creative way. That's why you should support collaboration within and across teams, e.g. through brainstorm sessions, job shadowing, etc to foster innovation.
Diverse companies benefit from innovation more than their less diverse competitors, which, in return, positively impact their bottom line.
3. Creating a culture of continuous engagement and learning
Having actively engaged employees is a key goal for companies.
But just how important is it for our workers to be engaged in our company's goals and vision? Not only are actively engaged employees more productive, they can also become outspoken advocates for your company.
But here's the schtick – diverse companies are winning when it comes to the number of actively engaged employees it has, especially Millennial employees. 83% of Millennials are actively engaged when they feel the company they're working for fosters an inclusive culture. And here's where it gets interesting: the same survey found that if Millennials don't feel like their company fosters an inclusive culture, only 60% of them will be actively engaged.
The results of engaged employees can trickle down into many important areas of a company, especially those in customer service teams, like:
Educate:

staff on company brand, its solutions, and value. Give them the tools and messaging they will need to help spread the word, especially with their connections

Develop:

internal systems and processes to collect ideas and feedback

Create:

employee advocacy programs to reward internal staff and partners for meaningful contributions
And to reap the benefits of an engaged customer service team, you need to build it up on diversity and inclusiveness.
What's more, building a team consisting of people with different perspectives and skills will motivate its members to learn from each other and continuously broaden their competencies. You can promote the ongoing learning by organizing team workshops or asking the team members to make suggestions for online learning materials creation.
Diversity within an organization improves employee engagement, productivity and also benefits the revenue.
4. Fostering an inclusive work environment
In a 2018 Ted Talk, inclusion advocate Janet Stovall hammered it home that diversity and inclusivity were two different things.
"Diversity is a numbers game, but inclusion is about impact," she said. "Companies can mandate diversity, but they have to cultivate inclusion. And if inclusion is what you're after, you've got to calculate some slightly different numbers. How about 30 per cent? Because that's the point that research shows at which the voices of minorities actually begin to be heard."
So, while diversity, as Stovall states, doesn't equal inclusion, embracing it in your customer service departments can help to foster an inclusive environment, where people can share their opinions and be heard. This can mean putting in place processes like:
Anti-discrimination policies

Team education about workplace bias, cultural diversity management, microaggression prevention, and more

Creating an open dialogue that fosters inclusivity
Director of Product and Engineering at Shoppable, Tessa Ann Taylor, said the company focuses on inclusion during their onboarding process. Although she was discussing how inclusion has helped Shoppable's coding team, the same rules apply: they explicitly document their roles and responsibilities to ensure their employees feel comfortable speaking up when they want (and need) to.
"For example, part of an engineers' role is to collaborate with product and design to drive product decisions," she says. "We also document team norms around things like pull requests and remote culture to ensure that everyone's voices are heard and respected. Finally, we set quarterly goals around improving team culture, in addition to our quarterly product and technology goals."
5. Attracting more diverse talent 
Hiring (and retaining) top-performers into your business relies on creating a diversity-friendly culture.
A Glassdoor survey found 67% of people consider diversity an important factor when they were deciding where to work. So in order to attract top talent into your company, you need to foster diversity at your workplace. Cheryl Amyx of 4CEO Inc told Forbes that increasing diversity in your company's recruitment by targeting gender and minority-specific associations can attract more diverse talent.
"For example, partnering with minority colleges will yield strong entry-level candidates who can grow with your team and rise to leadership positions," she said.
The main aim is to commit to making diversity an overall part of your company's brand. After all, 86% of female Millennials said employer policy on diversity and workforce inclusion is important, so to have any shot of getting them on board (and building an organization of the future) is to create a culture where people want to work.
However, many organizations lack sufficient applicant and employee diversity data to actually track the efficiency of these programs. Buffer is trying to challenge this by gathering granular data about the diversity of their workforce, creating transparency across the company.
6. Diverse teams solve problems faster
A diverse customer service team can solve problems faster and easier.
It makes sense. Think about building a team that is made up of people with different experiences, backgrounds, and skills. Chances are, the team is more likely to personalities that are willing to offer up unique ideas and solutions. Harvard Business Review conducted a study that found cognitively diverse teams were able to solve problems faster than those who had similar cognitive behaviors.
The study measured two factors:
Knowledge processing:

the extent to which individuals prefer to consolidate and deploy existing knowledge, or prefer to generate new knowledge when facing new situations

Perspective:

the extent to which individuals prefer to deploy their own expertise, or prefer to orchestrate the ideas and expertise of others when facing new situations
Then, six teams were put to the problem-solving test: teams A, B & C all had the diversity of both knowledge processes and perspective, whereas teams D, E & F all had less diversity. Here were the results:
So, it's clear that diverse teams can solve problems quicker.
But it's also important to realize that faster problem solving from your customer service team can trickle down into your company's overall revenue stream. A McKinsey & Company study found by looking at 180 companies in France, Germany, the United Kingdom, and the United States that those with more diverse teams were also top financial performers.
A team that solves problems quickly can help to deal with more customer queries in less time, as well as come up with process optimization tips. It's a win-win scenario.
7. Improving employee retention 
Employees who feel that their individuality is valued and that they uniquely contribute to the goals of the company they work for, they are more likely to stay.
And at the heart of employee retention is fostering a sense of belonging in your teams. Turner Consulting Group, a Toronto-based Diversity and Inclusion consultancy, built this diagram to show that fostering a sense of belonging in your workforce can't be done without inclusion and diversity.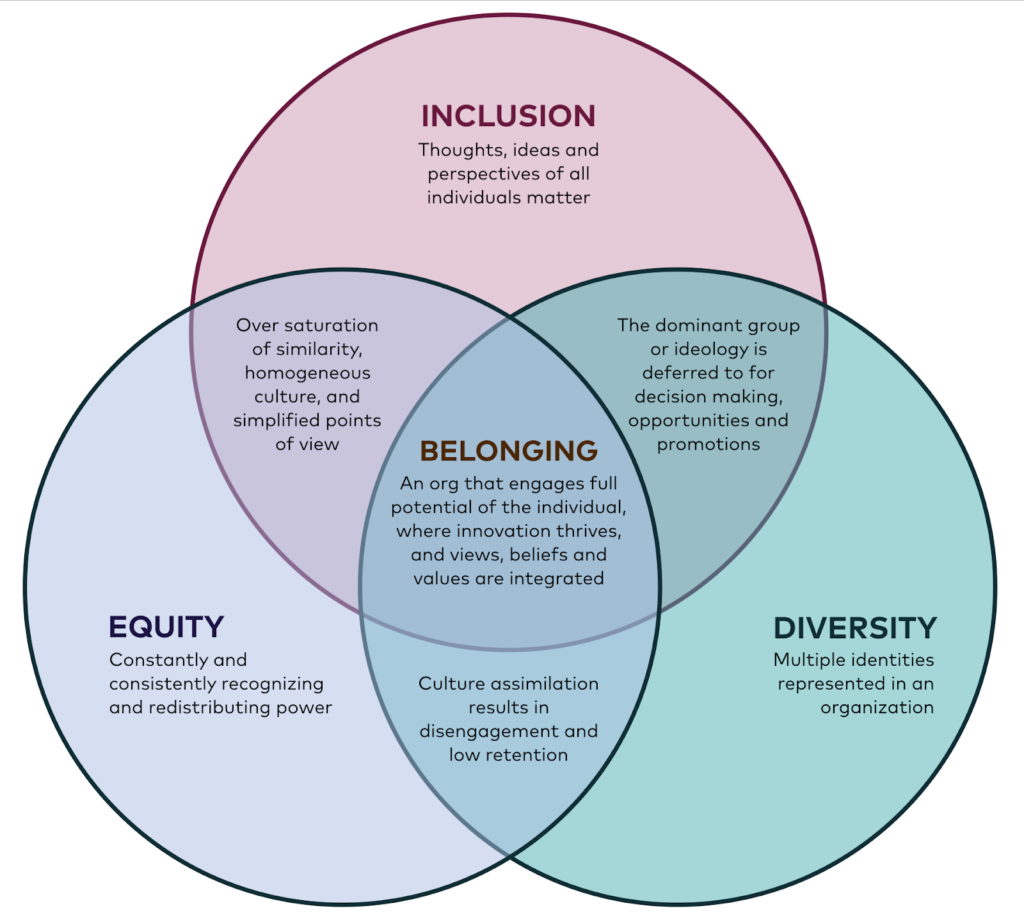 And a lot of these feelings of belonging stem back to having engaged employees. After all, engagement can make a huge dent in employee turnover, and it can help improve your employee retention rates.
Engagement is one of the most important factors employees consider when deciding whether they should stay at a company or pursue leave for a new company.
And keeping your employees, especially your top-performers, can have a massive impact on your company's bottom line. A study by the Center for American Progress found the average cost for a company turning over skilled jobs is 213% of the cost of one year's compensation for that role.
Not only is the cost of replacing an employee enormous, but keeping your most engaged team members around for longer can have a significant impact on their overall financial value to the company.
After the initial training period, employee engagement plays a great role in how the company benefits from an employee.

The key takeaway for your company?
Make it a priority to support your customer service team to reach their goals not only as part of your company but on an individual level as well.
Wrapping up
The benefits of creating a diverse working environment for your customer service team goes well beyond reaching diversity quotas.
Having figures to show your company is diverse is one thing, but fostering an environment of inclusion is where you will really start to see the rewards in your customer service team. Not only will they be able to handle a diverse customer base with more ease, but they'll also be able to problem solve quickly and become more engaged as well.
If you want to provide first-class service to your customers, make sure that your customer service department is as diverse as your customer base. Your positive work environment, improved employee retention rates, and your company's bottom line will thank you for it.