Recruiting new staff members is a complex process that requires much time and effort. Besides, you can't afford to hire the wrong candidate for the job — it would mean starting all over again in just a short span and losing a lot of money in the process.
The U.S. Department of Labor reveals that hiring the wrong person can cost you 30 percent of an employee's annual package. And the number only goes up for senior-level employees. Plus, it's not only about hiring a new candidate but also about how to retain the old ones.
However, companies often hire reactively without any strategic recruitment plan, they post openings without a clear job description or keep posting jobs in the same old spot.
These are all common hiring mistakes organizations make. So how can you avoid repeating them and improve your hiring process?
What's in?
Subscribe and stay up-to-date with everything recruitment related by receiving a weekly content digest and email updates on new resources!
1. Lacking a structured hiring process
Recruiting someone requires foresight — to know what you need long term. It means managers need to understand what the company aims to achieve in the next five years, and how they are going to use employees to get there.
To recruit strategically, an efficient recruitment process also needs structure. Finding the right employee doesn't happen immediately. However, many recruiters prioritize speed over quality under the pressure to fill the roles asap, which might lead to skipping important steps in the hiring process. Sometimes hiring managers are so desperate that they hire anyone that applies without making sure that that person is actually fits the role and the organization.
Having a hiring that lacks structure only leads to hiring ill-fitted candidates, which reduces productivity and often results in an increased turnover rate.
Pro Tip: Though there is always the need to fill the position fast, employers must seek to balance speed and quality in the hiring process. Recruiters can resist the pressure of filling the vacancy faster by hiring managers by explaining how the speed-quality trade-off would affect the performance of the company.
Get the duties right so that you hire the right candidate. Prepare a detailed job description, layout the responsibilities, and the skills and knowledge required. Remember always, information is the key.
Have the hiring process steps laid out up-front so that you know when you need to do what. For example, what happens after you shortlisted a couple of candidates after the initial screening? Do you proceed with a phone screen, a pre-employment assessment, or a short task? Knowing exactly how to move forward in each step of the hiring process allows you to recruit more efficiently.
Sketching out your recruitment funnel and defining what needs to happen in each stage in a recruitment flowchart will help you keep the hiring process streamlined and consisted. Besides, you can make use of an applicant tracking system to help you manage the recruiting process.
Documenting your recruitment process through a flowchart like this will help you make better hires in less time.
2. Not attracting the right candidate
For any organization, attracting the right candidate is very important. It can be quite challenging to select the right person from a large pool of applicants. Plus, chances are that your job ads don't give the right impression, and so you receive fewer quality candidates.
To increase the odds of attracting the right candidate, you can use recruiting technology to assist you in writing the job ad. Tools like Text Analyzer, Textio or Gender Decoder help you write easily readable and inclusive job descriptions. Programmatic job advertising targets candidates where they spend time online based on your ideal candidate profile.
Once you've attracted enough qualified candidates, you want to make sure that their profiles won't get overlooked. Using an applicant tracking system to collect and organize your candidates' information will help recruiters evaluate them more effectively and make sure that the right candidate doesn't slip through the cracks.
Pro Tip: While there are plenty of ways to attract candidates, and new methods are often introduced, we often overlook the people already working for us. Your old employees don't have to stick to their current position. Give them a chance to take a shot at new openings before you start sourcing external candidates.
You know already that these people fit your company culture. Furthermore, opportunities for career growth are among the top 3 things employees are looking for in a job so enabling internal mobility will help you attract and retain talent.
3. Avoiding candidate feedback
Most often, recruiters tend to avoid collecting feedback from candidates, especially the ones they have rejected. Why?
They believe that feedback from them will always be negative or useless. But that's not true. While you may be tempted only to gather feedback from the successful hires, you should also collect it from the rejected candidates.
Candidate feedback is critical as it can help improve your entire hiring process based on their reviews. It can contain suggestions on how to enhance the recruitment process.
Pro Tip: Your recruitment process should contain a candidate experience survey form. There are many apps and tools like Starred or Hyphen that help you gather responses. They can even analyze responses to create a report on it. Plus, these tools seamlessly integrate with other tools in your recruitment tech stack. When candidates are asked for application feedback, it can lead to as much as
72%
increase in a great candidate experience.
Source: The Talent Board
Not only does candidate feedback enable you optimize your recruitment process, but it also improves candidate experience.
4. Posting jobs in the same old spots
One of the most common mistakes a recruiter makes is that either they keep posting their openings in the same old spots or in the desperation to find candidates, they post it everywhere.
The same spot will generally attract the same type of candidates again and again. And while you may think that covering all the bases — posting your opening on every platform, will help you reach the most candidates possible, it might not be the most efficient option.
Moreover, it might not be an affordable option to post on all job promotion channels and waste a lot of time in managing the postings. Not all job promotion channels will be relevant for your openings.
Pro Tip: Posting openings on your own website is great, but it works best if you are a well-known brand and have good traffic. You will need other sites to send traffic to your websites and your social media pages. Use a talent acquisition platform or an ATS to track the best performing recruitment channels for your openings and post your ads where you know they work.
Stop guessing,
Start data-driven hiring.
Learn how you implement a modern candidate selection process, that is: streamlined, experience-driven and backed by data.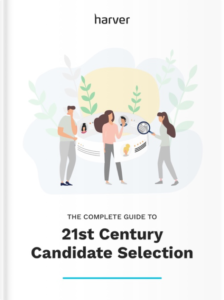 5. Making decisions based on gut feeling
Human beings are naturally biased but despite this, a lot of recruitment is still done based on gut feelings. Biased decisions are a common problem in most organizations. However, it can now be reduced with the help of AI-based solutions.
Pro Tip: With the help of AI, hiring managers can recognize the right fit for the position by evaluating applicants' skills, characteristics and other required criteria. AI-based solutions are configured to collect information and convert them into actionable insights. This will ensure that all the initial decisions are taken based on pure data, which allows companies to match skill sets required for a specific position with the candidates' job profiles and ultimately find the best-suited candidates. 66%
of talent acquisition professionals want to use AI to improve the ability to identify candidates with needed competencies for their organizations.
Source: Oracle
Identifying the right qualities and skills in candidates is the top thing that talent acquisition users want to achieve with AI in recruitment.
6. Making the whole process last longer than necessary
A study shows that HR managers lose 14 hours a week on average because they need to perform their tasks manually. Time is valuable, and no company can afford to waste it.
Additionally, when the process lasts too long, the best applicants disappear when they get an offer from another organization that is able to move faster. In fact, 60% of recruiters admit that they lose candidates before they've scheduled an interview.
Pro Tip: Using recruiting software can save you time by automating different stages of the hiring process, ranging from scheduling interviews and confirming appointments to conducting background and reference checks.
The first thing to do is to identify where the bottlenecks are in your hiring process and then research how you can overcome them. For example, if you find out that candidates often ask certain questions, you can implement a recruitment chatbot to assist candidates with common issues.
7. Failing to engage with candidates
While recruiting software simplifies the whole hiring process, we tend to rely on it completely, which might make the process feel impersonal and dehumanized to candidates. What's more, lack of response from employers is the #1 frustration for job seekers during the overall job search.
And yet, 77% of job applicants say they receive no communication from organizations after applying for their advertised roles. Failing to engage with candidates results not only in frustration, but also in candidate ghosting.
Pro Tip: Always engage with applicants on each stage of the recruitment process. At the very least, confirm that you've received the application and communicate the hiring timeline. Let the candidates know what the next steps are and when you expect taking them. If there are any delays, inform your candidates about them.
Use a candidate relationship management tool to send automated personalized updates to candidates based on the stage of the recruitment process they're in. In fact, 81% of job seekers say that employers continuously communicating status updates to them would great improve their overall experience, which leads to a positive view of the organization in general. 90%
of candidates who feel that they were treated with courtesy and a personal touch would encourage others to join the company in the future.
Source: TLNT
Personalized engagement throughout the recruitment process appeals to candidates even if they end up being rejected for the role.
8. Not involving other staff members
Often, recruiters use the same old requisition that was used to hire the last employee. What they don't realize is that the role or the skills requires might have changed. These additional requirements will not be listed on your requisition and thus, your job post might attract the wrong crowd.
This usually occurs when HR or recruiters work in isolation, not working closely enough with the hiring managers and the team and not consulting them about actual job duties and preferences for a candidate. This makes hiring process more chaotic and longer than necessary.
Pro Tip: Have all your team members involved in the recruitment process. It is seen that over 50% of the time, the hiring manager makes changes to the job description. You can invite your team members into your talent acquisition platform so that you can all collaborate on the hiring process. Ask for their input and make good use of team knowledge to identify the right candidate for the job opening.
Final words
Making mistakes can be easy, but you can also avoid them easily if you make a bit of effort. By using technology, you can streamline the whole process and run it smoothly.
As mentioned earlier, some businesses rush through their hiring process too quickly to fill the position while others take too long, which results in lost talented candidates.
If you don't want to lose them, you need to follow up with the interviewees and interviewers alike and keep everyone in the loop on the progress. Certain processes like interview scheduling can be automated to save time and effort. Automating your recruitment process is cost-effective too.
Once you're aware of the hiring mistakes you're making, you can work on strategies on how to avoid them and improve your recruiting process.
About the Author:

Sharad Bhardwaj is a content analyst at SoftwareSuggest. He has experience in content marketing and has expertise in Recruiting software & service. In leisure time he likes to rejuvenate through playing cricket and listening to music.
Stop guessing,
Start data-driven hiring.
Learn how you implement a modern candidate selection process, that is: streamlined, experience-driven and backed by data.