To say that working at a restaurant, bar or cafe is challenging is a drastic understatement. The environment is fast-paced and often stressful; the pay is far from ideal; customers can be highly unforgiving; and being on your feet for so long is nothing short of exhausting.
Those are just a few reasons why employee turnover is so high in hospitality, especially in the frontline roles like waiting tables and hosting. However, these people have an important task—to keep your customers happy. And of course, in the hospitality business, customer service is everything.
That's why hiring servers that excel at their job and stay with your establishment longer is crucial. So how do you do this?
We'll share our favorite tips in this article!
Subscribe and stay up-to-date with everything recruitment related by receiving a weekly content digest and email updates on new resources!
Why hiring great servers is important for hospitality businesses
Your hospitality business's success is highly dependent on the quality (and consistency) of the customer service at your establishment. To offer great customer service, you have to hire great servers and other frontline employees that interact with your customers, right?
Well, it turns out that hiring great servers is easier said than done. And not only that, but employee turnover continues to be a serious issue in the hospitality industry. In fact, the turnover rate in the restaurant and accommodation sector rose to 74.9% last year. Hospitality businesses are well aware. A recent survey found that 67% of restaurant operators cite staff challenges and turnover as top concerns.
While hiring servers (and keeping them on board) can be tricky business, it's not impossible if you have the right strategy in place. Here's how to hire and retain top-notch servers who can help your hospitality business stand out and thrive!
That also means that more employees will be needed in the industry.
Tips for hiring & retaining servers for your hospitality business
1. Encourage word-of-mouth about your openings
Use your staff as a recruiting resource. Inform your colleagues about your openings regularly and ask them to spread the word to family and friends. This is a great, cost-effective way to generate word-of-mouth and appeal to more candidates when hiring servers.
Consider implementing a referral bonus program to incentivize your team members to refer people they know. Referred hires tend to stay with companies longer and perform better in their roles. Making referral hires also helps promote a sense of community among your staff members.
Word of mouth is an especially popular method of hiring in the restaurant industry, even more in bars and pubs, as well as in catering.
2. Accept walk-in job applications
Waiting tables is one of the jobs where applicants still print out their resumes and walk into restaurants, bars, and cafes to apply for jobs in person. You don't want to miss out on walk-in applicants who have already taken initiative and shown interest in working for your business.
Either accept walk-in applications on the spot or encourage walk-in candidates to apply online or send an email or text with their information right away to the provided address/number. You can even develop a QR code that walk-ins can scan, or a mobile-optimized link that allows them to apply immediately using a smartphone.
3. Use hospitality job boards and websites
Another way to hire great servers is to look for them in the right places. In addition to posting on regular job boards, you should post about open serving positions on hospitality industry-specific platforms. Some of the best restaurant and hospitality job boards are:
Posting about open roles on these sites will help you better target your sourcing efforts and reach qualified candidates faster.
4. Be clear about the conditions upfront
To reduce turnover and retain the servers you hire, it's important to be clear about the working conditions upfront. For example, what are the days and hours available? How long are the shifts? What is the salary? How much can servers earn in tips? Does the job offer any benefits? What type of contract will they get?
Make it clear during the hiring process to set the right expectations and avoid costly turnover. While some is unavoidable – especially in such a demanding industry – managing expectations about the role early on can make all the difference and decrease the chance of unwelcome surprises down the road.
Don't tell your candidates about salaries they can't achieve. Don't promise them a full-time job if you don't have enough hours to offer. Be honest about what they can get when they join your hospitality business.
Employee needs and wants often differ what employers think their workforce want. Communicate about this clearly during the hiring process to avoid mismanagement of expectations.
5. Design an attractive benefits package
Of course, salary is an important factor for candidates and employees alike, it's important to offer an attractive benefits package that entices them to join (and stay on) the team. There are many different options for crafting a benefits package that servers will love.
An increasing number of hospitality employers are exploring new ways to attract and keep their top-quality talent. For example, Chipotle Mexican Grill recently announced the expansion of its education benefit to include a debt-free degree program for employees. Noodles & Company just introduced a new financial wellness program that offers employees free access to a suite of tools for immediate pay, budgeting, and saving.
Think about whether these is something similar you can offer to your employees and how you can design an appealing compensation package including both salary and the benefits.
6. Vet candidates appropriately
You should make it a point to always check candidate references. Doing so will help you gain deeper insight into how the candidate works and how well they will fit into your hospitality business. In addition to checking references, many hospitality employers also utilize digital resources like background check software and pre-employment testing tools to vet candidates. Pre-screening tools allow employers to assess everything about potential candidates from job knowledge, culture fit, and personality to cognitive ability, hard/soft skills, and situational judgment.
Don't forget to engage your candidates throughout the recruitment process. One of the ways to do so is using text messages, which are used by almost a quarter of job seekers.
7. Look for relevant characteristics
There are also certain characteristics and personality traits to look for in job candidates to help you assess who might be a good fit—as well as who might not be. Customer orientation, active listening, stress resistance, and reliability are examples of key skills to look for in potential servers.
Past experience is important as well, but you should never completely disregard candidates with the right characteristics just because they don't have experience as a server, bartender or in a similar role. Asking the right interview questions will help you anticipate how a candidate would handle the demands of the job and whether or not they're a fit.
You can ask questions about why they feel they're a good fit for the role and what they think makes someone a good server. It's also great to give people real scenarios and then ask them how they might respond in that type of situation. Good questions are things like "What would you do if a customer expressed dissatisfaction with their meal?" and "What's the appropriate response when a customer makes a special request?"
Stop guessing,
Start data-driven hiring.
Learn how you implement a modern candidate selection process, that is: streamlined, experience-driven and backed by data.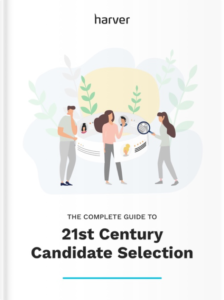 8. Offer candidates a (paid) job trial
Another tip for hiring and retaining great servers is to offer a paid job trial. This doesn't have to be a full shift—only a couple of hours for you to observe how the candidate interacts with customers and coworkers. A job trial also gives the candidate a realistic job preview that will help them assess if the job is a good fit for them. They can learn what to expect from the role and recognize ahead of time if the job is or isn't what they're looking for. Of course, you should make it a paid opportunity to compensate job candidates for their time.
9. Have a systematic training program in place
How do you expect your new hires to become great servers if you don't provide them with proper training? While this may seem obvious, unfortunately, many training programs are simply not up to par. Your hospitality business should have a systematic training program in place to ensure new servers are thoroughly trained for on-the-job success.
Break training tasks down into small, achievable goals so new hires don't feel overwhelmed on day one. Teach employees how to work smarter, be patient in explaining tasks and give them plenty of opportunities to ask questions. It's also a good idea to cross-train your servers so they can help fill in at the host table or jump behind the bar if an emergency comes up.
You can also ask for feedback on your training program so you can improve it over time. This is a great best practice because it helps you learn how effective your training program is and identify areas where improvement is necessary.
Reskilling and upskilling is important in both highly-skilled and low-skilled jobs to remain competitive on the future job market.
10. Create an inclusive work environment
It's essential to create an inclusive work environment where a vast range of people, backgrounds, and opinions are welcomed and respected. Creating an inclusive workplace will both improve your hospitality business and help you retain your best servers in the process.
Gallup's diversity and inclusion survey cites a few key pointers that hospitality managers and employees must follow to create an inclusive workplace, which includes things like encouraging mutual respect, prioritizing individual empowerment and building a culture of innovation. Seek to build a genuine sense of community where your staff feels safe, welcomed, and appreciated. A great and simple way to start with this is to design a nice break room that's equipped with a way for team members to heat up their meals and interact with their coworkers.
11. Promote open communication
It's important that your servers feel comfortable communicating their ideas and concerns to management. Promote open communication and have regular check-ins with employees to assess how they're feeling in their roles. Be on the lookout for red flags so you can anticipate declining engagement before it's too late and you lose top talent.
Harassment is an example of a serious problem in the hospitality industry that could be prevented by encouraging open communication. In fact, 60% of women working in frontline service such as waiters, baristas and bartenders have experienced sexual harassment. Hospitality employers need to make every effort to get ahead of this and put policies in place to prevent harassment in the workplace—and it starts with team members being comfortable sharing.
Ask yourself these questions to assess whether your business promotes open communication: Do your employees have a way to report such things? Do they feel safe doing so? Do they have a platform to share their ideas on how to improve things like productivity and collaboration?
Bear in mind that some of frontline employees such as servers might speak a different language at home. 46.5% of managers in hospitality and tourism said their company encourages employees who have limited English-language skills to participate in English at work programs.
Over to you
Your waitstaff is the key to providing great customer service—but achieving it is not going to happen if your servers come and go all the time. Not only should you try to build a stable team by having a strong recruitment process, but also retain it by creating a safe, inclusive work environment where employees feel engaged and appreciated.
You can also work on developing and improving your employer branding to attract great candidates. Here are 9 employer branding examples for hospitality businesses to serve as inspiration!
Don't forget to grab your free copy of our white paper on the digital transformation of restaurant volume hiring. Learn about: