Almost every Fortune 500 company hires interns on a regular basis for a number of different roles. Recognizing the benefits of recruiting interns, many mid-sized and small businesses are starting to build internship programs as well. Companies see it not only as a way to get extra hands on their projects but also as an opportunity to attract top talent.
What are the benefits of hiring interns and how can you improve your intern recruitment process to hire the best emerging talent?
Let's find out.
What's included?
Subscribe and stay up-to-date with everything recruitment related by receiving a weekly content digest and email updates on new resources!
Benefits of recruiting interns
Internships have a long history that ranges from professional apprenticeships originating in the 11th and 12th centuries, to becoming an integral part of many college programs today. Students and fresh graduates see internship programs as a way to earn college credit, gain their first professional experience, and potentially get their foot in the door of their dream company.
"If hired correctly, interns can help strengthen work culture, staff, and save time on new hires. Companies ought to put more effort into considering how they bring interns into their business and how they are using them." –Ross Blakenship, author of Intern 3.0. The Ultimate Guide to Recruit Hire and Manage Interns
The benefits to the interns are clear, but what benefits do companies get from recruiting interns?
Listen to our 7 tips for recruiting interns into your business
on Recruitment On The Go!
New perspectives and ideas
Interns offer a completely different perspective and provide fresh, creative ideas for your business and strategies. The most successful organizations incite feedback from employees of all experience levels—and that includes the interns! In fact, try to include interns in your company's brainstorming sessions to take full advantage of their unique outlooks. 1-3
That's the most common number of interns hired on at any one organization annually.
Source: ERC
However, large companies like Google, KPMG, or Deloitte hire over 3,000 interns every year. General Electric hires as many as 5,000 interns annually.
Technological savviness
Many of today's interns grew up with modern technology and social media in their daily lives. By recruiting interns, you're almost certain to increase your company's tech-savviness and even build on your social media presence—which is especially helpful in today's highly digital environment.
Entry-level hiring potential
When you recruit great interns, there's always the potential to keep them as entry-level hires after their internships and studies are complete. Think of it as a trial period to test out the working relationship. By investing in training and developing your interns, you can increase their hiring potential and the likelihood they'll join your team full-time when the internship ends.
Extra set of hands
Intern recruitment also provides an extra set of hands to help finish projects and accomplish goals, which can be extremely helpful when you're busy and need the added manpower to get things done. Your day-to-day tasks are probably the perfect learning opportunity for an intern—not to mention a perfect mentoring opportunity for you.
Mentoring opportunities
Internships are a great opportunity for seasoned employees to mentor those just getting started in the workforce. Your current employees can become better managers and build on their leadership skills by teaching and mentoring the interns in your program. Encouraging your team members to mentor others will build on company leadership skills as a whole and help transfer knowledge. 77%
of companies with mentoring programs say they improve employee retention and job performance.
Source: Insala
Mentoring programs have a positive effect on retention and performance of both the mentors and the mentees.
New brand advocates
By recruiting interns, you can help spread the word about your company and gain new brand advocates. Interns talk, and they're likely to share details about their awesome internship with their friends, peers, and family members. They can also refer fellow students as interns if they enjoy the program.
Tips for successfully recruiting interns
Even if you recognize the benefits of recruiting interns, you might not know how to do so successfully. Here are our favorite tips on how to recruit interns:
1. Design your internship program
One of the most important parts of recruiting interns is to design a clear internship process. There are questions to clarify internally before you begin promoting your program and reaching out to potential interns. For example, what is the goal of the program? What is the timeline? Who are the interns going to work with? How many interns will you hire and for which departments?
Once you know the answers to these questions and have outlined your internship program, share it with your potential candidates right away to make sure they know what the program is about, where they'll start out—and where it might lead if they're successful. You should explain the internship program thoroughly, including what they'll achieve and the skills they'll attain for their future careers. 59%
of organizations have structured/formal internship programs.
Source: ERC
From those which don't, most struggle with staff resource challenges. However, 17% of organizations claim they don't know how to create an internship program.
2. Know who you're looking for
There are also specifics to work out regarding the interns you choose. To truly be successful at intern recruitment, you need to know exactly who you're looking for, what skills they have, and other important details to help you narrow down your intern search.
Ask the right questions: Who is your ideal candidate for the internship? What college majors are you looking for? What are your expectations for the interns that you hire? What hard and soft skills do you want them to have? Make sure you consider future skills as well—there are many skills that can be taught as long as the interns have the potential and drive to learn.
If you're running your internship program for some time already, look at your best performing interns and the skills and characteristics that help them succeed. Then you can look for candidates with similar profiles, as you know they have the potential to thrive at your organization.
Stop guessing,
Start data-driven hiring.
Learn how you implement a modern candidate selection process, that is: streamlined, experience-driven and backed by data.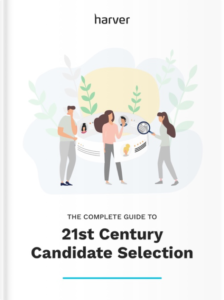 3. Advertise in the right places
With a solid idea of who you're looking for, you need to figure out how to reach them—and that means advertising in all the right places. University job boards and specific internship posting sites are great resources for advertising open internships. Internships.com, AfterCollege, InternJobs, WayUp, CollegeRecruiter, and YouTern are some of the most popular posting sites to advertise internships.
Along with college job boards and intern-specific sites, Indeed, LinkedIn, and Glassdoor are also great options for posting internships. While they aren't for internships alone, they're well-known job sites that attract many students looking for internship opportunities. In addition to online job boards, you can also consider taking part in campus recruiting events to connect with students looking for internships and future career opportunities.
Also, knowing how your most successful current and former interns found out about your program and how they applied will help you target your sourcing efforts. 42%
of companies participate in college/university fairs to recruit interns.
Source: ERC
Job postings on college career center websites, alumni contacts, intern-focused job boards and LinkedIn are also popular sources used to recruit interns.
4. Consider the internship timeline
You likely have both short-term and long-term needs for interns. Think about your needs and when your company will need help the most—if you have a busy season, plan to have more interns during this time. You also need to determine how long internships will be. Generally speaking, internships should last for around 3-6 months to ensure both the intern and company benefit from the arrangement. (Of course, you can always recruit interns for longer periods of time as well!)
It's also a good idea to think about when interns need to start their internships and make sure your hiring timeline corresponds with that. Internship cycles typically coordinate with semesters, however, you should start your internship recruitment efforts well in advance to make sure you don't miss out on top talent. On average, employers begin the recruiting process for interns 8 months in advance of their program's start.
5. Refine your selection process
Interns might not have all the relevant skills or experience you would normally look for since they are at the very beginning of their careers. That's why you need to look for transferable skills in your candidates. Talk about their part-time jobs and extracurricular activities to find out how they work. Do they have active learning skills? Do they have a growth mindset? How are their communication skills?
When you're hiring interns (and any employee for your company, for that matter), use a combination of various methods to achieve a fair and thorough selection process.
Making use of pre-employment assessments can help you not only handle large volumes of candidates and decrease overall time to hire but also predict job performance. These assessments help you narrow down the candidate pool right from the start according to criteria that you've set.
Continue with asking the right interview questions to uncover who your candidates are. For example, if you want to find out whether or not they have active learning skills you're looking for, ask them what they've learned in the past year and how they applied it to future tasks.
Think about working peer interviewing into your hiring process. Peers, especially if they are currently interning at your company, can ask and answer specific questions about the role, as well as present the company and its culture in a different light.
Make it a point to showcase the company culture throughout the application process, for example, by using videos showing the life behind the scenes. Overall, aim to keep the candidates engaged throughout the recruitment process, from the initial application until they accept an intern position. Communicate with your candidates, give them a timeline of your recruitment process and stick to it. Some companies such as Morgan Stanley hire only
1%
of their internship candidates.
Source: Financial Times
Companies have to have a strong candidate selection process in place to be able to process large number of internship candidates.
6. Be clear about the benefits
Of course, potential interns want to know about the benefits—what's in it for them? Even if you probably can't pay the interns much, move past the unpaid internships and offer whatever compensation you can. The general consensus about unpaid internships is that they send a message that certain jobs are less meaningful than others, which is obviously not ideal.
Determine what the salary is going to be, as well as any benefits and perks. Are there future full-time job opportunities? Free lunches? Fun activities? Once you're internally aligned on the salary, benefits, and perks, make them clear to your internship candidates. This will help you stand out against other internship programs in a competitive job market.
7. Develop future leaders
You can also look at your intern recruiting efforts as a unique opportunity to develop future leaders. Internships are a valuable first experience for young people joining the world of work. You have the opportunity to develop your interns and teach them what they will need to know to be managers of the future that your organization—and the economy as a whole—will benefit from.
Recruiting interns is a long-term investment, and you should treat it as such to get the most out of your internship program. You'll likely hire the best-performing interns in your program—many Fortune 500 companies actually retain more than 80% of their interns as entry-level hires. And as long as they have a good experience, the interns that you don't end up hiring full-time will still benefit from you helping groom them for success. 74%
of organizations have offered full-time employment to some interns.
Source: ERC
Hiring former interns as full-time employees has numerous advantages – for instance, you already know they are an organizational fit and getting them productive takes much shorter.
A closing thought
Of course, you want to recruit the best interns for your company. You know that they can help your business grow by offering fresh, innovative outlooks and potentially even becoming your full-time employees if they perform well. To hire the best interns, your internship recruitment process must be top-notch. So if you don't have one yet, you should start building one right now—with these tips in mind to help you get started!
Stop guessing,
Start data-driven hiring.
Learn how you implement a modern candidate selection process, that is: streamlined, experience-driven and backed by data.