If you ask job seekers what's the most important factor when looking for a new job in the post-pandemic reality, they'll inevitably say it's the company culture; in other words, the combined values, beliefs, behaviors, and attitudes of the organization.
Culture makes people feel that they "fit in", and defines the boundaries within which work is carried out on a day-to-day basis. So when you're hiring for entry-level roles at scale, finding ways to showcase your organization's culture during the hiring process can have a big impact.
Not only is showcasing culture great for attracting candidates to your volume hiring roles, but it also gives them a clear insight into the company and role before starting, which is great for reducing attrition. In fact, 48% of organizations in the volume hiring space say developing a strong employer brand is their most effective practice for hiring candidates at scale.
So let's explore some powerful ways you can bring culture into your candidate experience when volume hiring.
Subscribe and stay up-to-date with everything recruitment related by receiving a weekly content digest and email updates on new resources!
From workplace culture to recruitment goals
When organizations first reach out to Harver for support with their volume hiring process, using technology for employer branding is high on the agenda: they want to build a memorable candidate experience that wows candidates, and is unlike anything else on the market.
What happens, though, is that some companies come in with the preconception that they need to gamify their assessments to make the application process more interactive and engaging. Our point of view is that in volume recruitment, going for the next shinny thing can do more harm than good, especially when the foundation of your recruitment strategy is not solid.
Although presenting applicants with a high-tech gamified process will tick all the boxes to make your employer brand look good, you should first focus on building a hiring process that helps you identify quality candidates who will perform in the role and will fit your company culture.
With this in mind, Harver's approach to showcasing workplace culture and giving applicants insight into job reality during the recruitment process is slightly different. 
When showcasing your culture, don't lose sight of hiring goals
When it comes to using technology to showcase workplace culture in volume hiring, the issue we often see is that employers become so focused on providing an impressive, highly-gamified candidate experience that they lose sight of what they're trying to achieve with their hiring process.
Depending on the industry you're hiring into, your end goal might be to:
Improve candidate satisfaction
Whatever your core hiring metrics are, you need your application process to reflect this.
This is why, at Harver, we challenge companies to build a candidate experience around the end goal, to ensure the process is still fit for purpose. It's about creating a balance where the application process doesn't just look good to candidates, but does the job that recruiters need it to do too.
For example, one of the biggest challenges employers are facing in volume hiring right now is early attrition amongst new hires, and early attrition is most commonly caused by a misalignment of expectations. Essentially, candidates start a new job but don't really know what the organizational culture or day-to-day of the job looks like because recruiters don't have the time to show them.
Using technology to showcase your company culture and the job reality during the application process can fit into this scenario, and help you achieve your business goals. HEMA, for example, one of our retail customers, drastically reduced time to hire, while attracting candidates who share their values and fit the culture.
Giving applicants realistic insight into organizational culture early on is the most effective way of reducing attrition. And with the right pre-employment assessment technology behind you, you'll be able to do this for every single candidate who goes through your application process – without taking up human resources' time.
It's also worth remembering the positive impact showcasing culture through tech can have on your application completion rates. As much as 46% of candidate drop-offs happen because of poor candidate experience during the application process in volume hiring and 25% is because the candidate isn't interested enough in the company. 
So how do you get the candidate bought into the culture of the organization and brand during the application process? Let's find out!
7 ways to showcase company culture during the application process
Now that we know showcasing company culture during the application process will improve your application rates and help you hire better-fit candidates who stay happy in their new roles for longer, you might be thinking: how exactly do I go about this?
Here are a few different ways you can begin showcasing company culture in your high-volume recruitment process.
1. Employer brand videos
As much as 68% of consumers prefer to learn about brands by watching videos rather than any other medium. 
Bringing employer branding videos into your recruitment process is a great way of showing applicants what the company stands for, the organization's values and desired culture, while providing an insight into the company story and history too.
Video is a powerful medium that gives candidates a clear and tangible idea of what their new job could feel like and what the company is like to work for. Here is an example from McDonald's, who transformed their candidate experience using Harver.
If the role involves being onsite in stores, warehouses or contact centers, you could also include a virtual tour of the workplace in your video too.
2. Realistic job previews
Realistic job previews are really effective at reducing early attrition because they give applicants a true and realistic insight into the organizational culture and how they might fit in well before they reach the onboarding stage. 
RJPs give applicants a preview of what the more difficult parts of the job will look like as well as the good parts, from routine tasks to managing critical incidents. If you prepare candidates by giving them insight into the challenges of the job too, they're more likely to stick around for longer as they know exactly what to expect.
Adding a situational judgment test (SJT) to your application flow will help you manage candidate expectations while you assess skills, organizational behaviors and job fit at the same time. 
SJTs are assessments where the candidate is presented with a series of job-specific scenarios and they select what they believe are the best and worst responses. That way, candidates get a clear insight into the organizational culture in terms of how they're expected to behave on the job and recruiters can assess whether their natural reactions suit the ideal behavior for that role.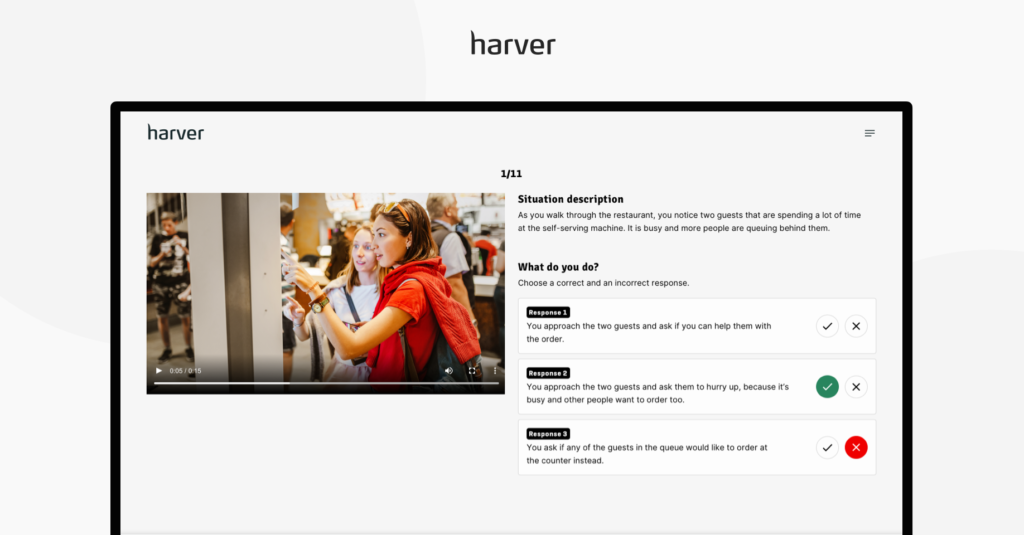 3. Convey core values and culture in job descriptions
Your job ads might say a lot about role requirements and what's expected of qualified candidates, but what does it tell the candidate about corporate culture?
If your job descriptions do a good job of showcasing the workplace culture, this will not only attract candidates, but also give wrong-fit candidates the opportunity to self-disqualify if the culture doesn't appeal to them.
You might think encouraging candidates to self-disqualify isn't something you want to do when the labour market is tight, but helping candidates with their own decision making is better in the long run.
While you wouldn't want to miss out on candidates who don't have the relevant skills or past experience, culture fit is something different. Candidates who are not right for the culture will leave the job soon after starting, no matter how perfectly their skills and experience match the role.
4. Employee testimonials
There's no denying the power of social proof when it comes to recruitment. In the same way that 93% of consumers say they'll rely on customer reviews to make decisions about brands they're not familiar with, candidates will rely on existing employee's opinions to decide what they think of the workplace culture somewhere they've never worked before. 
Showing job applicants employee testimonials from team members gives them insight into what members of an organization enjoy about working there and also helps the candidate evaluate things like team atmosphere, employee engagement, wellbeing and dynamics. Employee testimonials also make the application process more human and authentic, which is great for candidate experience.
5. Video interviews
Whether you opt for live video interviews or one-way asynchronistic, virtual interviews are an excellent way to create an opportunity to convey your healthy culture.
Interviews are naturally structured around the questions you ask, so you can formulate questions around things like organizational structure or your core values to communicate these to your applicants and help with your own decision making. 
For example, if belonging is one of your cultural values, make one of your interview questions about what 'belonging' means to them in a workplace context. If teamwork is part of your mission statement, weave in some questions that help you find out more about what teamwork looks like to the candidate.
Weaving your core values into interview questions will simultaneously give the candidate an insight into what matters to your organization and help you see if there's alignment there too.
We've covered the topic of using digital interviews in volume hiring in the article below.
6. Virtual job tryouts
Using job simulations in your hiring process doesn't just provide a highly engaging, gamified experience for candidates. If used correctly as part of your selection process, virtual job tryouts can provide invaluable insight for candidates and recruiters that support the decision making process too.
For candidates, virtual job tryouts give them hands-on experience of what the job and the work environment and organizational culture will be like; for recruiters, it allows them to assess for job-specific skills and cultural fit at the same time. 
By simulating realistic scenarios of the job, the candidate will be exposed to the workplace culture in a way that is easy to digest and leaves no space for misinterpretation. If the candidate performs well in in a VJT, this is also a reliable indicator of future performance in the role.
Here's, for example, Harver's Live Chat Support Simulation module, designed for contact centers and BPOs who hire at scale.
Experience our best-in-class Live Chat Assessment first-hand!
Perfect for remote hiring, our live chat assessment makes it easier than ever to hire live chat agents. Candidates experience the job, while you get actionable data to drive hiring decisions.
7. Employee spotlights
Showing candidates employee spotlight videos during the application process can be a really effective way of showcasing your workplace culture. Applicants are taken through a day in the life of an existing team member who's already employed in the role the candidates is applying for.
Seeing someone happy in the role and discussing how they fit into the organization will allow the candidate to visualize themselves in that role too and get insight into typical employee behavior. You could film it in the on location in the workplace too and encourage those on film to speak specifically about the current culture and their employee experience as well as the day-to-day of the job.
Next steps
To recruit the best candidates for your hourly roles, you need to showcase your workplace culture during the hiring process. Providing insight into company culture will not not only help you attract and engage more applicants, it also gives candidates the chance to self-qualify if the culture isn't a fit for them, which is better for everyone in the long run.
If you'd like to see how Harver's volume hiring technology helps you showcase organizational culture during the recruitment process and carry you towards your hiring goals, you can book a demo below.
Ready to transform your hiring process?