60% of HR managers have used—or are currently using—a type of video interviewing solution for the interview process. Meanwhile, a poll of HR leaders found that 86% of organizations implemented virtual technology to interview candidates during the pandemic.
It comes as no surprise that human resources are utilizing technology to reduce the need for phone screening, phone interviews, face-to-face contact, and in-person interviews by implementing video screening.
Although you'll find a plethora of video interviewing tools on the market that enable recruiters to schedule interviews one by one, this is not an option when it comes to hourly volume hiring. To maintain an efficient process, recruiting teams need a video interviewing platform that has been designed with volume hiring in mind.
Let's see what this means in practice!
Subscribe and stay up-to-date with everything recruitment related by receiving a weekly content digest and email updates on new resources!
What most video interviewing tools don't do
No option for candidates to self-schedule
Most video interview scheduling tools allow recruiters to schedule job interviews with the best candidates based on their availability. However, candidates are not given the option to self-schedule. This means the entire responsibility is placed in the hands of recruiters, which eats away at their time as they call or email candidates and go back and forth trying to find a suitable time and date for interviews.
In addition, this extends the time to hire, which negatively affects the candidate experience and can lead to you losing out on top talent.
Calendars aren't synchronized
Although some video interviewing tools allow candidates to self-schedule interviews in their own time, most tools do not enable all recruiter's calendars to be synchronized. Unfortunately, this means that if one recruiter has a packed schedule, the candidate assigned to that recruiter will be forced to schedule an interview at a later date instead of being automatically re-routed to another recruiter.
This is problematic since job seekers who are searching for entry-level roles favor speed and job security. The longer they have to wait, the more likely they will lose interest in the role or be snapped up by your competition.
No option for live video interviews
Most video interviewing software tools don't come with the option for qualified candidates who meet your assessment criteria to instantly book and participate in video interviews, providing a recruiter is available. It's common practice for candidates to be given an interview slot that takes place a few days later at the very earliest. Once again, this needlessly draws out the recruiting process.
Simple experience for candidates
Many video interviewing tools are either not integrated into the candidate portal or too complex, which makes the interview procedure more complicated than it should be. This can lead to candidates wasting time, experiencing stress or anxiety, and eventually giving up before being interviewed.
In a tight labor market like the one we're experiencing today, introducing unnecessary friction into the application process is a sure way to frustrate candidates and make them lose interest.
Recruiters have to rely on multiple tools
Recruiters will commonly have to use a variety of tools during the interview process. For example, one tool for the actual video, such as Skype or Zoom, another tool for managing applicant data like an ATS, and perhaps even a report to show assessment results.
Although this approach does leverage technology during the hiring process, it's a hassle. It is also impractical because it doesn't create a more streamlined, efficient operation, which is technology's primary advantage.
What video interviewing software should do for your organization
Tech stack integration and automated process
When it comes to volume hiring, your video interviewing tool should synchronize with your remaining recruiting stack so that candidates can auto-progress through the pipeline.
For example, after you screen candidates through your skill assessment, successful job applicants should automatically be moved to the interview stage. Similarly, candidates who successfully pass the interview stage should be transferred to the hiring decision stage.
Harver offers fully automated software that requires less time—saving recruiters countless hours—and allows you to connect to all the tools you already use daily, creating a seamless workflow.
Synchronized recruiter calendars
Volume hiring often means you have a large hiring team to utilize. Hiring managers should be available on different days across different time slots to provide candidates with a wide choice. Your entire recruitment team should have an overview of all applications. This way, if a recruiter is unavailable, another colleague can step in and avoid any delays in the hiring process.
Harver enables synchronization of recruiter calendars, which can significantly decrease the time to hire. Albert Heijn, for example, reduced their overall time to hire by 40%.
Allow candidates to self-schedule interviews
If you're hiring at scale, you must automate where possible to reduce the amount of time spent on repetitive, manual tasks.
For example, with Harver, candidates can self-schedule interviews through a mobile app based on their availability, making the entire process shorter and faster. This also simplifies the process of scheduling panel interviews, where more than one recruiter is involved, and asynchronous video interviews.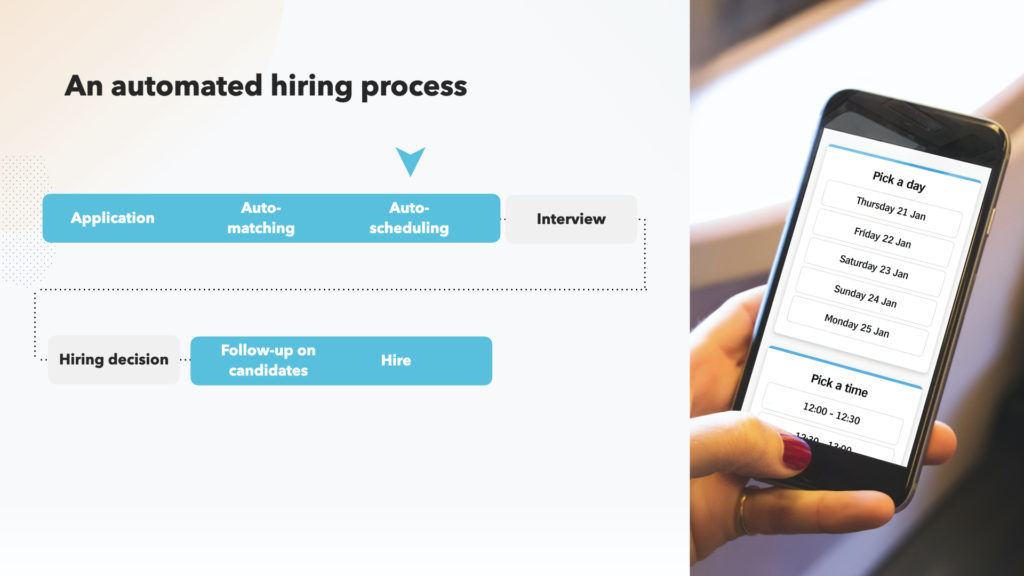 Allow candidates to interview right away
The pandemic has led to many people fleeing jobs in particular industries, such as hospitality, in search of improved job security. Therefore, it's vital that you stand out from your competitors and draw top candidates to your organization as quickly as possible.
Harver's video interviewing tool uses real-time intelligence, which allows candidates to interview immediately upon successful completion of the application process.  
Overview of the candidate profile
The best video interviewing software for volume hiring will give you the full picture of each applicant during the interview process, including access to CVs, assessment results, notes from other recruiters, along with availability and location preferences. This streamlines the process and equips recruiters better, helping them make data-driven decisions.
Chat, notifications, feedback & analytics functionality
Aside from conducting virtual interviews at scale, the right video interviewing tool should offer a variety of functionalities to help streamline the hiring process.
Chat functionality—an instant messaging feature in case something doesn't work at any given time and a candidate needs assistance.
Notifications functionality—for example, instantly notify the candidate if they have successfully passed the assessment stage and made it to the interview shortlist. 
Feedback functionality—to collect candidate satisfaction scores and continually improve the process and boost talent acquisition. Sitel, for example, one of the global leaders in CX management, increased their candidate satisfaction score to 97% with Harver. 
Analytics functionality and data insights—to help you improve operational metrics, D&I metrics, sourcing metrics, and so on. KPMG NL, for example, transformed its recruitment process and increased the number of female hires by 44%. 
Next steps
The market is saturated with video conferencing software to help organizations digitize their HR process and schedule and conduct virtual interviews. Yet, although some of the features listed above may at first seem trivial, not all video tools are made to cater to volume hiring.
Before you invest in a video interviewing tool, make sure it fits into the bigger picture and helps you not only interview candidates at scale, but also streamline and standardize the interview process while enriching your talent pool data.
If you'd like to see how Harver can support your volume interviewing needs, you can book a demo below.
Ready to transform your hiring process?