As companies prioritize on-demand customer service and assistance and also want to grow their customer base, the need for contact center employees is growing exponentially.
In the US alone, the contact center industry employs almost 3 million people and it's only getting bigger. The global contact center market is expected to reach over $400 billion by 2022.
However, although the contact center industry is taking off, it has an employee turnover of 30-45%––about 3x the overall average of 10-15%. This can translate to increased costs, lower productivity, and even decreased customer satisfaction.
You want to hire employees who are willing and able to commit to your organization long-term. When employees fit well within their positions, they're able to give better assistance to customers and are happier in their jobs.
Successful contact center employees have certain characteristics and skills that help them excel. In order to ensure you're hiring the right people for the job, you want to run assessments for these qualities during the hiring process.
Let's take a look at what some of the characteristics you should look out for are and how you can accurately assess skills and behaviors during an interview.

What assessments are we going to talk about?
Before you continue..

Subscribe to our weekly content digest and stay up-to-date on everything recruitment related!

Inside the modern day contact center
In the past, a contact center employee mainly took incoming phone calls. However, as companies adopt new communication methods for customer service, contact center employees also need to address issues and contact (potential) customers through email, live chat, social media, and text messaging.
There are also different types of contact centers. For example, inbound contact centers employ mainly customer service and support representatives. On the other hand, outbound contact centers mostly hire salespeople and telemarketers.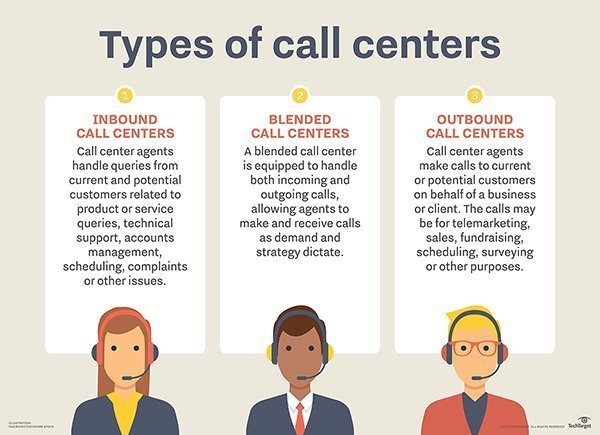 Although there are different types of contact centers, their employees need to possess similar traits and skills to be successful in the role.

These two types of roles are very different on the surface, but they actually have a lot of tasks in common. Great hires in both kinds of contact centers typically possess certain skills and characteristics in common, including service orientation, multitasking, and active listening skills.
Before you hire, you want to take a minute to identify what characteristics are predictive for success at your organization's contact center. Then, you can use assessments to predict job performance and choose the best hires.

8 assessments to make better contact center hires
Here are some of the most popular assessments you can use to identify the best hires for your contact center.

1. Personality questionnaire
A personality questionnaire helps you get to know who is applying to your open position. Unlike other assessments, the personality questionnaire is strictly about the candidate, what they prefer, and how they behave. In short, this type of questionnaire can help you determine whether or not a candidate has the right traits to become a successful contact center employee.
There are numerous types of personality questionnaires. When choosing one, you'll want to confirm that it is scientifically validated and gives you an accurate overview of a candidate's personality.
For example, the personality questionnaire based on the HEXACO model assesses six major dimensions of personality: honesty-humility, emotionality, extraversion, agreeableness, conscientiousness, and openness to experience. Candidates are given a series of statements that they then say how much they agree or disagree.
When they're done, you can see where they fall on a scale of different qualities. You can even set organization expectations to compare how the candidate matches your company benchmarks.
A personality questionnaire can help you judge a candidate's natural behavior to make a better hire. However, make sure that the qualities you're assessing are predictive for on-the-job performance to get the most accurate results.
For example, to put it simply, a candidate who ranks highly on customer focus would likely be a great employee in an inbound contact center.
This is what the characteristics scale, benchmarks and candidate scores can be displayed after completing the questionnaire.
Want to learn more? Check out our deep-dive into the personality questionnaires.

2. Multitasking
Contact center employees often spend a lot of their days switching quickly between tasks and calls, look up information while on the line, and more. In some cases, they might even be talking to multiple customers or potential buyers at once.
Many people aren't great at multitasking. Their attention is split, meaning they're not able to give the best response to each individual or they feel overwhelmed quickly. A multitasking assessment can help you weed out candidates who may not be able to switch between tasks rapidly.
Some multitasking assessments gamify the process so it's fun for candidates. Applicants will play games that test short term memory and their ability to switch between tasks quickly.
You're then given an overall score that rates the candidate's ability to multitask. You then have a better idea of how well a candidate will fit in your open contact center role.
Stop guessing,
Start data-driven hiring.

Learn how you implement a modern candidate selection process, that is: streamlined, experience-driven and backed by data.

3. Typing skills
Typing is a big part of just about any job these days. However, this is particularly true for contact center employees that need to communicate quickly and efficiently through multiple channels such as chat, email, and text messages.
If a candidate is slow at typing, they might not be able to answer customer questions as efficiently as possible. When customers are quick to grow impatient, you can't afford to hire a contact center employee who takes too long to type out messages.
Using a typing assessment can help you identify if your candidates have strong typing skills, but you can also learn their typing style. An assessment will tell you if the person is quick and sloppy or slow and correct when typing.
Ideally, you'll want to hire candidates who are quick and correct. Unfortunately, this isn't always realistic. Instead, pay attention to the candidate's mistakes. A few mistakes when typing is okay, but if candidates are overly sloppy their correspondence with customers could come across as unprofessional––reflecting badly on your brand.
Good typing skills are essential for a high-performing contact center employee. You can make the typing test a part of the candidate selection.


4. Computer literacy skills
Like typing skills, computer literacy skills are key for most jobs and industries today. But contact center employees need to know more than just how to use basic apps and tools.
Many companies use various communication tools to stay in touch with customers. This means contact center employees need to be able to quickly learn to work with new tools and the processes that go along with them.
Using a computer literacy assessment during the interview phase can allow you to pick out candidates who may not understand computers or technology. If candidates aren't at least familiar with the tools and processes you use, they might be too challenging to train.
On the other hand, don't discredit a candidate just because they don't have extensive knowledge of the systems you use. Look for trainability when it comes to computers and technology.

5. Organizational fit
Being happy with a new job is more than just enjoying the work. For a new hire to feel satisfied in their new position, they also need to fit within the organization's culture.
People have different expectations of what a company should be. It's important to gauge your candidate's expectations before any offers are extended to double check that your organization offers the culture and benefits they're looking for.
An organizational fit assessment works by asking candidates to rate certain aspects of a company, such as leadership expectations. Their responses are then compared to how you've rated your own company to see if the candidate is a match.
It can be tempting to ignore organizational fit when hiring. While some individuals may adapt to a different office environment, others may find that they're too unhappy in a position that doesn't meet their expectations. This can result in high turnover.
Did you know that 89% of hiring failures are a result of poor cultural fit? You can prevent that from happening by assessing how your candidates' preferences match with the reality at your organization.
Interested in learning more? Check out our in-depth explanation of a cultural fit assessment.

6. Situational judgment tests
Your contact center employees are put in direct contact with customers who may have a question, problem, or challenge. This means they're often tasked with working with disgruntled buyers who may already be unhappy with the brand. It's their job to turn the customer's experience around.
In an outbound contact center, they might often encounter rejections and even rudeness.
When contact center employees are dealing with such sensitive matters, it's important to know how they will react. Unfortunately, it's challenging to see how a candidate would respond to issues before they're actually on the job.
Using situational judgment tests is one way to effectively measure how candidates may react or respond to different events. These tests put the candidate in a simulated scenario similar to what might happen on a typical day at the job. For contact center employees, this might be a test phone call with an unhappy customer.
Situational judgment tests also give candidates a better idea of what the job is really like. Candidates might find that the job isn't what they expected and not continue with the application process or not accept an offer. Removing these individuals from the hiring process early can save you time and money while also reducing time to hire.

7. Language proficiency
Depending on the size or location of your company, you may have customers speaking different languages. Hiring contact center employees who are fluent in different languages can improve customer experience and ensure everyone is taken care of as efficiently as possible.
While some candidates may claim to be fluent in other languages, you're going to want to test their skills before you make an offer. A language proficiency assessment is a surefire way to do this.
Language proficiency assessments offer different grammar, spelling, and reading comprehension tests to candidates. These tests are particularly useful if one of your requirements is fluency in a particular language. If you're hiring for multiple languages, find a test allowing you to assess a broad range of languages, making sure you'll get all the results at one place.
You can also set certain benchmarks that automatically remove candidates who don't meet qualifications. This prevents you from wasting your time and ensures you get all you need out of your new hire.
…and chat and messaging account for 16%. You want your contact center agents to be able to communicate efficiently in the language of your customers.

8. On-site assessment
Situational judgment tests are a great way to cost-effectively measure behaviors of dozens of candidates. However, it isn't exactly a replacement for an on-site test––especially for candidates closer to the hiring mark.
An on-site assessment puts the candidate right in the environment they'll be working in, giving a clearer picture of how they'll react on the job. Unfortunately, it's usually only realistic to do this kind of assessment with a handful of shortlisted candidates.
Offer a paid trial day on-site to see how your candidates interact with people and if they seem comfortable in your office. It's also a great way to identify if the candidate fits culturally within your organization and if they'll be a strong member of your team.
On-site assessments also allow candidates to get an up-close view of what their days may be like if they're hired. Make sure to pose this assessment as mutually beneficial and encourage candidates to ask questions of their own.

Conclusion
Your contact center shouldn't be a far-off office only able to answer basic questions about your brand. Contact center employees should be a clear extension of who you are, what you stand for, and what you value.
Unfortunately, if you're not hiring the right employees, it can be difficult to create a customer service experience that adequately represents your brand. When contact center employees are constantly leaving, you're unable to work productively and efficiently, and that affects the whole company.
Using assessments can help you identify the right employees for your contact center. By putting in the work ahead of time to find people who are truly able to represent your brand, you can create a team of brand ambassadors ready to help customers with their problems and sell to potential leads.
Stop guessing,
Start data-driven hiring.

Learn how you implement a modern candidate selection process, that is: streamlined, experience-driven and backed by data.