The manufacturing industry was on the threshold of a new digital era, well on the way to Industry 4.0, with almost 90% of businesses undertaking some form of digital initiative. Then the pandemic hit and has thrown up enormous challenges for the manufacturing industry.
The global financial impact of COVID-19 on manufacturers is expected to be between $2 trillion and $4.5 trillion, making this the biggest disruption the industry has ever experienced. But rather than dwell on what they can not control, manufacturers can use this disruption as an accelerator for their digital transformation initiatives, such as the digitization of their recruitment function.
Before we delve into the specifics of digitizing the hiring function in manufacturing, let's take a quick look at the state of digital transformation in the manufacturing industry.
State of digital transformation in the manufacturing industry
For the manufacturing industry, the digital landscape is in a constant state of flux. Changing consumer expectations, connected devices, improvements in technology, and increasing competition has put pressure on manufacturers to reduce costs, improve their customer experience, all the while increasing their profitability. 
A McKinsey Global study showed that the manufacturing sector had an automation potential of 60%, with the pandemic predicted to jumpstart automation in manufacturing. 
For example, pre-pandemic, global operational stock of automation systems increased by 65% in the 5 years between 2013-2018, with the number of robots being used increasing by 12% per year. It's anticipated that in a few short years, half of all manufacturers will have invested in AI to drive productivity improvements. 
While the manufacturing industry is one of the most highly automated industries in the world, there is still room for improvement when it comes to hiring practices. And this comes as no surprise: across industries, recruitment is a business function that is notoriously less digitized than other departments, with processes remaining the same for decades.
Now, with the rise in unemployment rates, resulting in an increase in applicant numbers for every open position, a digital transformation of the volume hiring process is essential to increase the impact of the recruitment function on business KPIs.
But digitally transforming recruitment isn't without its challenges. Up until last year, it was fine to do things the way you always did them. The old recruitment processes were fine, but now with candidate volumes going through the roof, you can no longer ignore digitization and the benefits it can bring to volume hiring. 
We'll cover both the benefits and the challenges of digitizing recruitment in the manufacturing industry in the next sections.
Subscribe and stay up-to-date with everything recruitment related by receiving a weekly content digest and email updates on new resources!
Challenges of digitally transforming recruitment in manufacturing
Not having the right leadership
If manufacturers don't have the leadership in place with the right skills and a growth mindset, people who are capable of looking at both the long and short-term benefits of digitally transforming recruitment in manufacturing, they won't be an attractive employer.
Successful digital leaders must communicate and collaborate across the organization, to ensure the digital transformation doesn't happen in a silo. McKinsey research has shown that less than 30% of organizations to undergo a digital transformation are successful. Even among digital-savvy industries, the success rate rarely goes above 26%. 
Outdated processes
To fully transform the recruitment function and digitize it, talent acquisition leads need to reevaluate their current processes and be willing to move away from traditional, paper-based procedures, as well as from organizational silos. When a department is digitized and everything is connected, not adopting the digital ways of working will slow down the process and create unnecessary bottlenecks.
Resistance to change
Given that digital transformation involves a radical change in how work is approached, it's natural for employees to be reluctant and resistant at first. This resistance to change should be addressed through change management programs focused on both culture and processes, and reskilling or upskilling initiatives.
Also, where possible, change shouldn't be imposed. Instead, it should happen gradually, with small improvements and pilot projects instead of major transformations that are directly rolled out to the entire department or company. This approach allows for continuous discovery, testing, and improvement, and is less likely to scare employees away.
However, talent acquisition leads should pay attention to the trap of stopping the digital transformation of the recruitment function before it's fully done. Which leads us to the next challenge.
Partial digitization
A partial digital transformation, picking and choosing certain elements of your recruitment process to transform, might help in the beginning and might prevent employees from feeling overwhelmed. But in the long run, digital transformation needs to be complete. If recruiters get stuck halfway through, they'll still have bottlenecks and sticking points at the sections that aren't automated, that rely on traditional, manual input. 
Not clear success metrics
Finally, if you don't set goals, how do you know when you've achieved them? The same adage is true for defining success. How will you know when you've successfully undergone a digital transformation in recruitment if you don't define what success means to you?
The challenge with measuring digitization, though, is that digital transformation in itself is a very broad umbrella term that doesn't mean much, and doesn't give a clear direction. So instead of trying to measure the "transformation" of recruitment within their organization, talent acquisition leads should break this initiative down into smaller processes with clear timelines, implementation steps and KPIs.
How to overcome these challenges
Leadership
Leaders need to be innovative as well as curious, eager to learn, and capable of being agile enough to adapt to new technology and utilize it to ensure the organization remains relevant in the shifting digital landscape.
According to McKinsey, there are certain key factors that have to be in place to see a successful digital transformation:
A management team that has established a clear change story for the transformation prior to the digital transformation starting.
Senior managers fostered a sense of urgency for making the digital transformation changes happen.
Senior leaders encourage employees to experiment with new ideas and challenge old ways of working.
Senior managers ensure collaboration across the organization on transformation initiatives.
Full digital transformation
Undergoing a digital transformation isn't easy. It requires full buy-in from the entire organization, not just your recruitment team. You'll likely adopt new technologies that won't be instinctual, and you'll need to provide training and resources for employees, to ease them through the transition.
Make sure all employees are aware that the new technology will increase productivity, motivation, and engagement, making everyone's life easier. Also, provide adequate training and make sure your talent team knows exactly where their skill gaps are and what they need to work on.
Empower employees
If employees are reluctant to embrace change, make sure you have a clear change management strategy in place to ease them through the process. The key is communication and transparency, ensuring employees aren't left to flounder on their own, that they understand why the transformation is happening, and how it can benefit them.
Empower employees to take ownership of certain stages of the transformation, have them pull together, and work as a team. Not just to adopt the new technology, but adapt to it too.
Define success
Before you set out on your digital transformation journey, define what success looks like for you i.e. what you want to see happen because of the digital transformation. What does success look like for candidates? For recruiters? For the organization as a whole? For customers?
What a fully digitized recruitment process looks like 
One of the biggest concerns for a fully digitized recruitment process, especially when it comes to volume hiring, is that it eliminates the human component from the hiring cycle. This couldn't be further from the truth. 
The fact is, there are only two stages in your recruitment funnel that require human input: interviewing and decision making. Every other stage of your recruitment process can and should be automated, freeing up your recruiters to deal with the top-level recruitment tasks that actually need human input. 
A fully digital recruitment process is faster, more efficient, and cost-effective. Here's what it looks like in practice.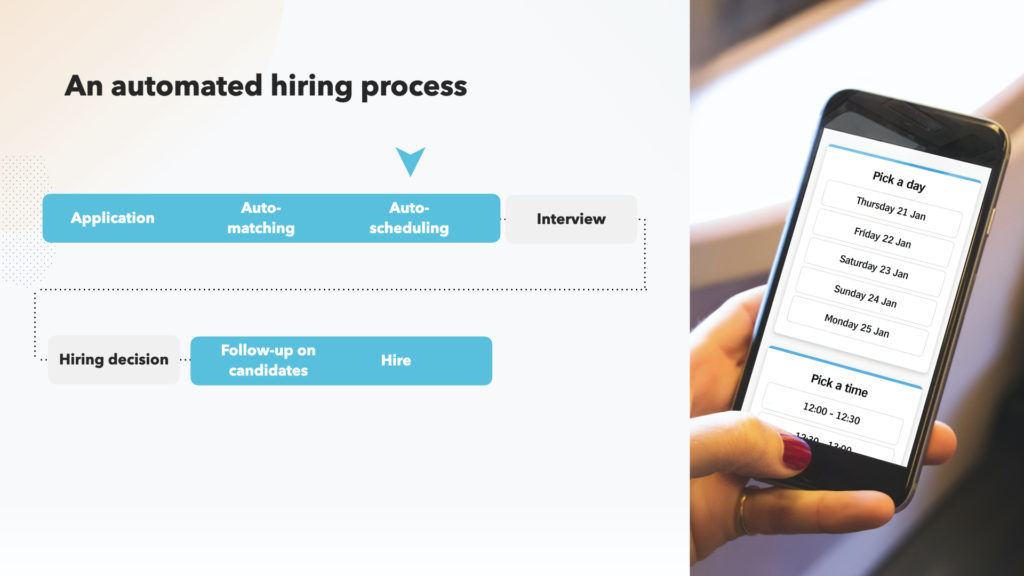 By needlessly having your recruiters carry out menial, repetitive tasks you're not only wasting their time, but you're also wasting your money. Manually doing sourcing, selection, hiring and onboarding takes up valuable time and budget that could be better spent elsewhere. Not to mention it isn't enjoyable for candidates or recruiters alike.
Of course, every recruitment process is different, and the results will vary depending on your existing recruitment process. But essentially, a fully digitized volume hiring process, from sourcing to onboarding, can be accomplished by using software built for end-to-end digital recruitment.
A platform like Harver works alongside an ATS, so the talent team can still work with tools they're familiar with, but the heavy lifting of sourcing, assessing candidates, scoring their skills, progressing applicants to the next stage and scheduling interviews is done by the software, automatically.
The automation part, though, is only one component of digital transformation in volume hiring.
Next to it, for a fully transformed recruitment function, talent teams also need a proper data collection and analysis solution, a scientifically validated solution for assessing candidates and finding the ones who have the skills and characteristics to be job performers, and an easy-to-use solution for offering candidates an enjoyable application experience.
These four pillars together form the digital transformation framework that we use at Harver. The solutions designed for our clients are extremely complex, collecting hundreds and thousands of data points and streamlining dozens of siloed processes into one, coherent strategy that improves collaboration and visibility into essential business KPIs.
But they all rely on these four components that cover the main needs and solve the most common challenges of volume recruitment in the manufacturing industry: matching technology, automation, business intelligence, and candidate experience.
In the next section, we'll look at how each of the recruitment funnel stages is digitized using this framework. However, if you prefer to see how Harver can help you overcome your specific challenges and support you in digitally transforming your hiring processes, you can book a demo below.
Ready to transform your hiring process?
Sourcing
A digital sourcing strategy allows you to accurately target and source the type of quality candidates you hope to attract. Programmatic job advertising targets the applicants you want to apply to. Digitizing your talent pools gives you instant access to passive candidates and increases the effectiveness of your recruitment efforts. 
Application
Branding your application and creating an interactive, digital application experience doesn't just make you memorable, it delivers an exciting candidate experience, holding their attention, so they don't drop out of your recruitment funnel. 
Here's, for example, the candidate experience that Harver has designed for McDonald's. It incorporates a series of company videos for employer branding, pre-employment assessments that offer realistic job previews, to manage applicant expectations, and routing options during the interview scheduling phase, to redirect candidates to locations where the workforce demand is higher than the supply.
Having a digital application like the one above enables you to sell the company and the role to applicants from the very start, through videos and testimonials, strategically placed within the application itself. 
By giving applicants the chance to get to know your brand and meet some of the people they'll be working alongside (virtually), you save countless hours of repeating the same information to each applicant, while introducing the job to candidates during the application.
If candidates don't like what they see, they can withdraw their application. This is beneficial twofold: it manages candidate expectations and reduces your attrition rate. 
A digital application also combines selling with selection. So while you're showing applicants the daily tasks involved in the job through situational judgment tests (SJTs), you're also evaluating them to see if they possess the skills, characteristics, and traits that make them the right fit for the job.
This is done through pre-employment assessments that are built using the Harver two-way matching framework. We've detailed the topic in the article below.
Candidate engagement
Having gone through an engaging application, candidates will be excited to move along the funnel, keen to get the role and work for your company. If you don't keep them engaged at this stage, you risk losing them.
Applicants for low-level manufacturing roles aren't looking for their dream job, they're looking for a job and they aren't fussed about who gives them one. So make sure it's you.
Digitization in your recruitment funnel will automatically let candidates know their status through your ATS, either with a text or email at every stage of the process. Automating communications for application receipt, FAQs, and scheduling interviews will save your recruiters thousands of hours.
Selecting
With a fully digitized recruitment process, you aren't relying on human input for the selection part, so you can take a data-driven approach to candidate selection. Digital tools such as matching technology will help you find the right candidates for your roles, increasing the likelihood of their future job success, as well as reducing bias in your hiring process. 
Scores from candidates' assessments can be tied into their stage progression in your ATS, moving candidates quickly through your funnel, from sourcing to interviewing, without the need for manual intervention. 
Interview
In a fully digital recruitment process, it's likely the interview is the first time that applicants will interact with a member of your hiring team. To keep things flowing quickly, enable candidate interview self-scheduling.
You don't want them to lose momentum now, waiting to hear back from you about scheduling an interview, having had such a smooth and enjoyable application experience thus far. Whether it's a video interview, in person, or on-demand interview, enabling self-scheduling ensures the process remains frictionless.
Next steps
Having helped numerous clients in the volume hiring space undergo digital transformations, we know that digital transformation isn't an overnight fix. It's a long game, and it requires a well-orchestrated plan to be successful.
If you'd like to see how Harver can help you transform your recruitment function by fully digitizing it, you can book a demo below.
Ready to transform your hiring process?