The QSR industry is facing a post-COVID hiring crisis: while sales and demand at QSRs are finally bouncing back, there just isn't enough staff to meet it.
Unemployment rates may be at an all-time high, but job seekers for QSRs are few and far between, creating a competitive labor market, resulting in a hiring crisis in the QSR industry.
So let's dive into the biggest fulfillment challenges QSR employers face in the race for hourly workers and look at some solutions for overcoming these problems.
Subscribe and stay up-to-date with everything recruitment related by receiving a weekly content digest and email updates on new resources!
The biggest fulfillment challenges for QSRs
Safety concerns
Candidates simply aren't comfortable right now working in a job where they have to physically connect with people they don't know, regularly. Plus, job seekers with underlying health conditions are questioning how safe they'll be mingling with a constant stream of changing customers.
QSR workers have left the industry
People that you'd ordinarily hire to fill QSR roles have changed industries in the last year, and they don't want to come back. Hundreds of thousands of people who had a physical job in a restaurant before COVID, now work from home. Their daily habits have changed, they've organized their life around the new reality, and now you're asking them to go back to working in a restaurant?
Unemployment benefits
While this won't be a problem that will be ongoing in 2022/23, it's a challenge now and is likely to exacerbate ongoing hiring issues until the end of the year, as unemployment benefits are due to be extended out until the 3rd or 4th quarter of the year. Why are unemployment benefits a challenge? Because they are incentivizing people to not return to work just yet.
Hiring speed and processing time
When you are looking for new talent, many people immediately think they need more leads, but that isn't the case.
Over 80% of the quick-service restaurants across the globe have a time to hire of between 7 and 14 days, but job seekers looking for work in the QSR industry need employment immediately. If your hiring process isn't fast, you need to challenge that, you need to invest in that.
The sourcing blackboxes
In order to decrease the time to hire, recruiters are constantly trying to improve sourcing activities. But the problem is, even pre-COVID, QSRs were throwing money into a sourcing blackbox, utilizing the same sourcing strategy they've been relying on for the last decade.
And while this is drawing people in, there isn't a correlation between the sourcing money that you're spending, the number of people that come in, and the number of candidates that are hired. This means that you're throwing money at your sourcing problem but you're not getting good ROI.
Talent pool utilization
When you're dealing with applicant scarcity, make sure that you utilize all the applicants that come in. We regularly see QSRs that have multiple locations where each location acts as an independent company when it comes to hiring.
Each QSR attracts its own applicants, and when the CVs get into the hands of a location manager, if the manager doesn't need the applicant at that moment in time, the resume gets thrown away. This happens while at another location five miles down the road they're desperately in need of more applicants.
3 ways to tackle the restaurant hiring crisis
1. Fast and efficient hiring process
There are two sides to the hiring coin – the recruiter and the applicants themselves. You need to help both sides out if you want to tackle your hiring crisis. The one thing you can do straight away is to improve communications between applicants and recruiters.
For example, even if you have an online application process that takes a little bit longer but is engaging and fun, gives control to the candidate, and at the end of the process the applicant knows they've secured an interview, then the extra time spent online is not an issue.
It becomes an issue when your candidates fill in an online application form and they enter a black box, being left in the dark. They don't know if their application was received, what happens next, or how long it will take to get a reply from the recruiting team. And applicants won't accept this behavior anymore. They'll simply go elsewhere, to a company that can offer them job security in a timely manner.
We've learned that if job seekers know what the next step is, they unconsciously commit to it. So if you can schedule an interview with them during the application process, they're committing to being available for you to make that call. All you need to do is make sure your job process is tight enough, so the applicant won't take another job in the interim.
How do you achieve this at scale? By automating most stages of the hiring process that don't require real-time human intervention.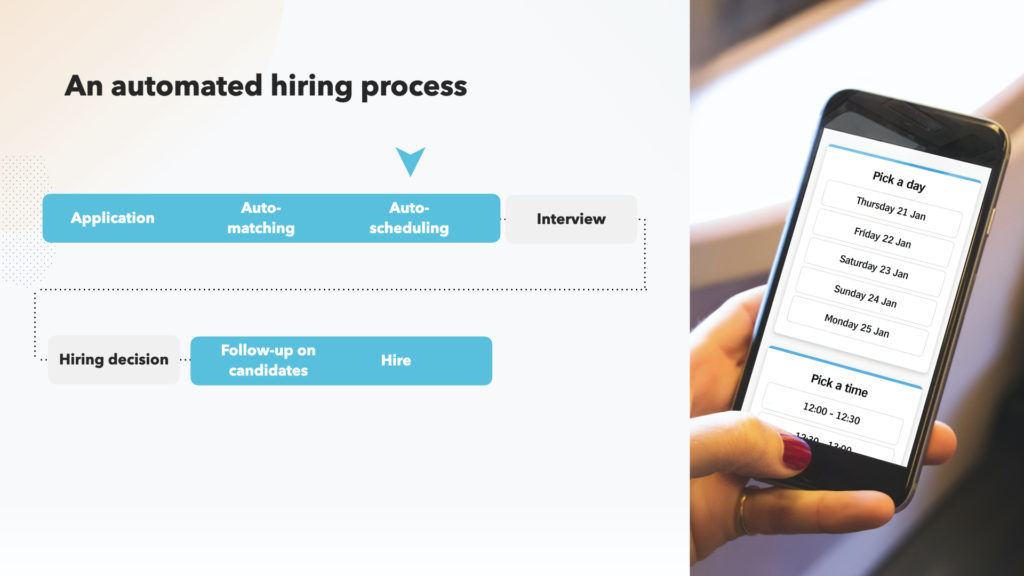 In practice, this can be achieved with recruitment software built for volume hiring. We've detailed the solution in the white paper below.
Don't forget to grab your free copy of our white paper on the digital transformation of restaurant volume hiring. Learn about:
2. Data-driven hiring decisions
While you can't go from your regular, outdated recruitment methods to a high-tech process overnight, there are steps you can take to get there. And the first step is – almost always – sorting your data out.
Connect your data streams – from sourcing, pre-selection assessments, screening, candidate progression – and use dashboards to visualize both your return on investment and your operational metrics.
Below you can see an example of a dashboard available in the Harver platform, that enables recruiters to easily analyze their process efficiency and extract insights.
For a comprehensive overview of our BI solution, you can watch the webinar below.
3. Routing candidates to balance supply and demand
The first step to ensure you're utilizing your talent pool efficiently is to dive into your data and see what is feasible for you and what your options are when it comes to using your talent pool effectively.
Don't throw away resumes if you don't need them right now. If candidates apply in one location, ask them if they're willing to work in a different location. Make sure you're 100% utilizing the applicant touchpoints to the max and that no applicant is sent away unless you are 100% sure that there is no job for them.
For example, we have seen numerous cases with retailers where over 40% of their hires came from people who were hired in locations they didn't initially apply to, simply by using the Harver candidate routing technology. We've written about this in a previous article, which you can read below.
Utilize your talent pool to your advantage by adopting a pragmatic approach. Say you have three locations, and you know that one of the restaurants is the most popular and receives a lot more applications than the other two.
To balance supply and demand across locations, you can give candidates the option to select multiple locations during the application process. This increases an applicant's chance of finding a job while solving the labor shortage for the understaffed locations.
Next steps
When we show our prospective customers how Harver can help them address the challenges above, the question we always get is: How do I start?
We like to start by mapping out your current hiring process, identifying the touchpoints of your applicants, finding the bottlenecks, and discussing the candidate and recruiter experience. Then, we look at your data sources, your tech stack, and what integrations you have in place, and we discuss your goals and the areas that you'd like to improve.
This gives us the full picture of your recruitment challenges and enables us to design a solution that not only fixes your current process bottlenecks, but also guarantees that you can scale your recruitment efforts up and down with the click of a button when the labor market or your hiring needs change.
In just a few days with our solution teams, we'll propose a new state of recruiting for you. If you'd like to see what this looks like in practice, you can book a demo below.
Ready to transform your hiring process?