Because retail vacancies often have few requirements for entry-level roles, they're great for candidates looking for their first job, part-time positions, or a career switch. As a result, retail companies often get dozens of applicants at once, especially around busier seasons like summer and the holidays.
The number of retail applicants has gone up since the beginning of the pandemic — but the quality of candidates hasn't necessarily improved. And because every candidate is likely applying for other open positions, you need to be competitive in order to attract the best talent.
One way recruiters can make the most of talent, especially when hiring for multiple locations, is through routing candidates. Here's what rerouting entails and how recruiters can use this method to optimize their talent pool. 
Why is it important to optimize your talent pool?
Every time a new position opens up, retail companies get a flood of candidates — most likely more qualified individuals than they have open space for. If those strong candidates have applied elsewhere, they'll get snatched up by competitors.
Optimizing your talent pool keeps high-quality candidates within your organization, so when new positions become available, it's easier to assign them to the new roles.
Maximizing your talent pool also allows you to reduce recruitment costs, as you don't need to start from scratch every time a new position needs to be filled. You can also prioritize building a diverse and inclusive workforce by shortlisting candidates with different profiles and backgrounds.
Overall, when you optimize your talent pool, you're setting yourself up to choose from the most qualified candidates every time you have an open position. When you have the best candidates to choose from, you'll end up with a workforce composed of high-quality, engaged employees.
What does it mean to optimize a talent pool?
When you're hiring for just one role, you probably look at candidates in the context of what is most important to that position.
You're assessing whether or not they have the skills to do that job well, but you're not necessarily considering where they might fit elsewhere in the organization. This is what we describe as vacancy-driven matching.
When you optimize your talent pool, you're not just considering how well they fit in the role they applied for — you're also considering how well they might do in other positions within your organization.
Rather than just looking at skills and qualifications, you're assessing how they might fit within the company and family of jobs. This is what we refer to as two-way matching.
For example, let's say you're hiring for sales associates at a storefront. A candidate doesn't necessarily have the sales experience you're looking for, but they're great at talking to customers and solving problems. They might be more suited for a role in customer service, even though they didn't apply for that position.
Optimizing your workforce means you should look for candidates with transferable skills, making it easier for them to change roles or fit within different departments.
You might also want to hire employees who are able and willing to work at multiple locations. This makes it easier to restaff a new location if necessary, especially if your company has multiple locations in your area.
However, if you want these candidates to be engaged and available when you're ready to talk again, you'll want to put effort into staying in touch. Keep them informed of their application and send updates whenever relevant.
Stop guessing,
Start data-driven hiring.
Learn how you implement a modern candidate selection process, that is: streamlined, experience-driven and backed by data.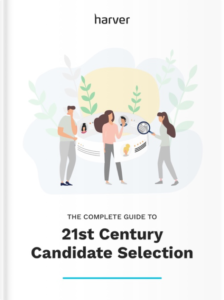 How does routing candidates improve your talent pool?
Routing is a great way to optimize your talent pool because it allows you to transfer strong candidates to open positions in other locations or to other departments within the organization.
For retail stores with multiple locations, this means if you get a strong candidate at a busy store but you don't have the space for the hire, you can transfer that candidate to another location — preventing them from moving on to a competitor.
Routing gives you an opportunity to build a relationship with that candidate to keep them engaged with your organization, even if they're not the right person for that job at that time. When something does open up that fits their qualifications and needs, you can re-engage and hopefully bring them on board. 
How to optimize your talent pool with routing
So, how exactly can you use routing to improve your talent pool? Here's how this works in the Harver platform. 
1. Enable candidates to apply to all available locations at once
While rerouting is a great way to keep great candidates from leaving your organization, not everyone is going to be willing to move to another location or take another position — and that's okay. You just don't want to waste your time bringing that candidate through the interview process if you know they're not willing to accept an alternative offer.
That's why it's important to gauge their interest in other locations early on, preferably at the application stage. You don't want to make the process of applying to the same position at multiple locations difficult.
The Harver platform enables applicants to apply to all the locations they're interested in at once. After assessing the candidate for company and job fit, applicants are able to select the various locations they're interested in working for instead of needing to send a CV to each individual recruiter or hiring manager.
Moreover, if their assessment scores are high enough and they match your selection criteria, they're immediately provided with feedback and offered the option to schedule an interview with a store manager right away.
2. Help candidates improve their hiring chances
When a candidate applies for a job, they want to know how they can make getting hired a reality. When you have a rerouting system implemented in your hiring process, you can make it easier for candidates to know the best way for them to get hired.
With a routing strategy, you can inform candidates of opportunities they're better suited for.
For example, if a particular location is almost full or you typically get stronger candidates for that location, you can let candidates with less experience or fewer skills know of open opportunities they might be better suited for.
You can forward their application to locations where demand is higher than supply, or encourage them to apply on their own. Not only does this improve the chances that the candidate is hired within your organization, but it can help you build trust with the candidate.
Routing their application to another open position or location that better suits their skills can show you care about getting them a job and you're willing to put in a little extra effort to get them hired. This can go a long way to a stressed-out candidate looking for a job! 
We've detailed this topic in one of our recent webinars, which you can watch below.
3. Schedule interviews in real-time
When hiring in retail, you likely want to get qualified candidates in open positions as quickly as possible. This means you're constantly screening applicants and interviewing potential hires — and you want to act quickly.
The Harver platform allows you to see applicants in real-time so you can reach out to top candidates quickly and efficiently. Keeping the hiring process moving not only ensures your offers are timely and competitive, but also allows all locations to see who is available and reach out as necessary.
For example, if a busier location typically gets hundreds of applicants but a location that is less busy only gets a few dozen, compiling applications into one system can improve your chances of hiring great employees at the lesser-known location.
This method of hiring helps you staff all locations with great employees who have the skills and availability you need. Overall, Harver makes the rerouting process easy by consolidating applicants into one spot.
When all qualified applications are housed within the same system, you can break down silos that might keep certain locations or departments from being staffed with qualified, highly-skilled employees. Routing removes those barriers so each location gets access to the same candidates.
Subscribe and stay up-to-date with everything recruitment related by receiving a weekly content digest and email updates on new resources!
How can you start routing candidates in high-volume recruiting? 
While you can achieve this functionality by integrating various systems and tools, the easiest way to start rerouting candidates in high-volume recruiting is to use a solution designed for high-volume end-to-end digital hiring, such as Harver.
Here's what you can achieve with our software.
Assess skills across all needed positions
With consolidated candidate assessments built specifically for retail jobs, you can test applicants on a variety of skills — not just those required for the position the individual applied for.
Running multiple skill assessments can prevent candidates who might be great for a job (but not necessary this job) from slipping through the cracks. We've detailed the topic of choosing pre-employment assessments for retail in the article below.
Get matching scores for a family of jobs
After running a variety of skill assessments, our tool provides matching scores beyond just the original open position. If a candidate is better suited for another job or department, you can reroute them to that position.
Allow candidates to apply to multiple locations at once
Our platform is designed with the customer in mind, and in retail recruitment, the candidate is your customer. By implementing the Harver solution, you can offer candidates an engaging experience that makes it easy for them to apply to all locations they're interested in, reducing the amount of time they spend filling out applications.
Even if they only apply to one location, you can still recommend them to another storefront if they're better suited and fit your general selection criteria.
Reduce the workload of store managers
The Harver platform automates this step of the process, reducing the workload of store managers, who no longer have to spend hours checking assessment scores and asking colleagues if they could use some additional applicants. This is extremely helpful for multi-location retailers, who often end up losing good candidates due to lengthy and inefficient recruitment processes.
If you'd like to learn more about our candidate rerouting solution, you can book a demo below.
Ready to transform your hiring process?