Before the pandemic, warehouse recruiters were already struggling to find workers. Now, as the holiday season approaches and the volume of online orders increases, employers are finding it even more challenging to find candidates who are willing to work in this industry and won't quit after a few days or weeks.
This widening labor gap has the potential to cause major supply chain issues for a lot of e-commerce businesses over the holiday period. In July, The US warehouse industry already reported 490,000 vacancies and experts are predicting this gap in the labor pool will only worsen as we approach Christmas and Black Friday, when demand will soar.
But while it's clear that we're dealing with a labor shortage crisis in the warehouse industry, the good news is that the challenges considered inherent in warehouse staffing can be overcome with the right hiring strategy.
Subscribe and stay up-to-date with everything recruitment related by receiving a weekly content digest and email updates on new resources!
Main warehouse hiring challenges & how to overcome them
Here are some of the most common challenges associated with high-volume warehouse recruitment and how you can overcome them at an organizational level by taking a new approach.
1. Attracting workers in a tight labor market
While demand for warehouse workers continues to grow, the number of applicants to these types of roles is declining. The reason for this widening labor gap is that we're in a job-rich market: Work opportunities are plentiful right now so candidates have more choice and warehouse labor roles just aren't attractive enough to pull in the number of applicants that are necessary to meet demand.
Warehouses in the UK have just reported a 20-30% wage spike to secure workers for entry-level roles. Earlier in the year, we even saw e-commerce giants like Amazon and Walmart offering higher wages, iPads and free college tuition fees in an attempt to attract and retain more candidates into warehouse work, but these incentives aren't proving as successful as you would think.
However, warehouse recruiters can attract more right-fit candidates by offering a clear career path, internal growth opportunities, and an application process that's engaging.
Essentially, your interview process needs to combine selling and selecting: Even at the pre-employment assessment stage, you need to think about how to convince the candidate that the role and company is a good choice for them just as much as you're assessing whether they're a right fit.
The application process should play a part in helping your organization stand out and showing candidates what it's like to work there. Here's an example from Albert Heijn.
2. Warehouse managers aren't recruiters
Most recruitment processes require a degree of involvement from hiring managers. This means warehouse managers have to perform as recruiters – finding candidates with the right skill set, assessing them, and scheduling interviews – all while managing their own core tasks and taking care of warehouse operations.
But warehouse managers won't necessarily know what makes a good candidate as human resources is not their area of expertise. Not only does this waste valuable time and lead to inefficient recruitment, but they end up hiring people who aren't the right fit so they leave soon after onboarding.
To hire the right people into distribution centers and improve employee retention, you need to make data-driven hiring decisions and select applicants based on their skills and characteristics that are linked with high performance in the role.
Pre-employment assessments can help you with this, as they give you an objective profile of a candidate, based on which you can decide to hire them for one role or another.
For example, if a candidate has better customer orientation and problem solving skills, you might want to give them a customer-facing role. If they're more detail oriented and are good organizers, you might prefer to hire them for roles where they oversee stock and orders.
Using technology to automate the screening process leads to better hiring decisions, as new employees are selected based on skills and organizational fit, not on a warehouse manager's instinct.
Stop guessing,
Start data-driven hiring.
Learn how you implement a modern candidate selection process, that is: streamlined, experience-driven and backed by data.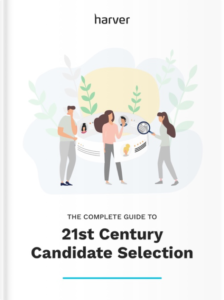 3. Inefficient manual processes
No matter how informative and accurate your selection process is, if it involves manual work from your warehouse managers, it's an inefficient hiring process.
Manual processes lead to slow response times, and this causes candidates to drop out of the application process early. On average, 73% of candidates will abandon an application process altogether if it takes too long. Candidates also won't wait around for you to get in touch – particularly for entry-level roles, where demand is far outstripping supply right now.
Your target candidates for warehouse roles want job security quickly. They're already thinking about how soon they can secure a paycheck at the application stage. If you can't provide that job security at this stage of the hiring process, the candidate will move on to a competitor who can.
Automating your recruitment process moves candidates through the funnel faster and gives them more control over how they move through the process. For example, key tasks like candidate screening and scheduling can be automated so that warehouse managers can focus on their daily priorities while candidates move through the recruitment process quickly.
To make the process even more efficient for candidates, you can allow them to schedule interviews right after they've finished the assessments, if they're a good fit. Using auto-scheduling, they can choose to interview right away if the role feels right to them, giving the candidate job security from the day the begin application.
At the same time, a more efficient and automated hiring process will free up your warehouse managers' time so they can focus on the high-impact priorities of their job. Involving warehouse managers in manual selection processes isn't a good use of their time and only adds to labour costs across the board.
4. High attrition due to misaligned expectations
Early attrition is one of the biggest problems the warehouse industry faces right now. It's common for candidates to leave a warehouse role just a few weeks after onboarding simply because the job doesn't align with what they imagined.
High levels of employee attrition is a challenge that even the most successful warehouse employers face every day. A recent report found that many of the 350,000 workers Amazon hired between July and October this year only stayed at the company for a matter of weeks, or even days.
The average turnover rate in the warehouse industry is 46.1% and Amazon alone has an annual employee turnover rate of 150% – that's 3% turnover daily!
The biggest driver of early employee attrition is misaligned expectations. Warehouse managers don't have time to explain the intricacies of the role, or show applicants the reality of the day-to-day tasks, but without this information, it's difficult for candidates to see if the opportunity is right for them, especially if they don't have past experience.
Adding realistic job previews and virtual job tryouts to your hiring process is the solution to this problem. Not only do they give candidates insight into the realities of the role, but they also provide you with a reliable understanding of how candidates will perform on the job. You can also use realistic job previews to gather data on best performers to make your hiring process even more efficient over time.
You can learn more about Harver's realistic job previews below.
5. Lack of data
Hiring warehouse employees based on resumes simply doesn't work. For entry-level roles like warehousing, all candidates look the same on paper and a resume will tell you nothing about the skills the candidate might have that would make them great at the job.
Manual processes like this also don't generate or collect data, which means you're missing out on critical insight into what makes a best performer for your roles. You can't manage what you don't measure, and a lack of visibility into recruitment metrics is often why teams struggle to make any improvements.
So instead of relying on resumes when hiring, recruiters should use hard data and scientifically-validated assessments powered by AI when making hiring decisions. By using automation in your hiring process, you'll constantly be collecting and analyzing data on candidates, including what makes a successful hire for a particular role so you can benchmark against your best performers.
The data will give you the full picture of a candidate's fit for the company, from skills and competencies to which warehouse jobs they'd fit the best. Data-driven hiring can only strengthen and improve your warehouse recruitment process, as you'll make better hiring decisions and have the tools to hire faster.
Next steps
While it's clear that warehouse hiring isn't without its challenges right now, digitizing and automating the recruitment process offers so many solutions. With the right technology there to support your hiring process, many of these challenges won't apply to your organization.
Labor shortages in the warehouse industry will continue to get tighter in the coming months, and businesses should consider implementing new technology to digitize and future-proof the hiring process.
By automating your warehouse hiring processes, you let technology do the heavy lifting and at the same time build up a bank of application data that will help you make better hiring decisions in the future. This will help you become more efficient and make better-fit hires who stay in the job longer.
If you're interested to see how Harver's purpose-built volume hiring technology helps in transforming volume recruiment from start to finish, you can book a demo below.
Ready to transform your hiring process?