In large enterprises that hire for hourly roles across multiple locations, the recruitment function tends to be decentralized. This governance model leads to fragmented hiring processes, meaning that each country, region, or state uses its own, localized hiring process, tech stack, and methodology.
While this worked in the past, it was far from perfect, and now that recruitment has moved online as a consequence of the pandemic, it's easier than ever to see the problems caused by the lack of a unified global hiring strategy.
To build a future-proof recruitment system that keeps the best talent coming to them, employers in the volume hiring space need to reconsider their approach and embrace digital transformation. This will enable them to create a coherent and scalable global hiring strategy that helps meet business goals regardless of the state of the labor market.
But what should they start with? Let's dive in.
Subscribe and stay up-to-date with everything recruitment related by receiving a weekly content digest and email updates on new resources!
Common challenges in global volume hiring
As mentioned above, a lack of a unified employer brand and recruitment strategy leads to inefficient processes, making life tough for volume hiring recruiters. But this isn't the only challenge that a decentralized approach to volume recruitment is causing, so let's take a closer look to the common problems TA teams are facing when recruiting globally for hourly roles.
Lack of a unified employer brand
An employer brand is your company culture—this includes everything from what you post on social media sites to how you write your job descriptions and offering candidates realistic job previews to manage their expectations. A lack of unity here leads to inconsistent hiring practices across countries, and ends up creating confusion and frustration for both recruiters and candidates.
Fragmented, inefficient processes
The need to align all of your teams, tech stacks, integrations, and other solutions is essential to make the right operational choices globally. Yet, the result is often a fragmented approach where your message is different across the board—not a good look to the very people you need to attract to your company.
Taken further, this starts to create problems with inconsistent application processes, leading to a confusing experience for your candidates. It's an excellent way to kill enthusiasm, leading them to end the process altogether and move over to a competitor.
A long time to hire
In volume hiring, you're looking to attract candidates for hourly roles that are entry-level and low-complexity in nature. In general, people applying for these roles care about job security and a rapid selection process more than they care about your brand story or company culture. While those are important once they start working, in the early stages of the process, all that candidates care about is a fast and efficient process that gets them an employment contract.
When your tech stack isn't properly integrated and you use decentralized processes and multiple platforms and tools, the time to hire is also much longer than it should be.
No consistent way to measure the quality of hire
With no objective way to measure the quality of hire, recruiting teams are often left in the dark and end up opting for candidates who may not be the best match for them.
When candidates are evaluated based on past experience or one-size-fits-all pre-employment assessments, and recruiters need to interpret the results individually, hiring decisions are made based on gut feeling. This leads to inconsistencies in the quality of hire, and result in high attrition rates in the long run.
No way to predict attrition and labor needs
The data architecture tends to be a weak point in global hiring processes, as it's often an afterthought instead of being the starting point when designing the recruitment tech stack and process. With no proper way to evaluate recruitment metrics at scale and no way to predict attrition and labor needs themselves, it can create a recruitment nightmare.
Varying talent pools
None of this is to mention the unequal talent pools, making it harder to recruit in locations with fewer applicants, those who may well be deserving of the positions in question. Balancing supply and demand is usually a constant struggle, even for those with applicant tracking systems in place.
Stop guessing,
Start data-driven hiring.
Learn how you implement a modern candidate selection process, that is: streamlined, experience-driven and backed by data.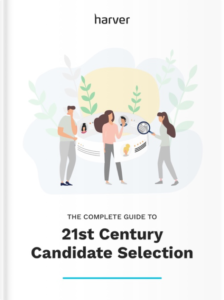 Global volume hiring requires a strategic approach
With the numerous problems of global volume recruitment, TA teams need to take a more strategic approach when building their strategy and processes. This involves creating a unified infrastructure and strategy with locally customizable processes, and requires employers to think about the big picture and all of its moving parts.
We're talking about the tech stack, the recruitment governance, the hiring processes, the people involved – hiring managers, recruiters, and candidates, and data—everything involved in the recruitment process, from chatbots to the video interviewing platform.
The usual process most companies go through, whether in hospitality, retail, contact centers, or another industry, starts with recognizing the need for a unified global strategy. Once this has happened, most companies tend to implement a standard ATS for all the countries they operate in, but they fail in standardizing the rest of the process steps: the selection method, the candidate progression, the interview scheduling and questions, the way the employer brand is presented.
As a result, they're soon confronted with inconsistent screening, selection, and interviewing processes. Also, more often than not, there's no single source of truth for the data, so hiring teams come up with ah-hoc solutions for data collection, processing, and visualization.
This is when employers realize that a global hiring strategy requires more than a unified ATS or a common set of pre-employment assessments. And it's usually when they start searching for a way to align their screening, selection, interviewing, and reporting across states and countries.
Creating consistency in volume recruitment through glocalization
To remain competitive, employers need to build an overarching global hiring strategy that takes into consideration everything from the employer brand and candidate experience to the setup and automation of the recruitment processes across locations, and the data collection and visualization methods.
This is achieved through glocalization, or the creation of a global strategy that's adaptable to local needs. It's typically a complex process that requires change management, and often starts with a pilot; once that's successful, the implementation moves to local rollouts.
This approach works because the solutions implemented enable consistency and standardization while allowing for some flexibility at a local level. For example, at Harver, our clients use globally standardized tech stacks, hiring processes, data architectures, and pre-employment assessments, but with customized application flows and employer branding content that gives them the control they need.
Start by mapping your hiring journey
To redesign your lifecycle recruitment process from scratch, you need to understand the sequences involved for both candidates and recruiters on a holistic level. The first step in the process is, therefore, mapping your hiring journey from a candidate and recruiter perspective. How do candidates get from A to B, and what do recruiters have to do to get them there?
Mapping out your current recruitment workflow for candidates looks at the stages of the hiring process and the candidate journey touchpoints. In fact, the first touchpoint candidates have with you is sooner than you think: it's when they become aware of you—before they even apply—and decide they want to work with you because they like your branding and values.
Are you wowing them with your employer branding enough for them to apply? Making a solid first impression through social media, job boards, and your job postings is crucial.
From there, it's about putting yourself in your candidate's shoes. Follow the process from start to finish. How easy is it to apply for a job? Are you transparent enough? Do applicants need to switch between multiple platforms, and is it mobile-friendly?
What's more, were any parts of the job application process slow, and when can they expect to hear back from you? You should also complete all the assessments you require candidates to go through to get a good sense of where things may need work.
With the applicant experience mapped and clear in your mind, it's time to think about the recruiter experience. Your hiring managers are the people who have to work through the process on a daily basis—are there stages that require a lot of manual input, and if so, why? 
Could sections be made better through the use of automation? As your recruiters are ultimately responsible for who ends up at your company, are you ensuring the process is smooth enough?
Design the ideal volume hiring process
The next step is thinking about the ideal process for your recruiters, candidates, and HQ itself. We believe location managers should only get involved during the most pivotal steps, so interviewing and making the hiring decisions, while the menial tasks like scheduling and screening should be automatic.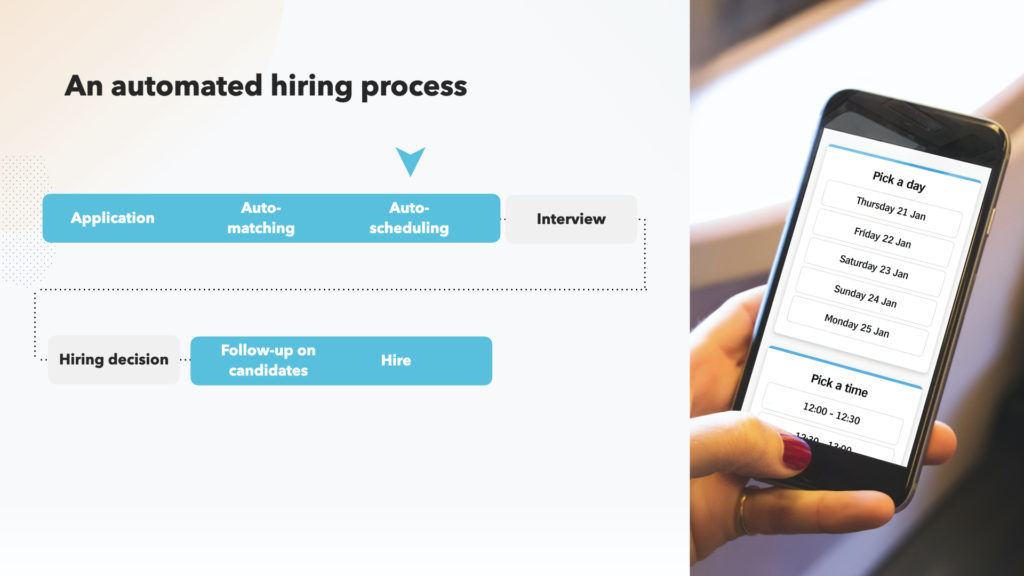 Implementing new technology that moves candidates through the recruitment funnel without extra input allows managers to focus on their day-to-day responsibilities instead.
For candidates, the ideal recruitment process offers an informative, appealing experience that cultivates a positive relationship from the first interaction is the aim of the day. An engaging application reduces dropout in the early stages of your recruitment funnel; it increases your chance to attract top talent too.
Automatically sending notifications and giving candidates the ability to self-schedule interviews speeds up your time to hire and keeps them keen. With talent short today, an engaging and fast application process gives you an advantage over your competitors.
Talent teams themselves benefit from a standard, centralized process across locations, with combined data and a single source of truth, allowing them to manage change more consistently.
With a global, unified recruitment process, you have the ability to communicate employment propositions across the board far better. You want to provide recruiters with insights for continuously improving efficiency and ensuring hiring practices are both fair and bias-free.
Below you can see how Sitel, one of the biggest names in the BPO space, has achieved consistency and standardized their volume hiring with Harver, through glocalization.
Consider the data architecture and tech stack
The next step is thinking about things from a technological viewpoint; your recruitment tech stack. Start by creating a complete inventory of all the tech you use, from your CRM and ATS platform to your assessment providers. It's worth thinking about how all of this is integrated and whether it agrees or not—does it all work together?
Understanding this will help you simplify your tech stack, streamline your data collection, and uncover points of friction that could be slowing everything down. Above all, you need to make sure your tech stack supports your business goals.
The best volume hiring platforms allow you to hire suitable candidates at scale, are flexible and easy to use, and integrate with all of your existing tech stack. They allow you to leverage all of that data to your advantage, showing your conversion rates, where candidates are coming from, and if the process is biased or not from a single platform.
Your volume hiring platform will collect the relevant data you need to make data-driven hiring decisions—Harver, for instance, provides users with real-time data through a series of out-of-the-box and easy-to-use dashboards.
Typically, we recommend rolling out your redesigned recruitment process one region or country at a time. You can gather data and analyze the results, adjusting where desirable, and then expanding to the next country when your goals are achieved in one location.
Bring it all together
In the end, all the pieces of the puzzle need to work perfectly together in one coherent global volume hiring strategy . At Harver, we use a specific approach that helps clients all over the world streamline their tech stacks and processes, and achieve consistency through glocalization.
Our volume hiring solution combines data-driven matching, end-to-end automation, a fast and fun candidate experience and enterprise grade business intelligence to help clients hire better candidates fast, fair and at scale.
The two-way matching methodology is a proven solution against high employee turnover rates and helps companies increase their quality of hire by selecting candidates with the right set of skills, who fit the company culture.
The end-to-end automation ensures an efficiency process for both hiring teams and candidates, shortening the time to hire and contributing to an engaging experience. This component enables you to automate all the manual tasks in your hiring process from 'Apply' to 'Hire', including the interpretation of assessment scores and the interview scheduling step.
Harver's Experience component mixes brand videos with situational judgment tests in a fast, fun, mobile-first application process that informs candidates about the role and keeps them engaged until the end. The result? Minimal drop-off rates throughout the recruitment funnel, better-managed candidate expectations, and great reviews for your employer brand.
Finally, the Business Intelligence component offers you unprecedented visibility and control of your hiring funnel metrics, from operational insights to candidate data, helping your talent teams make informed decisions at scale.
Conclusion
The pandemic exposed the weaknesses of recruitment strategies across the globe, and it made talent leaders reassess how they operate, explicitly concerning their digital plans. While it kickstarted the overall process, some businesses risk being left behind or end up stuck halfway through their digital transformation efforts.
The best way to avoid this is to analyze your recruitment strategy, see what's working and what isn't, and then bring on dedicated hiring technology to take care of the rest. Doing so speeds up your time to hire, reduces global hiring inconsistency, and keeps applicants happy during the critical stages.
If you want to see how Harver can help transform your volume recruitment from beginning to end, you can book a demo below.
Ready to transform your hiring process?