It's common for companies today to track and reference various recruitment metrics to help them make smarter hiring decisions; and while the most frequently tracked KPIs are the source of hire, time to hire, and applicants per hire, quality of hire is also gaining importance as a recruitment metric that's commonly used.
There are many benefits to knowing and understanding the quality of hire; however, measuring it is just the first step in applying it to your recruitment process. After you measure your current score, the next step is identifying ways to improve this metric. But how exactly do you go about doing that?
This article will walk you through how to improve the quality of hire at your company.
Quality of hire defined
Before we dive in, it's important that you understand what quality of hire, as well as why it's an important recruitment metric to consider for hiring decisions.
Quality of hire is essentially the value a new hire contributes to the company's overall success. This is measured based on various indicators, like an employee's performance and tenure at the organization.
In addition to measuring the individual quality of hire, you can also measure the overall success of the organization's recruiting efforts. Are you hiring the right people for the right roles to meet your company's long-term goals? By measuring and keeping track of your quality of hire score over time, you can identify opportunities for improvement and reap many rewards down the road.
What does improved quality of hire bring?
Are you wondering what exactly improved quality of hire can do for your company? While refining and improving your hiring processes is far from simple, there are many benefits that come along with improved quality of hire. We'll walk you through a few of the biggest perks.
Employee retention often increases as a result of improving quality of hire at your organization. This is especially helpful as employers look for ways to combat rising, record turnover rates in recent years. When you make better hiring decisions, employees are more likely to stay with the company for a longer period of time.
Employee engagement increases when companies improve their hiring practices and start placing candidates who are a better cultural fit at the organization. Coworkers spend a lot of time together, and the office environment definitely impacts employee engagement.
Job satisfaction

improves along with quality of hire. As a result of smarter hiring decisions, candidates are a better fit for potential roles from the beginning. New hires end up in positions that are better suited to them, job satisfaction improves and turnover decreases.

Productivity levels

rise as quality of hire improves, as new hires are better aligned with their new roles. Generally speaking, employees are also found to be more productive when they're happy with their work environment—meaning as hiring improves and employee engagement rises, productivity levels do as well.

Turnover costs

decrease when quality of hire improves, as new hires are much more likely to stay with an organization when they're a strong fit from day one. This is a pretty big deal, especially considering

employee turnover is the highest it's been in a decade

.
Don't miss out. Subscribe to our monthly digest to get the latest TA and TM resources delivered right to your inbox.
How to improve quality of hire
Knowledge is only half the battle when it comes to quality of hire. Once you know how successful your current hiring efforts are, you can work on ways to improve quality of hire at your organization. While improving your hiring process is definitely a long-term investment, it's well worth it.
We'll share 11 of our favorite tips to help you improve quality of hire.
1. Measure your current quality of hire
If you're looking to improve your quality of hire, knowing and understanding your current score is a good place to start. After you measure how you're doing with quality of hire, you can set goals for improvement—where do you want to be in six months, one year, or five? Making a plan will help you keep track of your activities and your results.
2. Cooperate with hiring managers
In the words of the late, great Steve Jobs, "You need to have a collaborative hiring process." You can improve quality of hire by partnering with hiring managers from the beginning. Work together to define the role and what the job qualifications are to get a clear idea of who you're looking for. By collaborating with hiring managers, you can ensure you're on the same page and increase the likelihood of finding the right candidate for the job. 61%
hiring managers say that recruiters have a "low" to "moderate" understanding of the jobs for which they recruit.
Source: ICIMS
3. Give an accurate overview of the role
You can instantly improve quality of hire by making it a point to always provide a clear overview of what the job and the company are about during your hiring efforts. By creating engaging job postings and detailed job descriptions that are as accurate as possible, you'll have a better chance of presenting roles to candidates who are a solid fit for the organization.
For example, Harver clients use realistic job previews in the form of situational judgment tests(SJTs) and company videos that measure specific skills of applicants, while giving them a sneak peek at the day-to-day work. You can see an example below.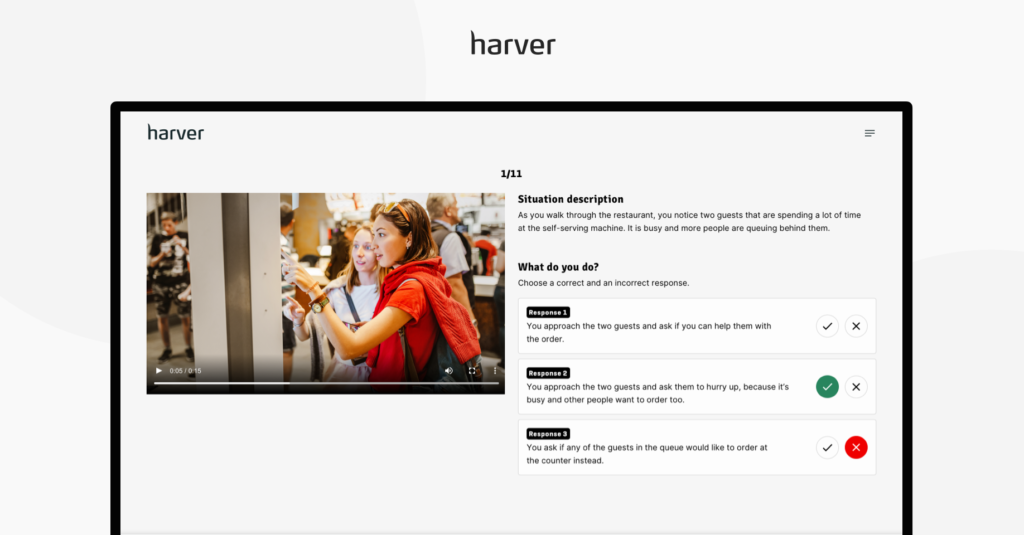 We've detailed the topic of SJTs and realistic job previews in the articles below. If you'd like to see these in practice, you can book a demo here.
4. Collect the right data
Pre-hire and post-hire data is your best friend when it comes to improving quality of hire at your organization. By collecting the right data and using it to make sound hiring decisions that are backed by data, you can improve your quality of hire score over time. In fact, advanced analytics are introducing several new opportunities for recruiters to refine their hiring processes.
We've detailed the topic in the article below.
For example, predictive analytics can be used to screen candidates with a pre-employment assessment, ultimately helping you to make smarter, faster hiring decisions. Post-hire data comes in the form of manager performance reviews, bonuses, and any metrics tied to an employee's performance, such as an increase in sales.
5. Leverage artificial intelligence
Many companies are beginning to leverage artificial intelligence (AI) during the recruitment process to make smarter hiring decisions. Companies utilizing AI saw a 35% decrease in employee turnover, as it helps better align the right candidates with the right roles and improves quality of hire.
You can take advantage of AI, including machine learning, to help with job advertising, screening resumes, assessing potential candidates, and predicting future staffing needs. This will help you to develop a smarter, more efficient recruiting process and save you a significant amount of time.
6. Involve the team
When possible, you should always aim to involve the team you're hiring for in the staff recruitment process—they know the company day-to-day and where the current skills gaps are better than anyone else, right?
Let them interact with the candidates to see how the dynamic is and help assess whether or not they're the right fit for the organization. This will help ensure that you remain completely objective in your hiring efforts and on the same page as the hiring manager and internal team
7. Assess whether candidates are an organizational fit 89%
of hiring failures are due to poor culture fit.
Source: Erika Andersen for Forbes
A new hire can meet all of the qualifications and possess all of the skills required for the role, and still not be a good fit for the organization. When you're hiring for a new role, you should assess whether the candidates are a good organizational fit.
You can do this in a variety of ways, like situational judgment tests, informal meetups, and trial days. When you hire someone who's a good cultural fit, you not only improve the quality of hire but also boost morale and increase productivity.
You can learn more about this topic below.
8. Make objective hiring decisions
One of the best ways to improve the quality of hire is to avoid some of the common hiring biases and commit to making only objective hiring decisions.
A good way to ensure you're staying objective is to make decisions that are backed by pre-hire data, such as skill assessments. You can also utilize AI to help with the initial candidate screening processes. This will save you time and offer peace of mind that you're remaining objective in all of your recruitment efforts.
For example, Harver clients automate their recruitment process by using pre-employment assessments that measure specific skills and characteristics, and how well candidates fit the company culture.
Each candidate is scored based on their answers, and if they score above certain benchmarks, they're automatically moved to the next stage of the recruitment process.
This means that recruiters no longer have to interfere in the hiring process in the initial stages, and that candidate selection is much more objective and data-driven. If you'd like to see how this works in practice, you can book a demo below.
9. Organize a trial day for candidates
You test-drive a car before you buy it, right? When you're making any long-term investment, it makes sense to try it out first. When it's possible, a trial day is a great way to see how candidates react to common situations and how well they get along with potential colleagues.
You can also test their current skill level and assess their willingness to learn new skills on the job. This is not only a beneficial exercise for the hiring manager and the team, but also for the candidate, as it can help manage their expectations about the position they're interviewing for.
Note: In some roles, such as contact center agents, for example, it's easier to provide candidates with a virtual job tryout, instead of a trial day. This way they still get to experience the day-to-day work, but the process is fast, engaging, and effective in helping you select candidates who fit your requirements.
Below you can see the Harver Live Chat Support Simulation module, which helps BPOs and contact centers identify top agents at scale.
Experience our best-in-class Live Chat Assessment first-hand!
Perfect for remote hiring, our live chat assessment makes it easier than ever to hire live chat agents. Candidates experience the job, while you get actionable data to drive hiring decisions.
10. Have a top-notch onboarding process
First impressions are everything—and you only get one chance to make it. Lousy onboarding is a sure-fire way to cause new hires to jump ship in no time at all. By building out a top-notch onboarding process for all new hires, you can increase employee retention and improve the overall quality of hire at your organization.
In fact, 69% of employees are more likely to stay with a company for at least three years if they had a really positive onboarding experience. First
90 days
of employment are crucial to building rapport with a brand, business leaders and colleagues.
Source: AOM Journals, CIP
Neglecting the onboarding process might lead to early turnover.

11. Review the results and improve
After a certain period of time, you should make it a point to review the results of your quality of hire improvement program. This will help give you an idea of where you improved and what areas you need to work on in the future to continue improving quality of hire at your organization.
We recommend that you review the program annually to make sure your efforts are driving real, impactful change. Doing this will allow you the opportunity to refine and enhance your quality of hire improvement efforts and increase their likelihood for success.
Wrapping up
Keep in mind that improving quality of hire isn't going to happen overnight, but the long-term benefits are well worth the wait.
To make this change, you need to create a strategic recruitment process and resources that are dedicated to improving your score. Despite the initial challenges, all of your efforts will be rewarded in the long-term by increased retention, engaged employees, and better hiring across the board—and at the end of the day, lower costs for your company.
If you'd like to see how Harver can support you in improving quality of hire, you can book a demo below.
Ready to transform your hiring process?