The logistic and supply chain sector is a highly competitive industry, understandably. It is the backbone of any economy, the driving force of every sector. And despite the continuous growth, they're facing a workforce crisis.
The rise in e-commerce in recent years has brought about an increase in vacancies, with a plethora of low entry jobs needing filling. At the same time, following the tumultuous year we've had, the unemployment rate stands at 8.3% in the transportation and utilities sector, respectively 5.2% in manufacturing.
For recruiters dealing with logistics volume hiring, this means that they have a higher number of roles to fill, requiring them to source a larger number of candidates. However, because of the higher unemployment rate, and the fact they're filling low entry jobs that don't require specific skills, they have to sift through a higher number of applications per role too.
And when recruiters are regularly dealing with high attrition rates and early turnover in the role, things are already problematic.
Logistics volume hiring needs a better solution. A regular mass recruitment strategy won't, and can't, cut it here. So what can logistics recruiters do to approach the process effectively and find better employees, faster?
What defines high volume hiring in logistics?
High volume hiring is where you're recruiting to fill an abnormally high, or large number of roles within a given time frame, typically seasonally. And because these are entry-level, unskilled roles, they attract a larger number of applicants per role, than regular recruitment.
These applicants tend to be candidates simply looking for job security and a paycheck rather than a career, and they don't always apply with a resume. As a result, screening is difficult and time-consuming, and the quality of hire is often low, leading to attrition.
10-25%
is the average employee turnover rate for 30% of logistic companies, while another 21% deal with turnover rates of 25-50%.
Source: DC Velocity
The perception that supply chain jobs are not that exciting, coupled with the lack of development opportunities, the changing skill requirements, and the aging workforce make it particularly challenging to hire for logistics roles.
On top of this, 43% of companies in this industry say that it takes on average 1-2 months to bring a new employee up to speed, so it's crucial for recruiters to make sure they bring the right talent on board.
What does the traditional recruitment process look like?
The typical manual hiring process for logistics consists of the following stages:
Posting your job advert on your careers site and other relevant job boards and job listing websites, as well as sharing it on your social media pages.
Manually reviewing and evaluating each and every application.
Screening candidates to find suitable ones to bring forward to the interview.
Checking their references.
Carrying out in-person or telephone interviews.
Issuing job offers.
Onboarding new hires.
Now, because you're dealing with volume hiring, all of this is happening at scale. Which means, in order to be effective, you have two choices – either hire more recruiters to tackle the higher number of applicants, or utilize recruiting software as part of your volume hiring strategy.
Out of all of these steps, the only ones that can't be automated are the interviews and the hiring decision. Every other step can, and should, be taken care of through recruitment tech. Automation in your recruitment process can dramatically reduce the time to hire from days to hours.
Firstly though, when you're looking at what tech you might want to integrate into your logistics recruitment strategy, you need to know where the bottlenecks are in your existing process.
Subscribe and stay up-to-date with everything recruitment related by receiving a weekly content digest and email updates on new resources!
What challenges do high-volume recruiters in this industry face?
As previously mentioned, the logistics industry is facing a talent crisis, finding the right candidates being the biggest challenge for recruiters. This is closely followed by the competition for resources and the lack of awareness of the logistics function.
Finding the right candidates
In logistics, recruitment is – in most cases – a manual process, so candidates are screened and assessed using traditional methods. This means that talent acquisition leads need to base their hiring decisions on resumes and past experience, rather than the candidates' actual fit for the job.
So on the one hand, we have the challenge of identifying candidates with the right skill set, who are less likely to leave the job after the onboarding. On top of this, the recruitment process is lengthy and inefficient.
According to Workable, the average time to hire for warehouse, transport, and utilities roles is 25 days, while for manufacturing the average time to hire is 30 days.
When candidates are kept hanging on, they'll likely withdraw their application or jump ship to competitors. At this low level, applicants are simply looking for cash, not a career. They want a job, and they want it fast. If you can't provide this for them, they'll go elsewhere.
Lack of awareness of the logistics role
Another major challenge for companies in this sector is the lack of understanding of the logistics function. Candidates applying for warehouse, transport, manufacturing, or utilities roles don't always know what the jobs entail. And when recruitment is done at scale, it's unlikely for recruiters to take the time and explain the day-to-day work to each and every candidate.
Yet, expectation alignment for candidates is paramount to reduce employee attrition rates. Misaligned candidate expectations result in high attrition rates, lower employee engagement, and decreased quality of output.
50%
of logistics and supply chain professionals are actively looking for another job with better offers.
Source: PwC
Lack of recruitment data and insights
Next to the already mentioned challenges, recruiters in logistics companies also struggle with a lack of data and insights into their hiring process. DC Velocity found that only 7% of companies are reaping the benefits of digital transformation, lack of data or poor data quality being the second most important obstacle of digitization.
According to LinkedIn, in the EMEA, only 15% of logistics companies use HR analytics, this being the industry with the lowest percentage. The average number across industry is 22%, despite 71% of companies seeing people analytics as a high priority.
If you can't track KPIs or gain valuable insights into how effective your recruitment strategy is, how do you know where to allocate budget, how long time to hire is, what cost to hire is, how the quality of hire is?
How should you approach high-volume logistics recruiting?
There is an enormous difference between regular recruiting and high volume recruiting. At high volume, everything gets bigger, messier and more complicated.
In order to design an efficient high-volume logistics recruiting process, you have to understand this difference. To successfully hire at volume, you can't simply scale up your existing recruiting practice, unless you're ready to increase your HR headcount every time you need to fill in more seats.
While adopting technology can help you at various stages of the process, this should be done with the bigger picture in mind, considering both your current challenges and needs and your longer-term company goals.
For recruiters, this means looking at the full recruitment cycle and automating not only the initial stages, such as screening CVs or assessing candidate skills but also the manual tasks that slow down the process further in the funnel.
For example, tasks such as interpreting candidate assessment scores, moving applications to the next stages in your ATS, scheduling calls with the selected candidates, or gathering feedback once the process is over, can and should be automated.
At the same time, it involves collecting and analytizing recruitment data in a structured manner, to allow recruiters to not only predict which candidates will be a good fit for the open roles, but also to reduce attrition and improve retention through better hires.
Thus, designing a future-proof high-volume recruiting process, not only in logistics but in other industries as well, requires an end-to-end digital hiring solution. A complete tech stack that seamlessly integrates with your existing systems and tools, handling every stage of your recruitment process and helping you hire faster and better.
Four building blocks of a digital volume hiring strategy
Working closely with logistics companies who recruit a large number of applicants for entry-level roles, we've uncovered four focus areas for digitizing recruitment and building a sustainable and scalable volume hiring strategy.
Our four-pillar approach delivers an easy-to-follow framework for logistics companies looking to digitally transform their recruitment operations. It consists of the following building blocks: matching technology, automation, candidate experience, and business intelligence.
Automation
Above, we outlined what a traditional recruitment process looks like; it's time-consuming, costly, and completely inefficient. It doesn't produce a great experience for candidates or recruiters, and it draws your focus away from the top-level activities your TA team should be focusing on.
For successful high volume hiring, speed and efficiency are crucial for both recruiter and candidates.
By automating the most tedious parts of your candidate selection flow, you ensure the process is as smooth as possible, from the initial screening to moving candidates quickly through your pipeline, and onwards to the next steps, keeping them notified throughout.
The amount of automation your recruitment process needs will vary, but a big picture of an automated recruitment flow looks something like this:
The Harver volume hiring solution can replace your existing tech stack, consolidating it all into one, easy to use, end-to-end solution.
Matching technology
As we said above, when volume hiring in logistics, you're likely filling low entry roles, where candidates aren't expected to have prior experience or skills, and most won't have written a cover letter or even have a resume.
But that doesn't matter, because we know that hiring based on a resume alone results in high attrition rates, as decisions are often biased and based on subjective opinions instead of predictive data.
To help companies hire better, at scale, we've developed a two-way matching framework which enables companies to assess candidates' skills and fit for the job, while showing applicants what the role is like on a day-to-day basis.
This is done in the early stages of the application process, through pre-employment assessments such as situational judgment tests (SJTs), personality questionnaires or culture-fit tests. When coupled with company videos that showcase the culture and work environment, such tests offer candidates a realistic job preview, contributing to a better understanding of the role and better aligned expectations.
Below you can see an example of SJT developed by Harver.
Custom tests such as company specific SJTs give applicants a glimpse of what life inside your company is like, through highly engaging videos that capture the culture and work environment, while exposing candidates to what they're likely to be doing in the role, from routine tasks to critical ones.
The candidate's scores from these tests are displayed in the back end dashboard, helping you identify those applicants who are more likely to be good hires, based on the specific skills and characteristics they possess.
Equipped with this information, recruiters can make data-driven, unbiased hiring decisions. And as we said before, it's a two-way matching framework, so if the candidate doesn't like anything they see or experience, or the reality of the role doesn't meet their expectations, they can self-select out of the application.
Stop guessing,
Start data-driven hiring.
Learn how you implement a modern candidate selection process, that is: streamlined, experience-driven and backed by data.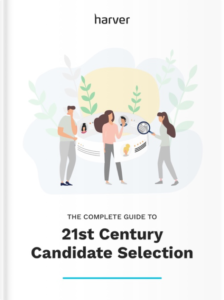 Business intelligence
Data collection and analysis is essential to optimizing your recruitment process. Data is your organization's biggest asset, so use it to help you source, select, recruit and retain the best applicants.
Harver's platform collects candidate data from start to finish, throughout the application process, translating it into easy-to-understand, actionable insights that are accessed through our BI suite.
Below you can see one of our dashboards which displays Operations insights, making it easy to evaluate the efficiency of your recruitment process.
Creating a data-driven hiring process and tracking your recruitment metrics, means you know what works and what doesn't, and what you need to optimize.
Candidate experience
In industries such as logistics, candidates might be your customers as well, and you need to treat them as such.
When you deliver a poor applicant experience, this sours the relationship, and people are more willing to share a poor experience with friends and family than a good one. So it won't just be one customer you lose, it could be their loyal friends and family too.
Even when you're hiring at volume, you should strive to deliver an outstanding candidate experience to every applicant. A great candidate experience means a friendly and informative recruitment process, a short, device-independent application flow, and good communication throughout the entire process.
Next steps
Recruiting for the logistics industry has its specific challenges, and when done at scale, the complexities of volume hiring make it almost impossible to operate efficiently without adopting technology and digitizing processes.
Harver's recruitment solution for logistics companies is built for volume hiring, so if you'd like to see our software in action, you can book a demo below.
Ready to transform your hiring process?