Companies in the volume hiring space who are just starting to digitalize their recruitment process will often lean on a mix of manual and digital operations as part of their hiring journey.
For example, perhaps you already use digital assessments, but you interpret the results manually. The problem with this is that it introduces bias to your hiring process and makes it challenging to maintain consistent standards and hire quality.
Not only that, but it also influences the predictability of your hiring process, because you're not able to tell how effective your pre-employment assessments are.
This is why companies in the volume hiring space need a standard and objective way of measuring the effectiveness of their candidate screening and selection methods. Let's see what this looks like in practice.
Subscribe and stay up-to-date with everything recruitment related by receiving a weekly content digest and email updates on new resources!
A brief recap of pre-employment testing
Pre-employment assessments are tools organizations can use to compare critical competencies of candidates and find the best match for a particular role.
There are many different pre-employment tests, including situational judgment tests, personality questionnaires, language skills tests, cognitive ability tests, aptitude tests, physical ability tests, integrity tests, emotional intelligence tests, and culture fit tests.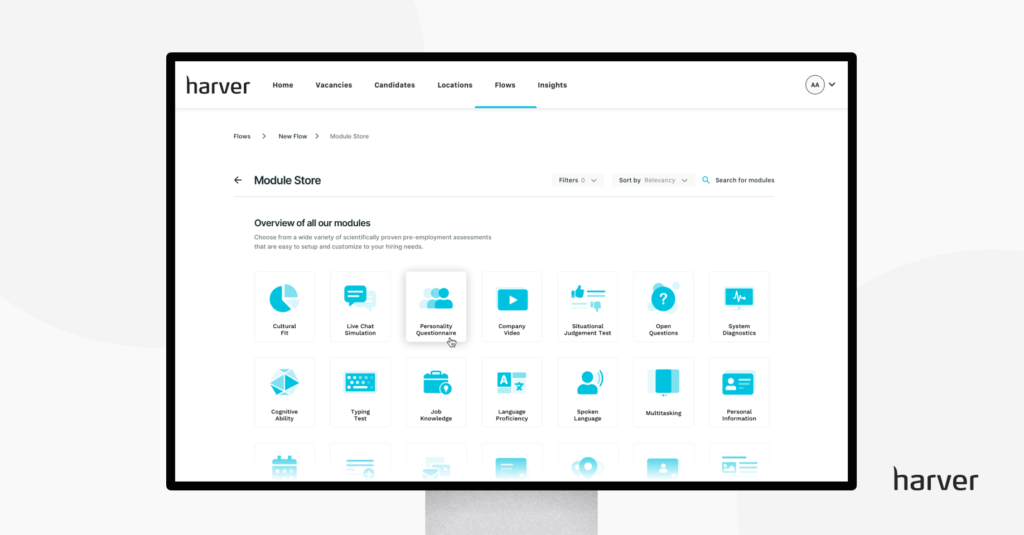 These can be tailor-made to assess the specific skills and characteristics needed to be successful in a role and company, and to support recruitment teams in making objective hiring decisions.
Yet, many businesses in the volume hiring space still rely on resumes and cover letters – even though 78% of candidates lie about their experience – when selecting candidates, an approach that is not efficient when hiring at scale and will ultimately lead to poor hires and high attrition rates.
Only a small percentage or high-volume hiring employers use custom pre-employment assessments that are developed with the specific needs of the organization in mind. These companies are usually more digitally mature, and are further along the digital transformation path.
In their case, assessments are used not for pass/fail decisions – as often happens in linear recruitment processes – but for decision support, process automation, and algorithm optimization.
Stop guessing,
Start data-driven hiring.
Learn how you implement a modern candidate selection process, that is: streamlined, experience-driven and backed by data.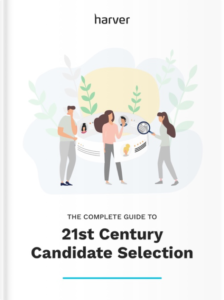 How to know if your assessments are effective
Get clear on what you're trying to achieve
The first step in measuring the effectiveness of your pre-employment assessments is to get clear on what you're trying to achieve. Before you implement anything, you need first to understand what success looks like in your business.
Generally, assessments can help you improve within several areas, including recruitment process efficiency, quality of hire, candidate experience, and data collection and analysis.
So, what are your goals, and what do you need to fix? For example, call centers and BPOs are experiencing three times the attrition rate of other industries mainly because their selection process is not fit for purpose.
Do you want to reduce your attrition rate? Achieve a shorter time to hire? Reduce the input needed from your hiring managers? Be able to make data-driven hiring decisions?
Are you more concerned with employees hitting targets, or are you trying to build a stronger team and company culture? Are skills more important to you, or are motivation and a strong work ethic more valuable for the role in question?
You'll get the most value from your assessments if you understand the challenges you're currently facing in your hiring journey and selection process and what you want to improve.
Are pre-employment assessments the right solution?
The next step is to decide whether a pre-hire test is right for want you want to measure. Not everything you want to track can be suitably measured with a pre-employment assessment.
For example, if you're hiring for an entry-level retail role such as a sales assistant and want to determine if this person is amicable and can build a good rapport with people they don't know, a video interview may be more suitable.
However, if you're looking to discover more about this person's personality, you may want to use a personality questionnaire then verify the results in an interview.
Some companies use assessments as an initial filter for candidates and to guide the interview that follows, but the data they obtain from test results is used only to inform an interview and work as decision support.
Others, who use more sophisticated volume hiring solutions, rely on assessment data almost completely, their recruitment process being frictionless and requiring only minimal recruiter intervention.
What skills do candidates need to fill your open positions?
Next step is to start thinking of assessments as a way to match rather than filter candidates. If you use the right combination of screening methods and pre-employment assessments, you should end up with candidates who are a good match for your open roles and your company culture.
So let's say that your goal is to reduce attrition, and you decide to use a mix of assessments to identify candidates who are likely to stay in the job for longer. To achieve this, you need to know what skills your top performing candidates have, and what characteristics are shared by long-tenured employees.
At Harver, we use matching technology to assess candidate skills and identify which roles they would best fit, based on their unique skills and characteristics. This makes it simple for organizations to know what skills to select if they want to fill certain positions and improve their retention rates.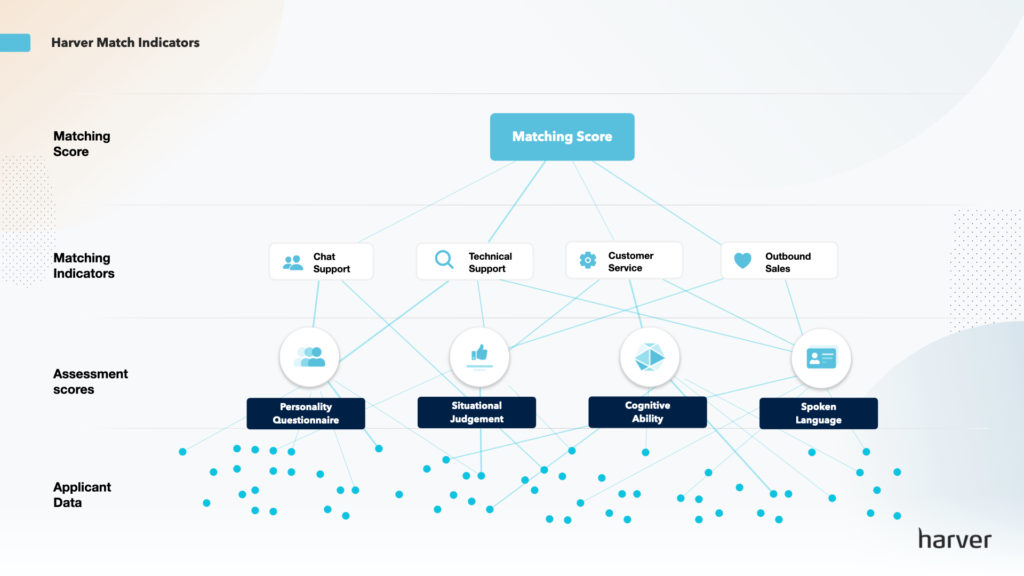 In addition, although a candidate may not have the skills that match them for the role they applied for, they could be a great match for a different position with a slightly different skillset.
Our recruitment technology enables companies to assess a wide range of skills and determine where a candidate would be best placed, rather than where their limitations lie. This helps you make the most of your candidate pool which is crucial in volume hiring where there is often a tight labor market.
What does a top-performing employee look like?
Let's say your primary goal is to decrease attrition. You can only do this by hiring people who are a good fit for your company, and who are likely to stay.
To hire the best candidates who can perform their key responsibilities to a high standard and stay in their roles longer, you'll need to define what a quality candidate looks like. Chances are, a quality candidate is someone who goes on to become a top-performing employee.
So the natural next step would be to pinpoint the common skills and behaviors of your current employees who shine the brightest. Here are, for example, the key competencies for hourly hospitality roles.
Although this will vary depending on the position you're recruiting for, there will inevitably be crossover skills and competencies that are important to look for in new entry-level, hourly employees.
For example, in contact centers and BPOs, the core skills are strong communication and organization skills. When it comes to retail, whether it's a grocery store or department store, skills such as strong customer service, time management, and being a team player are all valuable and often transferrable between positions.
If you're unsure what core skills and behaviors equate to a top-performer in your industry, begin with a job task analysis. This will help you understand what a specific role entails and the skills and characteristics required to perform.
From here, Harver allows you to develop a custom assessment based on those particular skills and behaviors rather than use an out-of-the-box assessment. And the best part is that your recruitment team sees a score, not a cover letter or CV, so they can make a fair, objective hiring decision.
The result? No more filtering out high potential performers before they reach the interview stage or hiring candidates who look good on paper but are a poor fit for the role and your organization.
Have you chosen the right assessments?
The effectiveness of your pre-employment assessments is also down to the specific assessments you choose. Once you know the skills and behaviors you're seeking, you can select assessments that help you test these.
For example, a personality questionnaire would help you gauge a candidate's communication skills which would be essential for a customer service role, whether in a contact center, in retail, or in hospitality.
Meanwhile, a situational judgment test would help you analyze how a candidate would respond to a customer complaint, say, in a fast-food restaurant. At the same time, a live chat support simulation assessment might be a better choice than a personality test for a contact center or BPO live chat agent.
You'll know that your chosen asssesments are the right ones when your recruitment metrics, from operational metrics to candidate satisfaction scores, are improving across locations and vacancies.
Harver's clients have access to a series of dashboards to help them keep track of important metrics and ensure their chosen assessments are effective. Along with these, quarterly business reviews look at what can be optimized, to help organizations adjust their strategy as and when required.
Can you rely on your assessments to produce the same results?
For your chosen pre-employment assessments to help you achieve your goals, you need to be able to rely on them to produce the same output continually. Do your assessments act as intelligent predictors to help you reliably hire candidates who go on to become top performers in your organization?
Once you're clear on the KPIs of your top performers (this is your desired output), you're able to identify the skills your candidates should possess and demonstrate through the hiring process (this is your desired input).
The ultimate goal is to know that when given the same input, your assessments yield you the same output. Because if this happens, it means you're able to standardize your hiring process and assessments then scale it as needed.
Do your cater to candidate experience?
Finally, most standard assessments do not cater to candidate experience, making them ineffective. Do they provide recruiters with some answers? Yes. Do they provide candidates with insight? No.
This is one of the key contributing factors to high application drop-offs because the candidate is not engaged in the process, and high attrition because there's a mismatch in expectations.
Job simulations and virtual tryouts create an interactive experience and give candidates a richer understanding of what the role will be like day-to-day. It's equally important to allow candidates to self opt-out of the hiring process if they decide the position is unsuitable.
Common mistakes to watch out for
Don't randomly choose assessments – there is a science to it. At Harver, our People Science team advises customers on the assessments to select for their volume hiring journey.  
Don't look at assessments as an isolated tool. Your hiring process comprises many components that all work together to deliver a winning experience for your hiring managers and candidates. At Harver, we begin by mapping out your entire hiring journey to see the big picture and then decide what needs to be improved. Pre-employment assessments will be just one of the tools to help you automate and super-charge your recruitment process. 
Design flexible pre-employment assessments. All the assessments you implement should be flexible so that you can remain agile in an ever-changing market.
Next steps
Effective pre-employment assessments are achieved by setting clear goals, identifying what a top-performing candidate looks like for each of your roles, and using a volume recruitment software that helps you create tailored assessments and deliver a digital experience that both your TA team candidates love.
If you'd like to see Harver's volume hiring solution – and implicitly, our approach to candidate selection – in action, you can book a demo below.
Ready to transform your hiring process?