More often than not, employers assess a candidate's fit for a specific role rather than culture and organizational fit as a whole.
Yet, what we see again and again in the volume hiring space is that a candidate's skills and attitude predict job performance much more accurately than previous industry experience.
This is especially true for low complexity, entry-level positions at retail stores, contact centers, or quick-service restaurants (QSR), where essential skills matter more than credentials.
But what does it mean, in practice, to hire for skills instead of roles? And how can you do it successfully, when recruiting at scale?
Subscribe and stay up-to-date with everything recruitment related by receiving a weekly content digest and email updates on new resources!
Why hiring for roles fails in volume recruitment
In professional recruiting, you want to make sure candidates have the right knowledge and proven experience or a career path that demonstrates they can take the initiative and grow in the role over time. As a result, job candidates applying for corporate roles need to possess specialized skills and expertise to fulfill their responsibilities appropriately.
On the other hand, when hiring for less complex entry-level roles like those at contact centers, retail stores, and quick-service restaurants, a lot of candidates have no relevant experience—if any work experience at all—or come from different industries.
In such cases, resumes and job applications usually fail to accurately predict a candidate's potential performance. Applicants who look good on paper end up leaving their jobs soon after accepting them, due to misaligned expectations, or fail to perform, due to a lack of job-relevant skills.
As a result, industries such as those mentioned above struggle with higher than average employee attrition rates, and talent acquisition leads end up hiring for the same roles again and again. So we know that in the volume hiring space, when recruiting people for entry-level, low-complexity jobs, looking for candidates who fit a certain job description isn't the best approach.
Instead, volume recruiters should assess candidates for their skill sets, see how those skills and characteristics fit the open roles, and whether the candidates are a good fit for the company culture as well. At the same time, recruiters should give candidates the chance to self-select out of the application process by showcasing the realities of the day-to-day work and the company culture.
This two-way approach to candidate matching is extremely effective in assessing and selecting job applicants at scale. We've detailed the topic here.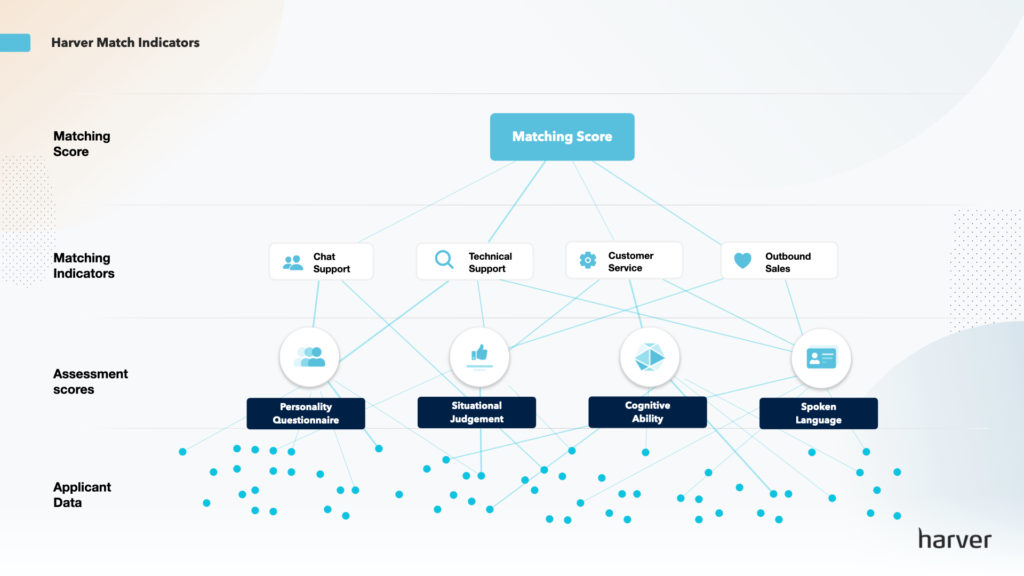 Instead of relying on one-size-fits-all job descriptions and gut-driven hiring decisions, recruiters can use this two-way matching framework to identify candidates who have the right – transferable – skills for the open positions and are likely to be top performers.
Unlike role-based recruitment, two-way matching is a skills-based hiring methodology. So let's see how hiring for skills instead of experience works in practice.
Volume hiring for skills: 7 tips for achieving success
1. Know which skills to look for to predict success
Before you can truly hire for skills, you need to know which skills are predictive of a quality hire for your company.
This means that the first step to volume hiring for skills is still to identify the job family and job types you're recruiting for, but then, for each role, instead of listing a series of responsibilities, you should identify the skills that make top performers good in those roles.
To compare profiles and skills, you need a team of people scientists, or Industrial and organizational (I-O or I/O) psychologists, who can determine the exact personality facets that are shared by your top performers. This is accomplished by analyzing the performance data of low and high performers at your organization, and then comparing their profiles and skill sets to establish which are necessary for on-the-job success.
We've detailed the topic in the articles below.
2. Adjust your hiring procedures
It's also important to adjust your recruitment strategy and processes to focus more specifically on the skills you seek for open positions at your organization.
Train your recruitment team on this new approach by teaching them how to recognize less tangible skills a candidate may possess, such as loyalty, passion, and a willingness to learn and grow with your company.
Or even better, use recruiting software that's built for volume hiring and enables you to assess candidates using scientifically validated pre-employment assessments, so that you can make hiring decisions in a data-driven, non-biased manner.
With Harver, for example, you can put candidate selection on autopilot by setting a series of criteria and automatically progressing candidates to the next stages, if their profile is a good fit.
Stop guessing,
Start data-driven hiring.
Learn how you implement a modern candidate selection process, that is: streamlined, experience-driven and backed by data.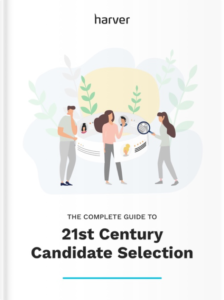 3. Expand your sourcing strategy and talent pools
Hiring for skills in volume recruitment also requires recruiters to expand their sourcing strategies and the talent pools they target.
According to the Society for Human Resource Management (SHRM), while many organizations focus solely on targeting younger, more educated job seekers, tapping into overlooked and diverse talent pools such as older workers, those with disabilities, foreign-born workers, and veterans can significantly increase the number of potential employees for any given role.
While many of these workers may lack a college degree or specific on-the-job experience, it's very likely that a number of them will possess the skills required for less complex hourly roles in quick service restaurants, retail stores, contact centers, manufacturing companies, and similar types of organizations.
4. Write job descriptions that focus on required skills
To truly hire for skills in volume recruitment, you need to ensure your job postings reflect that. In other words, your job description and advertisement should focus on core competencies, or the skills needed to qualify for the job.
The job posting should also distinguish which qualifications are needed between the required and preferred competencies, as opposed to relying on credentials and a list of qualifications to assume or validate a candidate's skill level.
Pedigree-based job postings, or those focused on credentials, often lead to unintentional bias by creating barriers for qualified applicants. Alternatively, skills-based job posting reduces bias by focusing only on the competencies required to excel at an organization.
Keep in mind that it's important you differentiate between required and preferred skills: Required skills are absolutely necessary to adequately perform job duties, whereas preferred skills are just that—preferred and ultimately non-essential.
5. Use skill assessments to screen candidates early
According to a survey by the U.S. Chamber of Commerce Foundation, more than 67% of employers say their use of skill-based pre-employment assessments as part of the interview process will increase within the next year.
Employers can evaluate job seekers using pre-hire assessment technology like Harver, which offers a number of different types of assessments to speed up and optimize candidate selection in volume recruitment.
Skills-based pre-employment assessments can be used to screen candidates for specific skills, character traits, and abilities via specific tests to accurately predict future job success. For example, some skills-based assessments measure things like multitasking or multilingual proficiency, whereas others focus on skills like typing speed.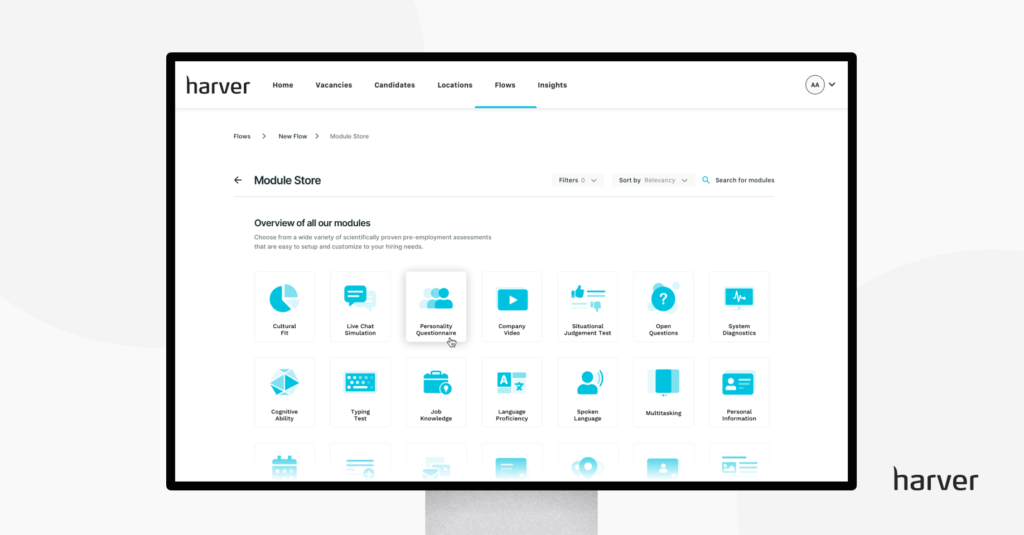 With that said, when implementing skills assessments, it's important to choose the right tests to ensure you're screening candidates for their skills rather than for specific roles.
If you're curious to learn more about the Harver philosophy around candidate selection and see what our platform offers in terms of assessments, you can book a demo below.
6. Consider offering a virtual job tryout
Of course, sometimes it's impossible to truly assess a candidate's skill set without seeing what they're like and what they're capable of firsthand. Additionally, job applicants have no real way of knowing whether your company is a fit—at least not without a job trial to figure that out.
Consider adding a virtual job tryout to your recruitment process to assess candidates and see whether or not they're the right fit for your business. For example, if you're hiring for contact center roles, you can incorporate a chat agent simulation assessment into your selection flow. This allows applicants to experience the job and get a better feel of what their day-to-day work would look like.
A realistic job preview (RJP) in the form of a situational judgment test (SJT) can also help avoid misaligned expectations and ensure you select the right candidates for your organization. For example, when hiring for retail roles, you can add SJTs to your pre-employment assessment flow to test a candidate's reaction to critical incidents such as dealing with angry customers or receiving negative feedback from a manager.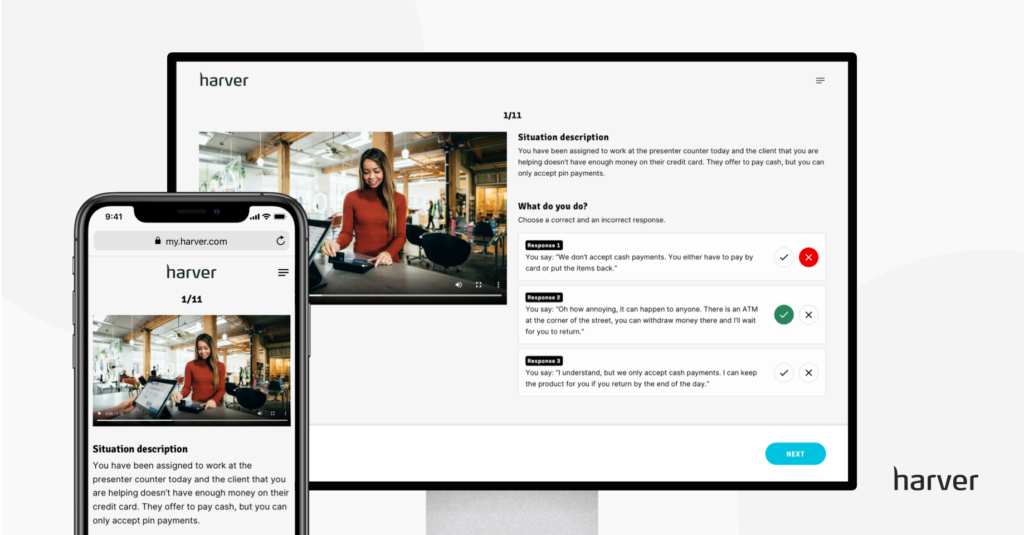 If you want to learn more about the Harver situational judgment tests, you can book a demo below.
Ready to transform your hiring process?
7. Leverage resources to upskill employees over time
Another tip for hiring for skills is to leverage resources specifically designed to support skills-based hiring, and then using those resources to help upskill your employees over time. For example, [email protected] is a company dedicated to promoting and supporting STARs, or more than 71 million workers who are Skilled Through Alternative Routes as opposed to with a college degree.
SkillRise and IBM SkillsBuild are also great resources your organization can use to empower adult learning with educational technology.
Upskilling your hires by offering numerous ongoing education and professional development opportunities will not only help your company and your employees thrive, but also help you retain workers and attract new applicants—particularly as more and more job seekers look for roles with the potential to grow and excel over time.
Next steps for skills-based volume recruitment
Hiring for essential on-the-job skills is becoming more and more common in today's job market, across a number of different industries and roles.
By considering each candidate's soft skills when hiring for entry-level roles, you can improve your candidate selection efficiency and find the right people for your culture and business as a whole—and not just the ones who check off all the right boxes on paper.
Ready to transform your hiring process?