In the restaurant business, employee turnover is all too familiar. In fact, it runs as high as 130% to 150%, and even successful quick-service restaurants (QSR) lose close to 100% of their workers each year—which is costly and less than ideal for both the employees and their employers.
On top of ever-present hiring and attrition challenges, restaurants have added 4.2 million jobs since April 2020. One year later, and QSRs employ more workers than any time since the COVID-19 pandemic began: 10.5 million employees. Now, many quick-service restaurants are planning volume hiring sprees in the wake of the health crisis.
With insights like this, there's a clear need for QSRs to make the right hires from the jump and keep them on board down the road. High employee turnover rates may be the norm in the QSR industry, but it doesn't have to be a regular cost of doing business.
It's still possible to decrease turnover in restaurants with the right approach to recruiting, onboarding, and engaging employees over time.
Don't forget to grab your free copy of our white paper on the digital transformation of restaurant volume hiring. Learn about:
What causes the high restaurant turnover rates? 
Before we dive into how you can decrease employee turnover, let's talk about why the restaurant industry—especially quick service restaurants—has such high turnover rates.
Some are obvious: Pay is typically minimum wage, benefits aren't usually great (or available at all), hours are long and laborious and customer service can be challenging.
Misaligned expectations
With that said, ineffective recruiting is sometimes also partially to blame. For example, some QSR hiring managers don't thoroughly explain expectations and ensure candidates understand what the job will truly entail before bringing them on board. This can ultimately cause misalignment and result in the employee eventually bowing out.
Ineffective selection process
QSR turnover rates can also be due to poor screening, interview and selection processes. For instance, a restaurant manager might review irrelevant resumes and move the candidate along in the recruiting process regardless, which can inevitably lead to them leaving the role quickly after onboarding.
Stop guessing,
Start data-driven hiring.
Learn how you implement a modern candidate selection process, that is: streamlined, experience-driven and backed by data.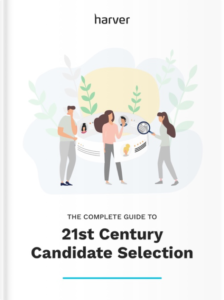 Poor onboarding
Poor onboarding is another common reason for high restaurant turnover. QSR managers are already incredibly busy helping customers, supervising employees, ordering supplies, making schedules, and hiring more people.
They often simply don't have time to onboard and train new employees to the extent they should, which can end with those individuals leaving for another restaurant.
There are countless examples, but you get the idea: The way you recruit, onboard, and manage your employees has a significant impact on whether or not they stick with your quick-service restaurant.
So let's see how you can tackle these challenges to hire better QSR candidates and retain them for longer.
Before you hire: let volume recruitment software do the work
Of course, you can sift through resumes yourself; however, as humans, we're all prone to our own implicit unconscious biases that can impact the recruitment process.
Not to mention that it's time-consuming and inefficient to do by yourself, especially when you're hiring high volumes of candidates and need to sift through hundreds of resume at one time. Fortunately, smart strategies and powerful technology can change the game.
Screening candidates in advance
Many QSR hiring managers use pre-employment screening technology to get off to the right start. Screening candidates in advance – with the help of software like Harver – can improve the quality of the candidates you move to the interview stage.
Using pre-employment assessment software, you can filter through applicants and identify the ones with the skills and experience you're looking for, who are most likely to be a good fit, while also minimizing potential bias and working more efficiently.
Below you can see some of the pre-employment assessments in our library, from which clients can choose when designing their application flows.
Of course, the exact sequence of assessments will vary from one company to another, depending on the skills you're looking to assess and the candidate experience you're looking to create. If you'd like to learn more about our software for QSR volume hiring, you can book a demo below.
Ready to transform your hiring process?
Showing them what the role is
Another important part of the pre-hire process is making sure candidates have a clear understanding of what the expectations for the role are.
Some QSR hiring managers incorporate Situational Judgement Tests (SJTs) in the job application flows to give candidates a glimpse of a day in the life for the role in question.
These assessments recreate common scenarios from a restaurant employee's daily work, asking them to choose the best and the worst way to address the situation. You can see an example below.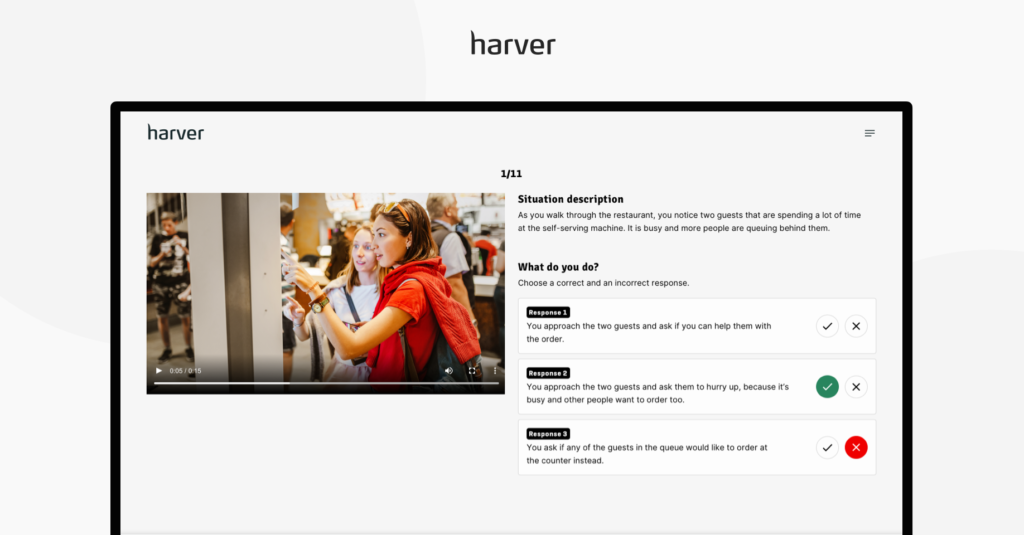 By showing applicants what the work looks like in practice, you enable them to self-select out of the process if they think the role isn't the best fit for them.
Managing expectations in advance can make all the difference later and save you the time and money it takes to hire a replacement.
Making data-driven hiring decisions
The savviest hiring managers are using recruitment software to make data-driven hiring decisions by benchmarking candidates against top performers and other applicants.
For example, if you want to make sure you're only scheduling interviews with candidates who fit certain criteria and match the profile you're searching for, you can automate the selection process so as to only progress the right candidates to the next stages.
Then, if using a platform like Harver, you can drill down and analyze the individual profiles and assessment results, while seeing the overall matching scores per candidate.
This speeds up your recruitment process, while enabling you to hire candidates based on data, instead of resumes and gut feeling. You can also review data on sourcing and bias to glean helpful insights you can then use to improve your hiring practices and make more informed decisions.
Reducing your restaurant's time to hire
A long recruiting process is a pain point for many quick service restaurants, as busy managers often don't have time to review applications, interview candidates, and make a selection.
By automating most of the manual steps in your recruitment process with technology, you can significantly reduce your restaurant's time to hire. For example, you can choose to automate the CV and phone screening, the candidate assessment and even the interview scheduling steps.
Offering a better candidate experience
In addition to keeping the recruiting process as efficient as possible, QSR managers can also offer a better candidate experience by using technology that allows applicants to select locations where they want to apply, share their availability and even self-schedule interviews.
Doing so can help you avoid missing out on great potential hires due to a poor candidate experience. Not to mention that in this industry, candidates are often customers too, and a bad hiring experience can mean a lost client.
Then, with recruitment software, you can build engaging candidate experiences that are device-independent, short, and that enable you to showcase the company culture and company environment without the need of organizing on-site interviews.
Here's for example the applicant experience we've created for McDonald's.
Now that you've seen a couple of solutions for decreasing the employee attrition rates and hiring better candidates, let's see what you can do to keep them for longer.
After you hire: 4 ways to keep QSR employees on board
Too many organizations make the mistake of hiring employees and then sending them on their way without adequate onboarding, training and ongoing development opportunities to position them for success.
Here are 4 steps you can take to keep your quick service restaurant employees on board after you hire them.
Take the time to fully onboard them
Onboarding is incredibly important, both for preparing QSR employees to succeed in their role and for getting off to a good start so they're more likely to stay put. In fact, research shows that new hires are twice as likely to look for other opportunities after having a negative onboarding experience. 1 in 5
new hires is unlikely to recommend their employer to a friend or family member after the initial onboarding.
Source: Digitate
Recognizing the benefits to an effective, comprehensive onboarding process—not to mention the high cost associated with restaurant employee turnover—many QSR managers are looking for ways to improve their onboarding for new hires.
Employers can enhance their onboarding process to increase QSR employee retention by:
Creating a clear vision for what the employee's first week should look like
Providing employees with an onboarding itinerary so they know what to expect
Standardizing onboarding processes so every hire has the same experience
Making it a point to check in with new hires as they move through onboarding
Using digital learning technology to make onboarding interactive and engaging
Giving tangible examples of your values in action to cultivate a strong culture
Sharing feedback during training to guide your QSR employees' progress
Provide training and ongoing education
Onboarding is only the first step when it comes to training and educating your new hires.
When you invest in your QSR employees' development by offering ongoing training and educational opportunities, you only increase the likelihood they'll stick with your restaurant instead of leaving for a nearby competitor.
Here's how Sonic Drive-In, who recently announced plans to hire roughly 20,000 more QSR employees in the months ahead, spoke about their training program:
"For the past 26 years, drive-in team members nationwide have participated in a series of individual and team trainings as part of the Dr. Pepper Sonic Games, the brand's premier training program that strengthens Carhops' teamwork skills, and guest and operational service."
Subscribe and stay up-to-date with everything recruitment related by receiving a weekly content digest and email updates on new resources!
Be flexible about work days and hours
Sonic Drive-In doesn't only recognize the value in providing great training and educational opportunities: "Flexible work hours are also available to provide drive-in team members, management and leadership the support needed to succeed in and outside of work," Sonic's representatives explained.
In other words, the more flexibility you offer your QSR employees in terms of working days and hours, the greater the likelihood they'll want to continue working for you. 29%
of hospitality workers say they are looking to switch into office, retail or other roles.
Source: QSR Magazine
What works for some may not work for others, and in a business that's infamous for low pay, long hours and weekend and holiday shifts, a little flexibility goes a long way, especially if local competitors aren't as willing to accommodate varying schedules.
Offer career development opportunities
Career development opportunities are important in every role. They motivate employees to work harder, improve their performance and stick around for far longer.
However, far too often, growth opportunities are not prioritized in the QSR industry. With that said, some restaurant managers are starting to get it right, recognizing that plotting out a clear career path complete with goals, assessments and promotional opportunities for all employees helps to decrease attrition and increase loyalty.
You can increase QSR employee retention by making this type of scenario the goal, ultimately empowering those you hire to stay with your restaurant for the long haul.
Next steps
So there you have it: By taking the right steps before and after you hire QSR employees, you can decrease turnover while also significantly improving the candidate and employee experience.
In addition, these improvements will only benefit your business by ensuring new hires have what they need to do their roles and positioning them for lasting success in the restaurant industry.
Ready to transform your hiring process?