The restaurant industry is notorious for its struggles with high employee attrition rates and labor shortages. These two things combined make recruiting employees for restaurants really tough. 
One way for employers to deal with these challenges is to automate restaurant recruiting to improve their hiring efficiency, making the process quicker, so that they can offer applicants job security fast.
By doing so, restaurants can win the battle for talent, securing people who want to work in the industry before they're snapped up by the competition. 
This might sound like a big task, especially if you're still relying on outdated, manual hiring practices, but it can be achieved if you utilize technology to streamline the process. So let's look at how the top players in the restaurant industry are using volume hiring software to automate repetitive tasks and hire better and faster.
Subscribe and stay up-to-date with everything recruitment related by receiving a weekly content digest and email updates on new resources!
What problems does automation solve for restaurant recruiters?
Securing available talent fast 
Restaurants are currently recruiting in a competitive labor market.
A lack of talent interested in working in this industry either because they're reluctant to return to work in such close proximity to the general public, or because they've left the industry searching for higher wages, combined with the ongoing pandemic unemployment benefits disincentivizing workers from returning to work, has resulted in a talent shortage. 
Thus, recruiters need to act fast to secure those applicants who are still keen to work in a restaurant. And they're in a race against time because as more and more restaurants open up again, there will be more and more job vacancies that need filling from a rapidly shrinking talent pool.
Automation can help recruiters snap up available talent quickly by moving candidates through the recruitment process efficiently, allowing TA to offer job security to suitable candidates in a timely fashion.
Restaurant managers are hired to manage the restaurant and everything that goes along with its smooth running. Oftentimes though, they're charged with staffing it too.
But restaurant managers aren't recruiters; they shouldn't have to screen candidates, assess, or select them. They don't know who the best candidates are or what questions they should ask them during the interview.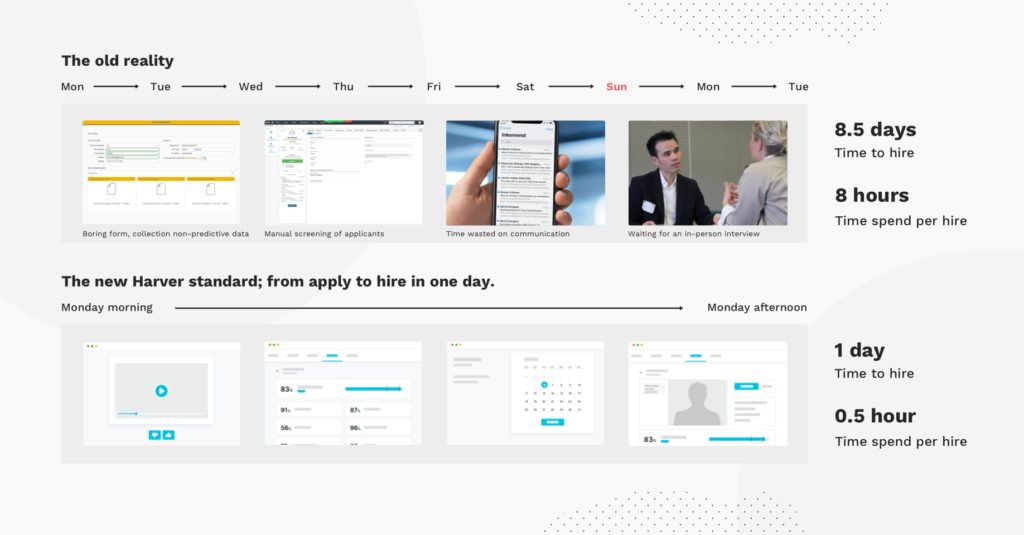 Freeing up time for restaurant managers 
Automation can put candidate screening, assessing, selecting on autopilot, thus saving managers' time and ensuring that only suitable candidates who fit the desired profile and company culture go through to the interview stage. 
Restaurant managers should be involved in the hiring process, that goes without saying, but asking them to pick out the top performers – the people who have the skills to provide consistently high levels of oversight and customer service, from a list of applicants who all look the same on paper, should not be their responsibility.
Automated pre-employment assessments designed for volume hiring solve one of these problems for restaurant recruiters. Role-specific assessments can be used to identify candidates who possess the necessary skills and disposition to be a top performer in your restaurant.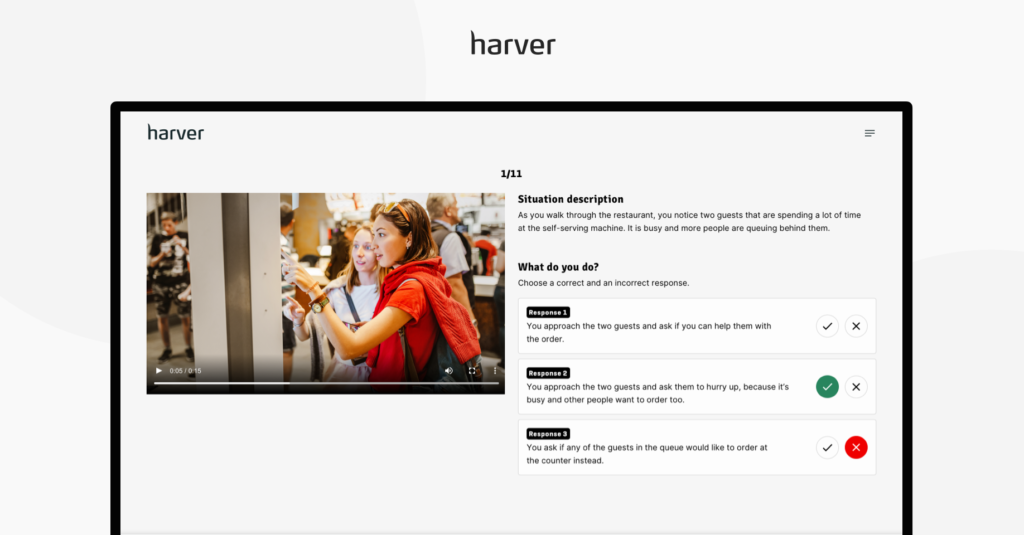 Staffing multiple locations 
Restaurant managers need to align with other colleagues when staffing multiple locations, and this involves having an overview of the roles available at each location, as well as of candidates who apply at each location and are accepted or rejected.
This requires not only streamlined data collection and processing but also an easy-to-use recruitment tool that can serve as a single source of truth because the entire recruitment team needs to have this overview. 
When you're operating at multiple locations – in different cities, states or countries, you have to be able to tailor your hiring process to suit the needs of each individual labor market – because they will all be different. If you're recruiting in New York, you'll find you can't employ the same tactics as you would to recruit in Minneapolis. Not to mention, the availability of talent at one location even just a mile away from another can be wildly different. 
Automation can be used to route candidates based on demand and supply. Automatic prompts in your recruitment process can encourage applicants to apply to multiple locations at once, suggesting that their chances of securing a job will be higher at a location with fewer applicants. 
Manage candidate expectations at scale 
Attrition that occurs in the first 90 days of employment is often the result of insufficient information during the hiring process.
If your job application process isn't informative enough for applicants who don't know your company culture or who have never worked in a similar environment before, they can't make an informed decision about whether to accept the role or not.
In the restaurant industry, it's quite common for candidates to accept roles that they're not suited to, and don't fit their profile or skill set, resulting in mishires and early attrition. 
Typically in high-volume recruitment, the recruitment process is a one-way information flow – applicants submit their resumes, are assessed against predefined job criteria, and answer questions at interviews. Rarely do candidates receive the same level of transparency from the organization. 
This lack of information leads to misaligned expectations, which then leads to no-shows and high rates of early attrition because their expectations don't match reality. 
It might sound counterintuitive to allow applicants in a tight labor market to opt-out of your recruitment process, but better it happens now than when you've offered them the role, or spent money training them.
Our two-way matching technology delivers information about the role to all candidates in an engaging and efficient way, while allowing you to gain data that will drive objective hiring decisions. All applicants receive an in-depth realistic job preview, showcasing the role, while you assess them for the necessary skills and characteristics for job fit. 
We've found the most predictive pre-employment assessments for the restaurant industry include situational judgment tests (SJTs) and personality questionnaires.
Don't forget to grab your free copy of our white paper on the digital transformation of restaurant volume hiring. Learn about:
Elimiates repetitive tasks without removing the human component
All too often recruiters get bogged down tackling manual, repetitive tasks that can so easily be taken care of through automation – resume sifting, interview scheduling, skills assessments. 
Recruitment automation streamlines these tasks and workflows, ensuring your recruitment funnel, from sourcing through to onboarding restaurant employees, is fast and efficient. It quickly moves the top candidates through the process, while rejecting those who score poorly.
Because the majority of the tasks when restaurant volume hiring can be done automatically, freeing up your time-strapped recruiters to focus on the bigger picture (or run their restaurant), without getting stuck in the weeds. 
The only two stages of your recruitment process that actually requires human input are for the interview and making a hiring decision. 
Essentially, not only does automation remove the bottlenecks from your recruitment process speeding it up, it empowers your restaurant managers to work more efficiently, allowing them to focus their attention on recruiting better restaurant employees, faster.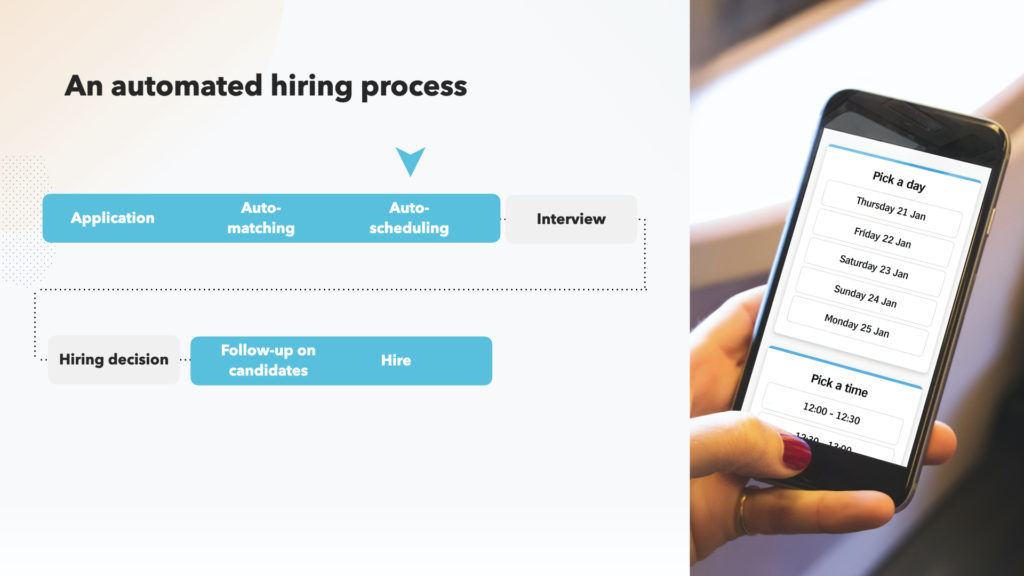 The process is data led, not based on gut instinct
Automation in restaurant recruiting doesn't mean losing the overview of your hiring process once it's automated, far from it. If anything, automation gives you better insights into what's working and what's not, allowing you to tweak the process so you hire better candidates, faster, through real-time data. 
It allows you to predict an applicant's potential success in your role, or their long-term job performance. And when you're carrying out high volume recruiting, when you're hiring thousands or even tens of thousands of employees, you need a process that automatically screens, selects, and hires the right people quickly and efficiently.
Automation means your recruitment process is data-led allowing your recruiters to make bias-free hiring decisions, based on the scientific evaluation of a candidate's skillset and attitude, rather than their resume or their past experience. 
Matching technology can predict an applicant's potential based on assessing their personality, skills, and competencies. It moves suitable candidates along your recruitment process if they meet your specific selection criteria, allowing recruiters to make objective, data-driven hiring decisions while ensuring a high-quality hire.
Delivers an outstanding candidate experience
When you're relying on restaurant managers to screen candidates, schedule interviews, and interview applicants, your hiring process is likely to be slow and lengthy, resulting in a frustratingly poor candidate experience. And in this industry, your candidates are likely to be customers, meaning a lost candidate also becomes a lost customer. 
Assuming applicants have only applied to your restaurant is a foolish assumption to make, as is thinking they'll wait around for you to make a decision.
Applicants applying for low complexity roles in the restaurant industry aren't looking for the next step on their career path, they don't care about career prospects, they're focused on two things only: job security and a paycheck. The quicker you can deliver these two things, the quicker you secure yourself top talent before your competition does. 
Automating your recruitment process removes the need for lengthy application processes that leave candidates hanging around needlessly, or requiring first-time job applicants to craft a resume and cover letter when they have no prior experience. 
Automation also ensures each candidate, even when volume hiring, has an informative and engaging experience (through RJPs and SJTs), as well as speeding up the process, delivering successful candidates job security, faster. Below you can see what the candidate journey looks like for the applicant.   
Next steps
Automating your restaurant's recruitment process exponentially speeds hiring up. But to implement an automated process requires a shift in strategy, and will fundamentally change the role of a restaurant manager. 
How much automation your process requires depends on your organizational needs. In an ideal world, the process is automated from the moment applicants apply for one of your roles, to interview self-scheduling.
If you'd like to see how Harver supports restaurants and QSRs in streamlining their recruitment process to hire faster and better, you can book a demo below.
Ready to transform your hiring process?